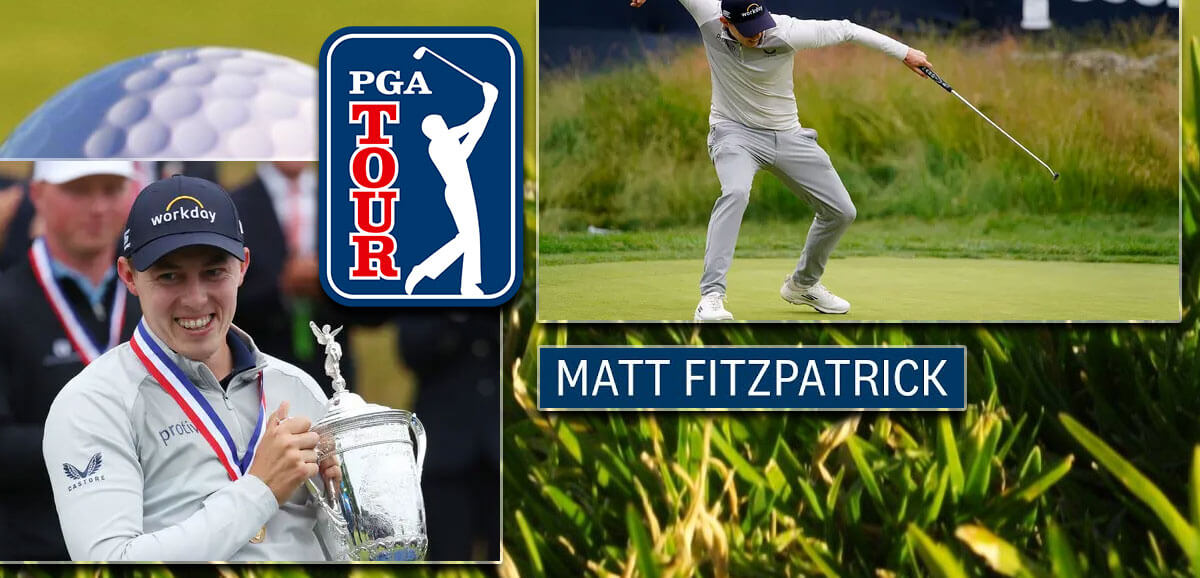 Matt Fitzpatrick won the 122nd U.S. Open by one stroke, outdueling Will Zalatoris in the final hole.
Fitzpatrick opened at +5000 odds last July and was a +2500 entering the tournament.
The Englishman began the final round tied with Zalatoris at +333 while sharing the lead.
Matt Fitzpatrick opened as a longshot to win the 122nd U.S. Open. He entered the tournament as a dark horse to win in a golf course where he had won before. And after displaying clutch putting on Sunday, Fitzpatrick beat the odds and outdueled Will Zalatoris and Scottie Scheffler to win his first PGA Tour event.
Fitzpatrick Rides His Putter
Matt Fitzpatrick rides his putter to a final-round 68 and is your 2022 #USOpen champion! 🏆

He was a dark horse on @PointsBetUSA to capture his first major. pic.twitter.com/1R8c8h3n81

— NBC Sports EDGE (@NBCSportsEdge) June 19, 2022
Fitzpatrick opened at +5000 odds to win the tournament last July. He entered the tournament last week at +2500 and saw his odds shorten to +1400 before the start of Round 2. His odds fell to +2000 before the start of Round 3 after carding a 70 in the second round. But after his second 68 in the third round, Fitzpatrick was in good shape heading to the last 18 holes.
The 27-year-old began the final round tied at the top with Will Zalatoris. At the best golf betting sites, both Fitzpatrick and Zalatoris were listed at +333 with Jon Rahm chasing them at +450. World no. 1 Scottie Scheffler began the day at +600 but saw his live odds shorten to +130 after he birdied four of his first four holes. Scheffler however went +2 from holes 7 to 16 and it was in those holes where Fitzpatrick pulled off his own version of Fitz-magic.
Fitzpatrick and Zalatoris were tied entering the par-4 15th and after both missed the fairway, Zalatoris failed to save par while Fitzpatrick rolled a 19-foot birdie. Zalatoris bounced back to birdie 16th while Scheffler birdied 17th. But after the world no.1 was not able to birdie the final hole, he ended at five-under-par, leaving Fitzpatrick and Zalatoris to dispute the title. At that point, the Englishman had become a -400 to win the tournament. He did.
A Major Winner
MATTHEW FITZPATRICK (+2500) IS A MAJOR CHAMPION 🏆 pic.twitter.com/si2g57BvgF

— GolfBet (@GolfBet) June 19, 2022
With the win, Fitzpatrick didn't just get his first PGA Tour win, he also won his first golf major and he did so at the golf course that kickstarted his professional golf career. In 2013, the Englishman won the U.S. Amateur, also at Brookline, to become only the second golfer ever to win the U.S. Amateur and U.S. Open at the same golf course. The only other golfer to do it? Jack Nicklaus.
Fitzpatrick is also the first Englishman to win the U.S. Open since Justin Rose won at Merion in 2013. Prior to Rose, the last Englishman to win the major tournament was Tony Jacklin in 1970. Before Jacklin, it was Cyril Walker way back in 1924. Given the gap between those wins, this was indeed a massive win for Fitzpatrick.
The 2015 British Masters winner began his PGA Tour career with only one Top 10 finish in his first 27 starts. But a longer and stronger Fitzpatrick has emerged in the last two major golf championships. Despite faltering with a final round 73, he was a T-5 at the PGA Championship. On Sunday, he did better and is now a major winner on the PGA Tour.