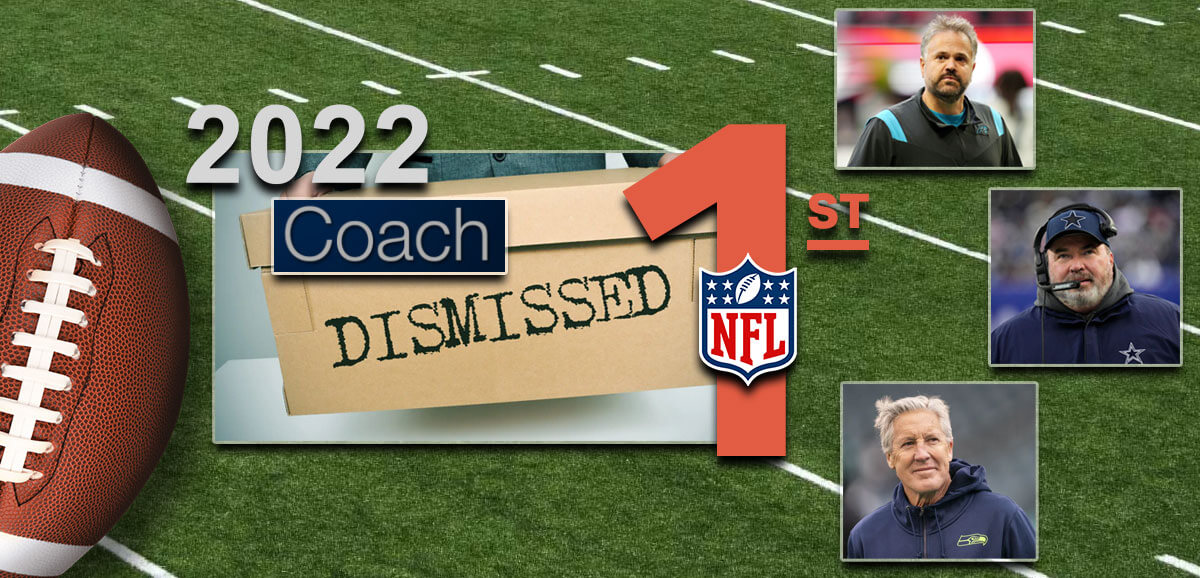 Carolina Panthers head coach Matt Rhule is the odds on favorite to be the first NFL Head Coach to be fired this year.
Rhule is currently listed as the +300 betting favorite at the BetOnline App.
Dallas Cowboys head coach Mike McCarthy is next in the betting borsat +500 odds.
The 2022 NFL season has not yet started but the best NFL sportsbooks already have several names in mind to be the first head coach to be fired this year.
According to the best NFL betting sites, Carolina Panthers' head coach Matt Rhule is the +300 betting favorite to be the first head coach fired this season.
BetOnline has released odds on the first NFL coach to be fired or resign this upcoming season…Matt Rhule is the favorite at +300🤔 pic.twitter.com/6ZpFVxBprS

— Locked On Sports (@LockedOnNetwork) June 21, 2022
Panthers Bringing Matt Rhule Back
The Carolina Panthers are bringing Coach Matt Rhule back for a 3rd year after posting a LOSING record 10-23 in his first 2 seasons. pic.twitter.com/L3FtuvQptT

— Major Sports Alerts (@sports___alerts) January 10, 2022
The Panthers are bringing Rhule back despite leading the team to two consecutive losing seasons. Rhule is 10-23 or .303 since taking over from Ron Rivera with five wins in each of his first two seasons as Panthers' head coach. He has been unfortunate to have worked with below-average quarterbacks in his first two seasons in Carolina. With Sam Darnold as the team's 2022 starter, it's hard to see Rhule finishing better.
Last season, the Panthers opened with a 3-0 record and were 5-5 after 10 games with their win total set at 7.5 wins. However, they ended up losing their last 7 games to finish at 5-12 last campaign while missing the playoffs for the 4th consecutive season.
This season, the Panthers' win total has been set at 5.5, and considering they won five games in each of the previous two years, they've got a good chance of going over the total. However, even if Carolina wins six games this season, that might not be enough to save Rhule's job.
Mike McCarthy to be Fired Before Thanksgiving?
NFL Network's bold predictions for the Cowboys: Mike McCarthy will get fired before Thanksgiving https://t.co/erenDZK8KM pic.twitter.com/jOvI2Sqcd5

— Dallas Cowboys IntCl (@DCInterclub) June 20, 2022
Dallas Cowboys head coach Mike McCarthy is second on the BetOnline.ag odds board +300 odds. McCarthy led the Cowboys to a 12-5 record during the 2022 NFL regular season which is impressive. However, they lost to the San Francisco 49ers in the wild card round. A slow start by Dallas this season could put McCarthy's job hanging in the balance.
Seattle's Pete Carroll is next at +600 as he will no longer have Russell Wilson as starting QB. The Seahawks will be led by Geno Smith this season and it remains to be seen what Smith can do as a full-time starter this season. Indianapolis' Frank Reich is listed at +700 odds while Ron Rivera follows at +800. Cleveland's Kevin Stefanski and Detroit's Dan Campbell are both listed at +10000.
Other longshots include Arizona Cardinals' chief bench tactician Kliff Kingsbury and Tennessee Titans head coach Mike Vrabel are both listed at +1200 odds. Meanwhile, Robert Saleh of the New York Jets and Atlanta Falcons head coach Arthur Smith are currently at +1400 odds.