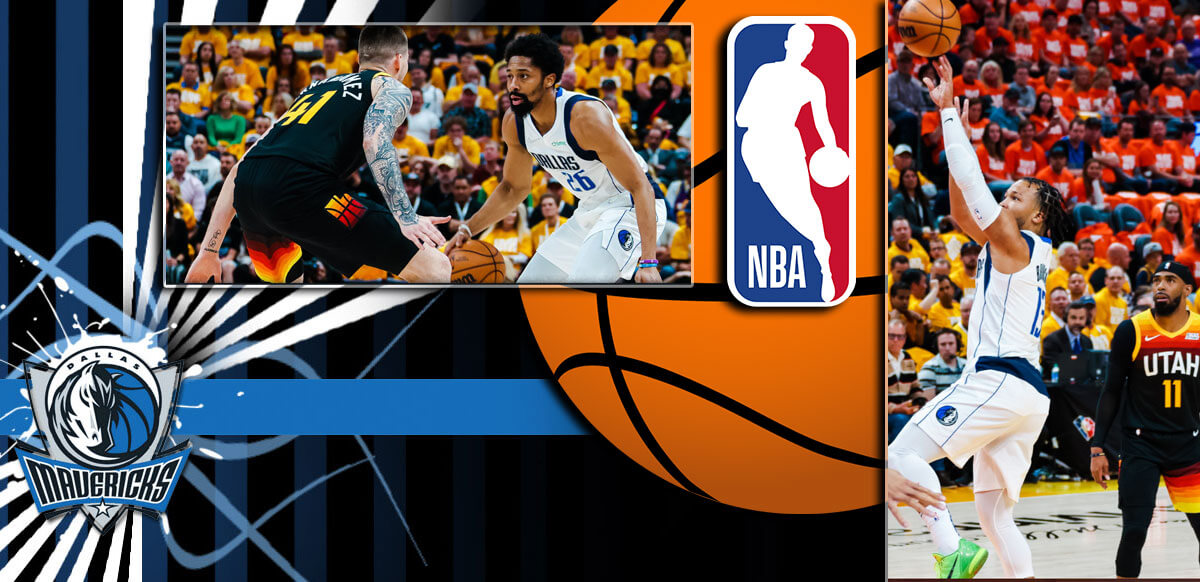 The Dallas Mavericks upset the Utah Jazz as +290 ML underdogs in Game 3.
Jalen Brunson had another big game with 31 for the Mavs who now lead the series 2-1.
Luka Doncic, who has not yet played in the series due to injury, is trending towards a Game 4 return.
Oops, they did it again.
After stunning the Utah Jazz 110-104 in Game 2 of their best-of-seven first-round series as +5 point spread underdogs, the Dallas Mavericks repeated with a 126-118 win over the Utah Jazz as +8.5 point bottom dogs in Game 3, at Salt Lake City.
And just like that, the 4th seeded Mavericks who opened as unlikely underdogs to win their first-round series, are now the -205 betting favorites at the BetOnline App.
Mavs Pull Off the Upset in Game 3
Mavs (+290 ML) pull off the upset in Game 3! pic.twitter.com/XxcVuvoK51

— NBABet (@nbabet) April 22, 2022
If the Mavs were impressive in beating the Jazz as +175 Moneyline underdogs in Game 2, look what they did in Game 3, pulling off the upset over the Jazz in Utah as +290 ML underdogs. With Luka Doncic still out of commission, the Mavericks leaned on the heroics of fourth-year man Jalen Brunson to lead them to victory.
Brunson torched the Jazz with a career-high 41 points in Game 2. While he didn't top that performance in Game 3, Brunson still managed to score 31 points on 12-22 shooting with five assists. That gives him back-to-back 30-point games for the first time in his NBA career, which makes it even more impressive. Brunson has scored 96 points in the series and only has one turnover in the last two games of the series.
Aside from Brunson, the Mavs have also gotten a huge lift from Maxi Kleber who has broken out of his late-season shooting slump. After shooting a career-best 8-11 from behind the three-point arc in Game 2, Kleber made his first three three-point attempts in Game 3 and finished with 17 points on 4-5 three-point shooting.
Kidd "Optimistic" About a Luka Return in Game 4
Luka Doncic in Game 4, lets hope this happens!

Fingers crossed ? pic.twitter.com/bbtGe8OTnz

— Mavs Nation (@MavsNationCP) April 22, 2022
Making matters worse for the Jazz is the fact that Mavs superstar Luka Doncic is trending towards a return in Game 4. Doncic has not played in the series after suffering a calf injury during his team's final regular season game. The Slovenian star has participated in the team's 5-on-5 practices since Thursday although the Mavs continue to list him as questionable.
When head coach Jason Kidd was asked during Friday's practice if he was optimistic about Doncic suiting up in Game 4, Kidd told reporters "that's a good word". Doncic meanwhile says there is no more pain and he feels ready to go but said that he doesn't know if he'll get the green light from team doctors. If he does, it's going to be more trouble for the Jazz.
Utah has opened as a -5.5 point favorite in Saturday's Game 4 at their Vivint Home Smart Arena. But as we've seen in Games 2 and 3, the Jazz were also favored by about the same margin, and look what happened. Utah has the best big man in the series but they have been outscored by 26 points when Rudy Gobert is on the floor in the past two games. They need to make the adjustments or else Brunson and maybe even Doncic is/are going to make them pay again.