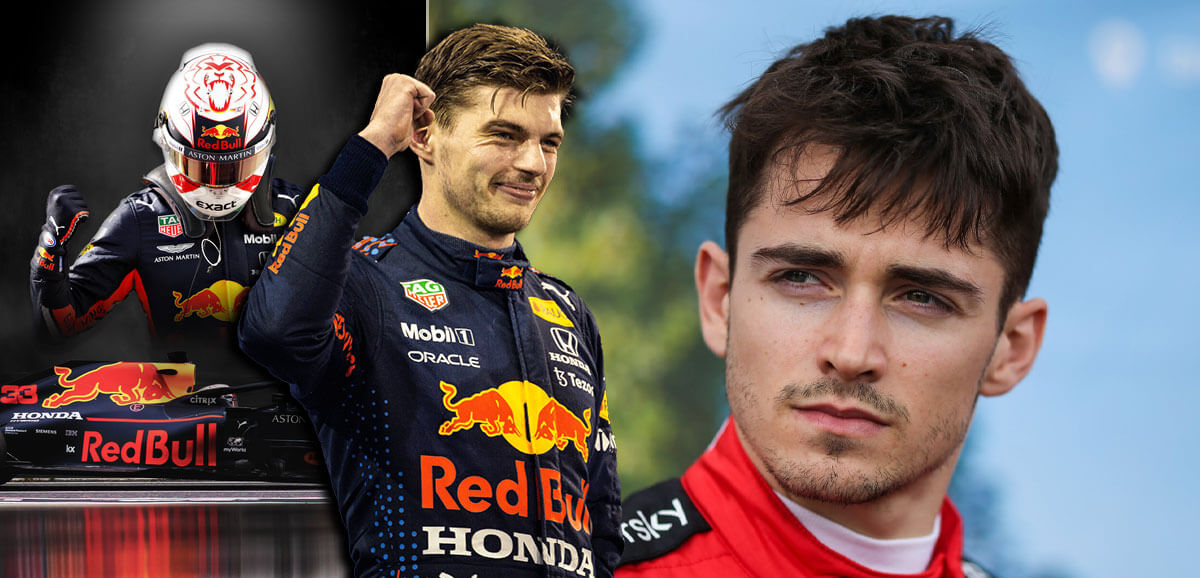 Max Verstappen isn't only pulling away in the Drivers Standings, he has also built a big lead in th betting odds boards.
From -120 five races ago, Max is now a -450 betting favorite to repeat as F-1 world champion.
Meanwhile, Chales Leclerc has dropped from +110 to +450 despite a 4th place finish.
Max Verstappen and Charles Leclerc started the current Formula One world championship going back and forth on the odds boards.
After outlasting Leclerc at the Miami Grand Prix, Verstappen was the -120 favorite to repeat as world champion. Leclerc was brimming with confidence as the close second favorite with his +110 odds. Five races later, Verstappen is comfortably ahead of Leclerc in the F-1 betting boards at -450 against +450, respectively.
P1 and P4 in Silverstone for Ferrari
Race Results 🏁

P1 @CarlosSainz55
P4 @Charles_Leclerc #essereFerrari 🔴 #BritishGP pic.twitter.com/ubDa7mPwKN

— Scuderia Ferrari (@ScuderiaFerrari) July 3, 2022
Ferrari had an excellent race in Silverstone last week with its drivers finishing at P1 and P4. Unfortunately for them, it was Carlos Sainz who was P1 and Charles Leclerc was P4. With Max Verstappen finishing 7th and picking up just six championship points, the race was a huge opportunity for Leclerc to cut into Max's lead.
The Monegasque driver entered the British Grand Prix with the second-best odds to win the race at +225, behind only Verstappen's -125. But the race belonged to Leclerc's teammate Sainz who not only earned his first Formula One Grand Prix win but also got his first taste of being the pole sitter. Leclerc could have easily finished at the podium but instead, his 4th place finish earned him 12 championship points or just six points better than Verstappen.
As it stands right now, Verstappen is firmly ahead in the Drivers Standings with 181 points. In second place is Max's Red Bull teammate Sergio Perez with 147 points. Meanwhile, Leclerc is third with 138 points while his Ferrari partner Sainz is now closing in on him with 127 points after picking up 25 points for last week's win. With 10 races completed in the championship and 12 left to race, Leclerc needs to make his move now if he wants to catch up with Verstappen.
Leclerc vs Verstappen Again in Austria?
Leclerc 🆚 Verstappen for victory? 🤩@Charles_Leclerc and @Max33Verstappen had one of their most famous duels in Austria back in 2019… who wants to see that again?!#AustrianGP #F1 pic.twitter.com/8hRzRQtKs7

— Formula 1 (@F1) July 5, 2022
Verstappen has opened as the -120 betting favorite to win the Austrian Grand Prix this weekend. As in the previous races, Leclerc is the second favorite, this time at +250 odds. Sainz is listed at +900 while Perez and Lewis Hamilton are pegged at +1000 odds via Bet365 USA.
The defending world champion has won the Austrian Grand Prix three times in the last four years, including in 2019 when he and Leclerc famously dueled at the Red Bull Ring in one of the best rounds of their rivalry. In that race, Leclerc started from the pole and Verstappen from P3. The two would go toe-to-toe in a thrilling race that went down to a dramatic pass with two laps to go that enabled Verstappen to win the race.
Verstappen and Leclerc alternated wins during the first four races of the current season, to reignite their rivalry. But since then, Max has won four out of the last six races, with Perez and Sainz winning the other two. Meanwhile, Leclerc has not stood at the podium since the Miami Grand Prix. He's failed to complete two out of the last five races. With Verstappen slowly pulling away in the drivers standings, it's gotta be now or never for Charles Leclerc at the Austrian Grand Prix.