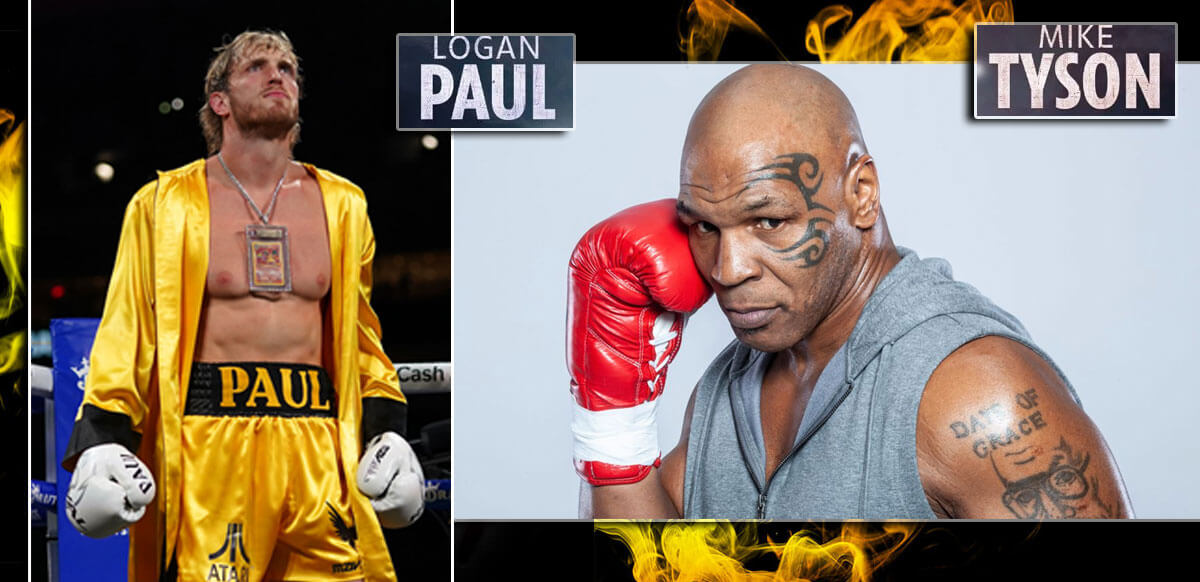 Iron Mike Tyson has opened as the -150 betting favorite against Logan Paul in a boxing match.
Tyson and Logan Paul are rumored to be fighting on February 2022.
Paul is coming off an exhibition boxing bout loss to Floyd Mayweather Jr. earlier this year.
First, it was just a rumor. Now the bettings odds for the bout have gone live.
Two days after reports of a boxing bout pitting Mike Tyson and YouTube star Logan Paul were published, the bettings odds for that possible boxing bout have gone live. And according to online sportsbook MyBookie.ag, Iron Mike is the -150 betting favorite to beat Logan Paul in a boxing match. Paul meanwhile, opened as the slight +130 betting underdog in the potential boxing bout
Mike Tyson vs Logan Paul in February 2022
Logan Paul vs Mike Tyson

Feb 2022 !

Sources tell #DramaAlert pic.twitter.com/7B6hmEiXDg

— KEEM ? (@KEEMSTAR) October 23, 2021
Rumors of a boxing bout featuring the former undisputed heavyweight champion and the YouTuber kid floated around after Daniel Keem aka Keemstar of the popular culture news show Drama Alert tweeted about the bout on Saturday. According to Keem, Tyson and Paul have been booked to a February 2022 bout, although he did not reveal any other details.
Keem's alleged fight date coincides with the timetable that Tyson revealed to TheSun.co.uk during an exclusive interview earlier this month. According to Tyson, he will be returning to the ring in February 2022. Although Tyson did not give a hint on who his next opponent would be, he was asked if he would fight either of the Paul brothers next and his reply was "I might" because of the money. Now it looks as if he will.
The 55-year old Tyson returned to the boxing ring to face former multiple division world champion and fellow Hall of Famer Roy Jones Jr in an exhibition match. Despite fighting for the first time in 15 years, Tyson looked impressive against Jones and didn't look his age at all in the bout which ended in a draw.
Last December, Bovada opened the betting lines for Tyson's next opponent. Evander Holyfield was the -150 betting favorite but after getting knocked out by Vitor Belfort, Holyfield is now out of the equation. Logan Paul was a +5000 on that list but it looks like he's the one with the balls to face Iron Mike inside the ring.
The Only Man to Fight Both Floyd Mayweather and Mike Tyson
Logan Paul is going to be the only man in history to fight both Mike Tyson and Floyd Mayweather. pic.twitter.com/iGuoVlkBxx

— CP Knockouts (@CPKnockouts) October 23, 2021
You can say what you want about Logan Paul and his 0-2 professional boxing record. But if Keem's report is true, then he will go down in history as the only man to face both Floyd Mayweather J. and Mike Tyson. No matter how you despise him, you have to give him the credit for having the balls to do so.
Logan Paul is actually the guy who started this whole celebrity boxing revolution. Logan fought fellow YouTube star KSI in a white-collar boxing match in 2018. After the bout ended in a majority draw, they fought in a rematch which was sanctioned as a professional boxing match. Jake Paul fought in the undercard of that event and he ended up fighting more bouts than Logan.
Last June however, Logan took his boxing career to the next level when he fought Floyd Mayweather Jr. in an exhibition boxing match where the 50-0 boxer was a massive -800 betting favorite. But not only did Logan Paul go the distance, but he was also able to hold his own against the boxing legend before losing the bout on points.
After the fight, Mayweather gave props to Logan Paul as an opponent and said that the 26-year old did better than what he expected. However, if Logan Paul wants to give the same effort against Tyson, he will have to punch harder and tuck his chin more against Iron Mike because Tyson is one of the biggest punchers in the history of the sport.