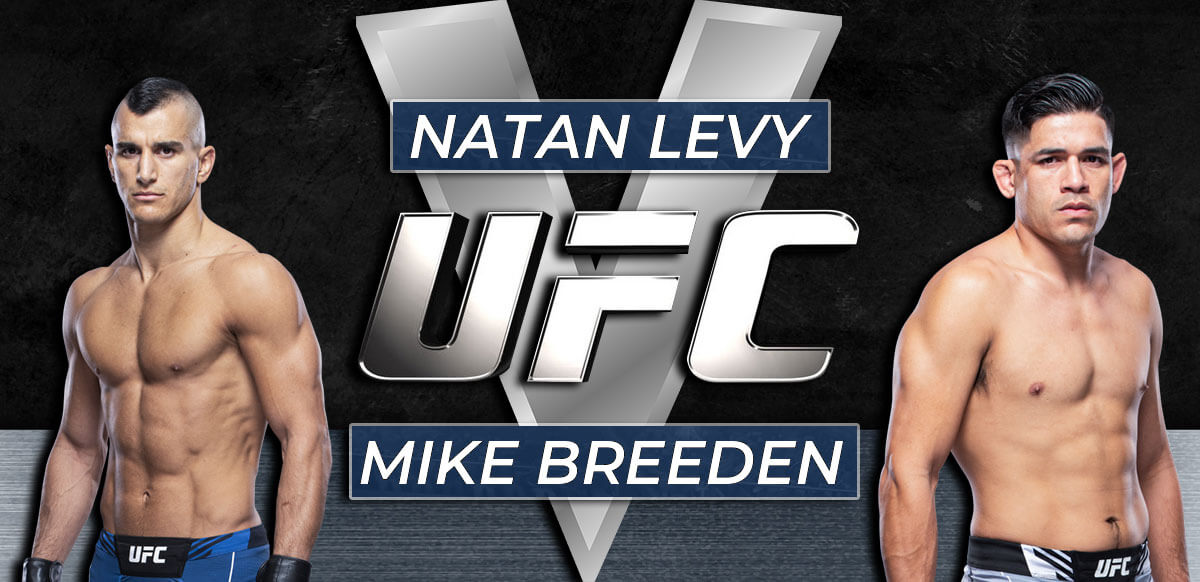 Natan Levy has opened as the -240 betting favorite against Mike Breeden.
Levy and Breeden will be looking to get their first UFC win at UFC Vegas 53 on April 30th.
At +205, Breeden will be the betting underdog for the third consecutive time under the UFC.
Natan Levy has opened as the sizeable betting favorite against Mike Breeden in a fight between two lightweights looking to earn their first win inside the UFC octagon.
According to the best UFC betting sites, Levy is the -240 favorite and Breeden the +205 bottom dog in their UFC Vegas 53 bout on April 30th:
UFC Fight Night: Font vs. Vera:
Mike Breeden (+205)
Natan Levy (-240)https://t.co/K6ARN9utqQ

— BestFightOdds (@BestFightOdds) April 19, 2022
Rafa Garcia Tops Natan Levy
UFC Vegas 43: Rafa Garcia Tops Natan Levy, Earns First UFC Win – Cageside Press https://t.co/PcNF3QJGke

— MyMartialArtsTV (@MyMartialArtsTV) November 21, 2021
The 30-year-old Levy is from Tel Aviv, Israel, and began his career with the LFA, hoping to get noticed by the UFC. After winning his first five bouts, Levy looked headed for a title shot when an opportunity to appear in the Contender Series came in November 2020. He grabbed the chance and produced a submission win over Shaheen Santana that earned him a UFC contract.
Levy was given a tough assignment in his UFC debut as he was matched up against former Combate Americas champion Rafa Garcia at UFC Fight Night 198 last November 20th. The two delivered heavy output right out the gates but in the end, it was Garcia who did just enough to win via unanimous decision, dealing Levy his first loss as a pro.
Now Levy gets another opportunity to get his hand raised inside the Octagon. The Israeli fighter has opened as the betting favorite in each of his last four bouts. He opened at -150 against Garcia but entered the Octagon as the even-money underdog.
Alexander Hernandez Flattens Mike Breeden
UFC Vegas 38 video: Alexander Hernandez flattens Mike Breeden with devastating first-round knockout (@DamonMartin) https://t.co/CVlsnZjgnb pic.twitter.com/xW4lAz4CXi

— MMAFighting.com (@MMAFighting) October 2, 2021
Meanwhile, the 32-year-old from Breeden got flattened by Alexander Hernandez in his very short notice Octagon debut at UFC Fight Night 193 last October 21. After taking a longer route to get here, look for Breeden to go all out against Levy to prove that he belongs in the UFC.
In August of 2020, Breeden showed up at the Contender Series in Las Vegas with an 8-2 record and a reputation as one of the fighters to watch being one of the top prospects from James Krause's Glory MMA Gym in Lee's Summit. However, things did not go his way as he lost a three-round decision against Anthony Romero. Less than four months later, Breeden closed out 2020 with wins over Ken Beverley and Nick Compton. He got the call from the UFC.
It won't be any easier however as he will be the betting underdog for the third consecutive fight under the UFC banner. Breeden was listed at +180 odds when he fought Romero in the Contender Series and was a massive +400 betting underdog against Hernandez in his most recent UFC bout.