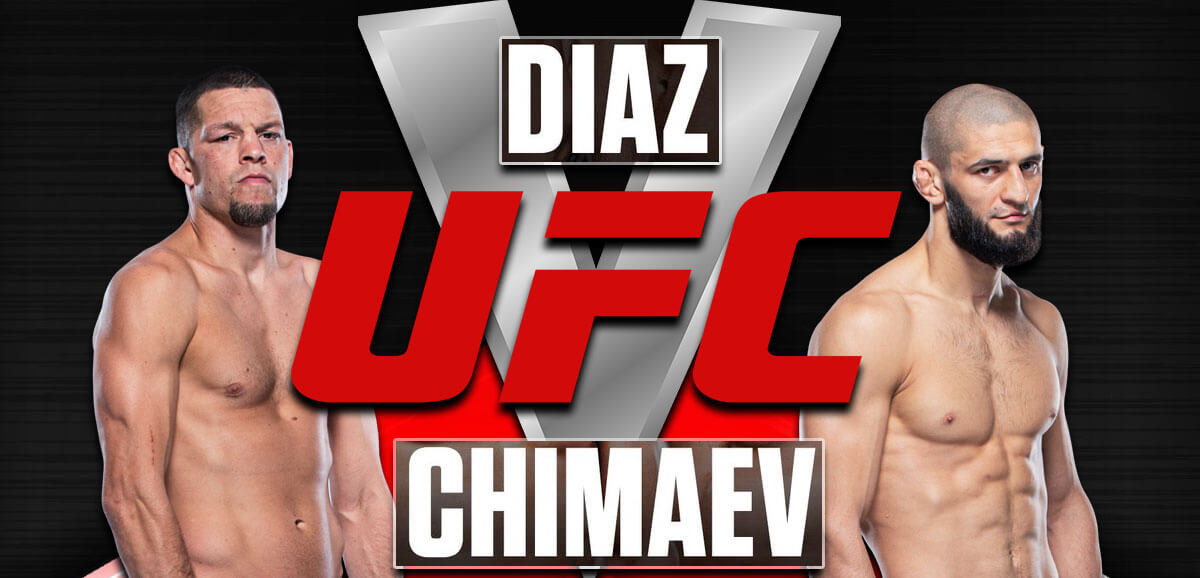 Nate Diaz opened as a massive +775 betting underdog against Khamzat Chimaev at UFC 279.
Bettors at BetOnline quickly pounced on Nate's odds with 92% of the early betting action in Diaz's favor.
Despite that, Chimaev's odds have soared to -2000, the largest odds ever for a favorite in a Nate Diaz fight.
After all the talk, Nate Diaz finally has a fight.
UFC is finalizing a welterweight matchup between @KChimaev and @NateDiaz209 to headline UFC 279 on Sept. 10 in Las Vegas, UFC Chief Business Officer Hunter Campbell told @bokamotoespn.

Contracts have not been signed, but both fighters have verbally agreed to the matchup. pic.twitter.com/sWd1cc6ibm

— ESPN MMA (@espnmma) July 19, 2022
But according to the top MMA betting sites, it won't be a "fight":
Here are the opening odds for Nate Diaz vs. Khamzat Chimaev:

Nate Diaz +775 (31/4)
Khamzat Chimaev -1100 (1/11)

(odds via @betonline_ag) 👀 #UFC279 pic.twitter.com/aZOWXFlZiu

— Chamatkar Sandhu (@SandhuMMA) July 19, 2022
Diaz opened as a massive +775 underdog to Khamzat Chimaev's -1100 odds after the UFC announced that it is finalizing a matchup between the two at UFC 279 on September 10 in Las Vegas. Shortly after the odds went live, bettors at BetOnline hammered Nate's long odds but despite 92% of the early betting action in favor of Diaz, Chimaev is currently listed as an even bigger betting favorite.
Khamzat Odds are Up to -2000
Even though 92% of the bettors are on Diaz, Khamzat is up to -2000.

I predict this will be the biggest MMA decision in the history of @betonline_ag https://t.co/GRisaZqnRT

— Dave Mason (@DaveMasonBOL) July 19, 2022
Less than 24 hours after the betting odds for the bout opened on the BetOnline App, Chimaev is now the -2000 betting favorite to beat Diaz. That would make Borz the biggest favorite ever in a Nate Diaz bout.
We all know that Nate Diaz has been a betting underdog in many of his UFC fights but the Stockton fighter has not opened at odds longer than the +280 he was given for his 2011 bout with Donald Cerrone. Diaz has also closed as the betting underdog in 11 out of his last 12 bouts but he has never closed at odds longer than the +385 when he entered the Octagon against Leon Edwards in June 2021. The odds for the Chimaev bout are just a day old yet Diaz is already a +1000 bottom dog.
Meanwhile, while Chimaev has opened as the betting favorite in all of his UFC bouts, Borz has never hit the betting boards at odds better than the -600 he opened with when he fought Rhys McKee in June 2020. Chimaev closed at a career-high -1050 odds against McKee but even that price was topped by his opening odds of -1100 against Diaz. Now he is up to -2000.
Biggest Betting Upset in UFC History
JULIANNA PENA JUST PULLED OFF THE BIGGEST UPSET IN UFC HISTORY (+700) 🤯😲😱#UFC269 pic.twitter.com/8YRBVtrcvo

— Action Network (@ActionNetworkHQ) December 12, 2021
Many sports betting outlets consider Julianna Pena's UFC 269 win over Amanda Nunes as the biggest upset in UFC betting history after the Venezuelan Vixen entered the bout as the +700 betting underdog. Some say that it was Shana Dobson who closed at +950 at a handful of sportsbooks when she defeated Mariya Agapova. Meanwhile, Holly Holm opened at +825 odds when she stunned Ronda Rousey while Matt Serra opened at +800 during his monumental win over GSP.
But regardless of which of those UFC bouts you would consider the biggest upset in promotion history, Nate Diaz would have to top all of them if he is to emerge victorious at UFC 279. That's not impossible but to say that the odds are stacked against Nate would be an understatement.
Make no mistake, Diaz is one of the most popular fighters ever to step foot inside the UFC Octagon but since winning The Ultimate Fighter 5 tournament, he has settled down as a perennial underdog who has looked to entertain more than win fights. Diaz famously halted Conor McGregor's unbeaten run in 2016 but in that bout, he was just a +375 underdog.