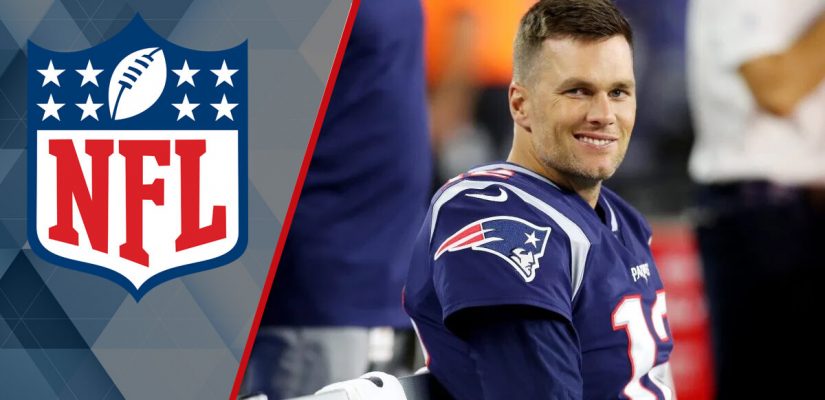 The New England Patriots are willing to pay $30 million-per-year to retain QB Tom Brady
Tension between head coach Bill Belichick and Brady still needs to be worked out first
New England are listed as -250 favorites to keep Tom Brady as their starting quarterback
"He's gone, isn't he?"
Last week in Miami for Super Bowl Week, it was hard to tell how many times exactly that question was asked when Tom Brady's potential to leave the New England Patriots was brought up — a load of people think he's on the out.
When it came to conversations about where Brady would fit and how motivated owners are to bring the G.O.A.T. to their franchise, it became easier and easier for a good number of speculators to see Brady in a new uniform next season.
However, the latest reports are showing that the Patriots are going to make authentic efforts to keep Brady, rather than shun their legendary quarterback. And as far as Tom Brady is concerned, he's all ears when it comes to staying put in Foxborough.
According to NFL Network's Ian Rapoport and Mike Garafolo, New England is willing to "extend themselves" as far as finances are concerned and give Brady as much as over $30 million to keep him as their quarterback. The $30 million would be up by $7 million from Brady's 2019 salary of $23 million.
Report: Patriots willing to pay Tom Brady more than $30 million https://t.co/cOtZJiH2w8

— ProFootballTalk (@ProFootballTalk) February 2, 2020
If the reports are accurate, then the Patriots are definitely "extending" themselves when you look at the numbers. Not only would New England be forced to pay Brady his $30 million salary, but the Patriots would also have to pay dead money from a voided deal with Brady, which would total $6.75 million. Altogether, that would be nearly $40 million against the cap, tallying an amount of $36.75 million. So, needless to say, if New England wants to retain Tom Brady, it will certainly cost them a pretty penny.
Despite the financial issues, however, Tom Brady hasn't cancelled out a return to the New England Patriots at all — not even close.
For Brady, the near $40 million price tag wouldn't be about the money, hell, Brady already has plenty of that, not to mention his wife Gisele Bundchen's wealth. It's more about him feeling loved and appreciated by the only franchise that he's ever known for 20 years. He wants to be wooed for the six championships that he brought to the franchise, and wants to be courted for what he can still provide. Straight up, this is all about respect for Tom Brady, and he wants it in the form of cold hard cash.
Throughout his entire career, it's been Brady who has been bending his back over for the Patriots franchise, taking pay cut after pay cut in order for New England to bring in talent to surround him with. However, things appear to be different this time, with Brady wanting his, especially considering the Patriots haven't put any talent around him for two offseasons now.
There were multiple reasons for why New England didn't supply Brady with talent, but regardless, that's exactly what happened. As a result, Brady had limited weapons to work with and was leading an offense that was almost completely ineffective — to the point where it led to frustration for Brady.
In this latest #Patriots QB Tom Brady update, I mention two factors: Brady's contract and Brady's desire for weapons. My understanding is surrounding Brady with more talent is his No. 1 priority for their resources: https://t.co/w9x0aoHVRN

— Ian Rapoport (@RapSheet) February 2, 2020
Also while the decline was going on, Brady was extremely underpaid compared to others around him. This time around, he would get his payday with the Patriots, but he would also be taking another leap of faith that New England will put pieces around him — and with more financial restrictions with his contract. However, things haven't gotten off on the right note with offensive line coach Dante Scarnecchia announcing his retirement after 34 years of service with the Patriots.
NFL Free Agency kicks off on March 18, but the New England Patriots (and the rest of the league) has the right to start talking contract terms with free agents on March 16. With Tom Brady's desire for surrounding weapons being strong, the Patriots have just two days to propose something to Brady that will make him feel comfortable as far as resources are concerned.
At the end of the day though, it has to be head coach Bill Belichick and Brady to work out everything, as that's where the ongoing tension has been for years now. Back in August, Brady would request that New England not use the franchise tag on him, and the Pats would honor that request so that can Brady can make his own decision in free agency. Tom Brady has earned the right to test the market if he wants to, and New England is aware of this.
Ultimately though, this is all Belichick's decision, just like the last quarterback move in 2017 when the Patriots decided to trade away Jimmy Garoppolo to the San Francisco 49ers. If Belichick does decide to move on from Brady, however, there are rumors that owner Robert Kraft will override his head coach's decision. With that being said, the main reason for that fuel and fire is because of the rumor that Kraft was the one that decided to trade Garoppolo, but it wasn't. It was Bill Belichick's, just like this decision will be too — and Brady's.
Facts are facts, it never happened. Kraft lets Belichick run the team how he sees fit.
To sum up what I've been told: Kraft never told Belichick to trade Garoppolo. The Patriots never offered Garoppolo a formal contract at any point. Garoppolo worked with Guerrero before and after his injury. Brady never asked anyone to trade Garoppolo. https://t.co/RXwjpG3ZAT

— Mark Daniels (@MarkDanielsPJ) January 5, 2018
On multiple occasions, Kraft has stated that he wants to see Tom Brady remain with the Patriots, even saying one time that he would rather see Brady retire than be with any other franchise. However, Kraft is also the type of owner to give his people freedom, so just like he didn't franchise tag Brady due to his request, he won't step on his head coach's toes if Belichick does see parting ways from Brady would be the best move for the team.
At the end of the day, Tom Brady has won six championships with the only franchise that he's ever known for 20 consecutive years. Absolutely, Brady would love to stay with New England and retire a Patriot, but only if things get better between him and the franchise. With that being said, with never being a free agent before, you know testing the market will be extraordinarily attractive for Tom Brady as well. Including the New England Patriots, there are 10 teams in total that will be pursuing Brady's services in the offseason, so Brady will have plenty of attractive options to choose from — including the Los Angeles Chargers and Las Vegas Raiders.
Brady may be turning 43 years old in August, but the market for him will be pretty intense.
If a franchise comes along with a load of cap space, weapons to surround Brady, more talent on the defensive side that's effective and space for a quarterback such as a ticket-selling legend in Tom Brady, Brady could potentially leave the New England Patriots, and his new team could become a destination for the weapons that he desires. All of a sudden, Brady retires with another team other than New England — it would be one hell of a plot twist on one hell of a career, that's for sure.
However, with the latest push, the New England Patriots and Tom Brady may be able to repair their relationship, and as a result, we could see Brady in Foxborough for a 21st season. And honestly, I may have to lean back in the Patriots' favor with my betting dollars after this $30 million report.
What Do the Betting Odds Say?
Will Tom Brady Be on the Patriots Roster in Week 1 of the 2020 Season?
What Will the Patriots Outcome Be If Tom Brady Plays 2020 Season?
Make Playoffs | -700 (No: +400)
Win Division | -200 (No: +150)
Win Super Bowl | +1200 (No: -2500)
What Will the Patriots Win Total Be in the 2020 Season With Tom Brady?
Over 10 | -110
Under 10 | -130
Will Tom Brady Retire Before the 2020 Season?
Which Team Will Tom Brady Play for in the 2020 Season?
New England Patriots | -250
Las Vegas Raiders | +300
Los Angeles Chargers | +400
Tampa Bay Buccaneers | +700
Carolina Panthers | +900
Dallas Cowboys | +900
Indianapolis Colts | +900
Cleveland Browns | +1200
Miami Dolphins | +1400
New Orleans Saints | +1400
Chicago Bears | +1600
Tennessee Titans | +1600
Denver Broncos | +1800
Washington Redskins | +2200
Minnesota Vikings | +2500
New York Jets | +2500
Arizona Cardinals | +2800
Cincinnati Bengals | +2800
Jacksonville Jaguars | +2800
Detroit Lions | +3300
Los Angeles Rams | +3300
New York Giants | +3300
Philadelphia Eagles | +3300
Pittsburgh Steelers | +3300
Atlanta Falcons | +6600
Buffalo Bills | +6600
Houston Texans | +6600
San Francisco 49ers | +6600
Green Bay Packers | +10000
Baltimore Ravens | +50000
Seattle Seahawks | +50000
Kansas City Chiefs | +100000
The Latest Reports: Other Betting Options for Tom Brady's Next Team
Las Vegas Raiders | +300
The Las Vegas Raiders have now shot up to second in the betting odds, and why wouldn't they? Late last week, it was reported that Brady bought a house in Las Vegas and was hanging out with the owner of the Raiders, Mark Davis, while at a UFC event. This week, it's now being reported that Las Vegas is all in on Tom Brady if he does decide to become a free agent, and will be pursuing him. And there's even more good news if you're the Raiders: Your current quarterback, Derek Carr, will be easy to take off of the roster, and it won't cost that much either with only $2.9 million of his $18.9 million salary being guaranteed. It looks like Vegas' situation to bring in Brady is pretty right now, and it's no wonder why they're all in either, not only would the Raiders get Brady as their quarterback, but it's a perfect way to start the Las Vegas Raiders business. I'm leaning back in the favor of the New England Patriots after the latest news, but I'm still leaving the Las Vegas Raiders in a close second place.
Los Angeles Chargers | +400
There aren't any new reports coming out of the Los Angeles Chargers camp other than one, but it's a pretty big one. Like the Las Vegas Raiders, if Tom Brady decides to enter NFL free agency, the Chargers will be pursuing him. Los Angeles and Brady have been linked together since these rumors started, and the Chargers have consistently stayed in the top three throughout — they're currently listed in third at +400. With Brady being from California, having the international market of Los Angeles to play around with and the Chargers having talent to surround Brady, you've certainly got to have the Chargers as a valid betting option — nothing will change there as long as Tom Brady is still unemployed.
Tampa Bay Buccaneers | +700
Just a week ago, there weren't many people talking about Tom Brady and the Tampa Bay Buccaneers in the same conversation, but then NBC Sports' Peter King dropped this statement: The Buccaneers are a "sleeping giant" to land Brady. As a result, Tampa Bay has shot up to fourth-place in the betting odds behind the New England Patriots, Las Vegas Raiders and Los Angeles Chargers. However, I will say this: This is all based on speculation because the Tampa Bay Buccaneers have $79.9 million dollars in cap space and the Buccaneers already having talent with Mike Evans, Breshad Perriman, O.J. Howard and Chris Godwin. With that being said though, I could see the Tampa Bay market holding Brady back from going to the Bucs. At this point in his career, I think he wants a marquee city — I could see Brady more likely going to the Miami Dolphins than the Buccaneers to build a super team, along with the likes of an Antonio Brown and Danny Amendola (who is also a free agent), with their $89.4 million in cap space, which is the most in the NFL. There might be a lot of heat here right now, but pass on Tampa Bay in this bet.
Dallas Cowboys | +900
Like the Tampa Bay Buccaneers, there's some steam coming from the Dallas Cowboys, but this betting option is quite realistic of happening. The latest heat comes from Colin Cowherd, and it makes a lot of sense. Right now, the Cowboys and their quarterback Dak Prescott are going through a contract dispute, and Prescott is asking for a boat load of money. Dallas already has weapons, so to get even more, Brady could take another pay cut with the Cowboys, and not just that, but his brand would become apart of the "Dallas Cowboys." You have Derek Jeter with the New York Yankees, Magic Johnson with the Los Angeles Lakers, Tom Brady with the Dallas Cowboys would make him even more iconic. Brady would have weapons, become apart of a marquee city and would skyrocket his brand with the Cowboys tag — keep an eye on this betting option. And former Dallas Cowboys wide receiver Terrell Owens agrees.