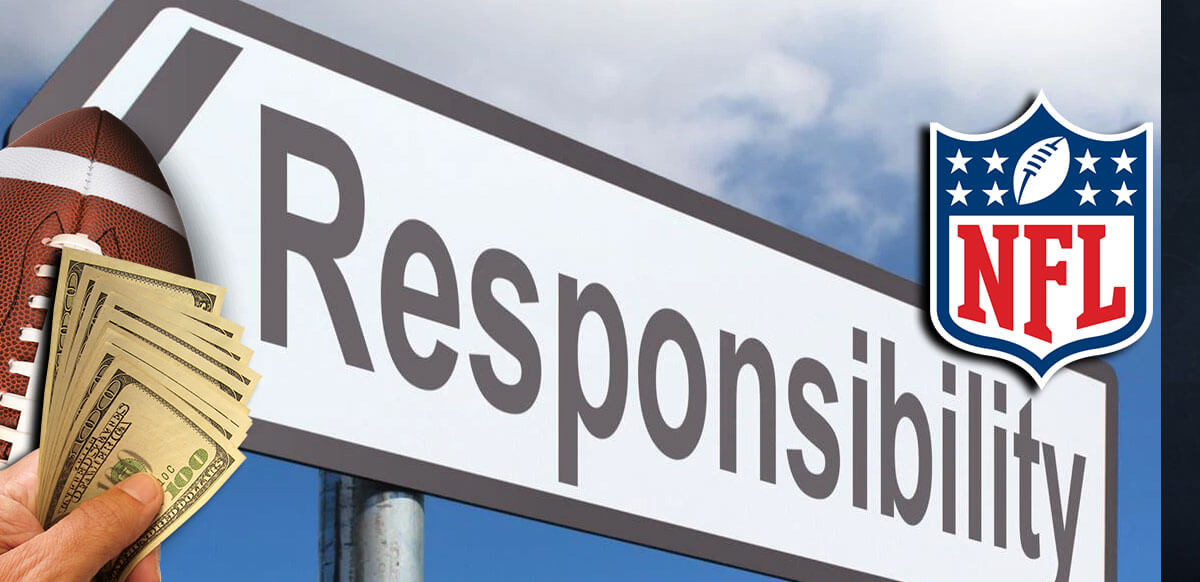 NFL's new launch encourages responsible gambling behaviors
The merits of the initiative continue to proliferate as the betting populace grows
The NFL will join in on many platforms to promote responsibility in gambling
With the ever-growing sports betting populace ingratiating the United States, the NFL launched a program on Wednesday to help make for responsible bettors across the fertile gambling landscape.
The NFL's message is simply to "Stick to Your Game Plan, Always Bet Responsibly".
This encompasses the template of an idea that would be like the game plan of a coach heading into a game on Sunday.
(1) Have a plan of action for betting; (2) Budget the money you have to bet on your games and not exceed it for any reason; (3) Use gambling agents who have proof of license: (4) Contact proper people to help if you have a gambling problem.
The initiative clearly states that the NFL feels that it has a responsibility to the people who bet not only on its contents but to go further in education on gambling plus encourage safety and responsibility.
Today @NFL announced a ground-breaking #responsiblegambling initiative in partnership w/ NCPG that includes funding to help us take our services to the next level.

That includes this website: https://t.co/xY2rML7SzI

Read the press release here: https://t.co/7yqhBLWmxk pic.twitter.com/K4APmdhiTX

— NCPG (@NCPGambling) October 20, 2021
Research shows that licensed online sportsbooks take in $100 billion during the NFL season as billions are wagered on the Super Bowl each year. According to the American Gaming Association, 45.2 million Americans will be on the NFL at some point this season.
As each state has started to legalize online gambling:
It has become very clear of how many people indeed bet on sports. Sports betting currently is a $150 billion industry, and when each state has, its own sports betting laws passed, roughly 50 percent of the people in the United States are projected to live in a state that allows for sports betting as of 2024.
Since 2018, the number of Americans who bet on sports has grown by 30 percent as more than 30 states have legalized sports betting since then.
According to research between one percent and three percent of people 18 and over experience a gambling problem every year. This equates to roughly 5.1 million people per year.
With these eye-popping numbers in mind:
The NFL is trying to take the upper hand as it realizes that through its own research that betting programs that promote responsibility are underfinanced and more so as legalization spreads.
The NFL has pointed to various other countries as learning mechanisms and the ability to promote responsible gambling are in line as more and more people can legally bet inside their own states.
Furthermore, the NFL will expand its multi-year, multimillion-dollar initiative to continue to coincide with the National Council on Problem Gambling. This advocacy support group will fund the services which are supported and offered by providers at the local and state level as well as a curriculum to youth.
The @NFL will launch a league-wide responsible gambling program in conjunction with the @NCPGambling. @FanDuel, @DraftKings and @CaesarsEnt will collaborate with the league and NCPG on the program.

(via @Bill_KingSBJ)https://t.co/bw2nFpMhFn pic.twitter.com/dCpPCaqKgs

— Sports Business Journal (@sbjsbd) October 20, 2021
The national problem gambling helpline system will also have information posted on the www.responsibleplay.org website.
The NCPG immediately features its number:
1-800-522-4700, which doubles as a text as well as a chat forum, ncpgambling.org/chat, at the top of its website for people who are looking for help.
The organization held National Recovery Month in September as a means of a gateway to its national convention. The impetus of National Recovery Month is to celebrate people who have recovered with such strength and resilience in getting help and conquering a gambling addiction.
The 2022 National Conference on Gambling Addiction and Responsible Gaming will have a digital symposium on June 8-9, 2022 and in-person sessions on July 20-23, 2022 at the Westin Seaport in downtown Boston.
The NCPG wants to continue the in-person opportunities to create engagement, connection, and positive energy. This is also the largest conference on gambling addiction and responsible gambling in the world.
The NFL is using social media, in-stadium, online, and print to manifest its responsible betting initiative. National and local television will also be platforms later this fall as the NFL is working with its teams to spread awareness and education at the local level.
It is important to note that one person's gambling addiction can affect family and friends and it can also occur alongside problems with alcohol and drugs.