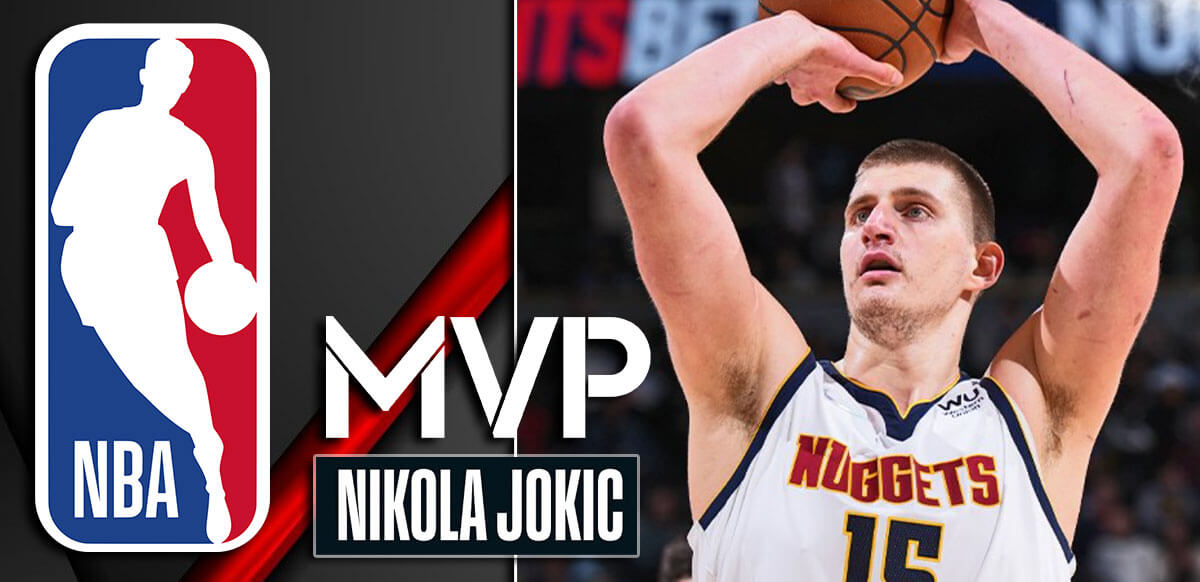 Nikola Jokic's 46-point triple-double on Sunday has put him closer to Joel Embiid in the MVP oddsboards.
Jokic is now listed at +225 with Embiid still the betting favorite at -110 odds.
The Nuggets are 38-26 SU this season despite playing without Jamal Muray and missing Michael Porter Jr. for a significant number of games.
There have only been three players to hold the distinction of MVP betting favorite this season. Luka Doncic was the preseason MVP favorite. Doncic was surpassed early in the season by Steph Curry who in turn was overtaken by Joel Embiid during midseason.
Embiid is still the solid favorite at minus money odds. However, last year's MVP winner, Nikola Jokic, is doing the heavy lifting in Denver while putting up video game numbers. While Jokic flew under the radar early in the season, he's starting to gain ground and is now cloning in on Embiid.
Jokic With an All-Time Performance for the Nuggets
Nikola Jokic with an all-time performance for the Nuggets ?

46 Points
16/22 FG (3/5 3PT)
12 Rebounds
11 Assists
4 Blocks
3 Steals
+22
6 Points in final minute for OT
Covered -4.5 in OT

MVP? pic.twitter.com/2BRuGqtGGL

— BetOnline.ag (@betonline_ag) March 7, 2022
Jokic scored 46 points, grabbed 12 rebounds, and issued 11 assists with three steals and four blocked shots. He scored a total of 30 points in the 4th quarter and OT, including six in the final minute of the extra period to rally the Nuggets from a double-digit deficit, force overtime, and win the game 130-126 while also covering the -4.5 betting spread.
The reigning NBA MVP is the first player since LeBron James in 2010 to record a 40-point triple double with four blocks. Jokic also shot 16-22 from the field, making him only the second player in NBA history with a 45-point triple double on 70% field goal shooting. The other was Wilt Chamberlain. Jokic and Chamberlain are also the only centers to have two 40-point triple doubles in the same season.
For the season, Jokic is averaging 25.8 points, 3.8 rebounds, 8.0 assists, and 1.4 steals per game while shooting 57.1% from the field. More importantly, the Nuggets are 38-26 SU on the season and in 6th place in the Western Conference team standings even if they've played without Jamal Murray the entire season and missed Michael Porter Jr. for a significant part of the campaign. Because of this, Jokic continues to climb the MVP betting boards.
Updated MVP Odds
Updated NBA MVP odds ?

Joel Embiid -115
Nikola Jokic +225

?? https://t.co/2mpDemK6Mb pic.twitter.com/feGgrdrpWH

— Caesars Sportsbook (@CaesarsSports) March 7, 2022
While Joel Embiid is still the MVP betting favorite, Embiid's odds have drifted a bit to -115 while Jokic's price has improved to +225, thereby closing the gap between the two contenders. Giannis Antetokounmpo is third at +700 while DeMar DeRozan and Ja Morant are both listed at +1400 via Caesars Sportsbook.
The reigning MVP is also listed at +225 via Bet365 USA behind Embiid who is pegged at -120. Giannis has shorter odds at +550 as do DeRozan and Morant who are at +1200. Jokic is also priced at +200 via PointsBet USA while Embiid is at -125 there. Antetokounmpo is third at +550 while Morant is at +2000 and DeRozan at +3000.
Meanwhile, Jokic's price has even gone down to -180 at BetMGM with Embiid listed at -110 there. Antetokounmpo is still at +700 while DeRozan and Morant complete the Top 5 at +1200 and +1400. The other top NBA betting sites have taken down their odds as of this writing but after Sunday's huge performance, Jokic is likely to gain ground as well, making this year's MVP race, at least in the sportsbooks, a much closer affair.