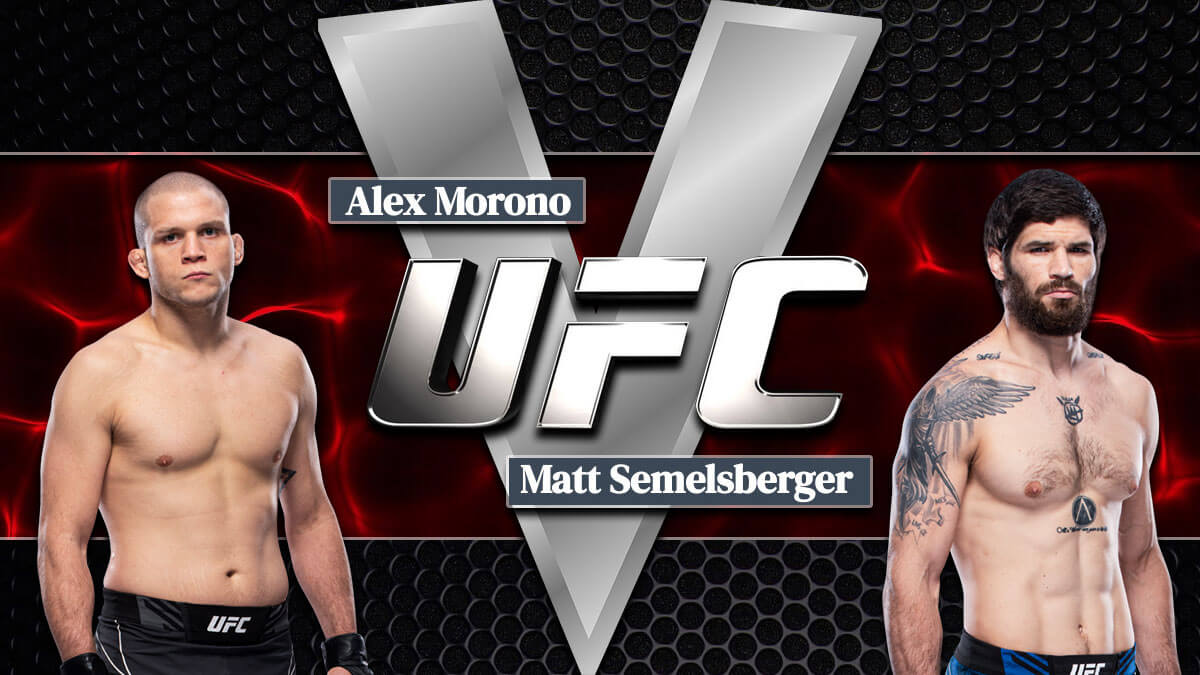 Matthew Semelsberger vs Alex Morono has opened as a pick'em bout with both fighters listed at -110 odds.
Semelsberger has won two in a row while Morono has a three-fight winning streak.
The two will fight in the prelims undercard of UFC 277 on July 30, 2022 at the American Airlines Center in Dallas, Texas.
The welterweight bout between Matthew Semelsberger and Alex Morono has opened as a pick'em fight.
Both Semelsberger and Morono his the opening betting boards at -110 odds, marking the first time in their UFC career that the best UFC sportsbooks have listed both fighters in a pick'em bout:
UFC 277: Pena vs. Nunes 2:
Alex Morono (-110)
Matthew Semelsberger (-110)https://t.co/7iy5epVQfw #ufc277 @SemiTheJedi

— BestFightOdds (@BestFightOdds) July 5, 2022
Semelsberger and Morono are scheduled to fight in the prelims undercard of UFC 277 on July 30th where Julianna Pena defends the UFC women's bantamweight title against former champion Amanda Nunes.
Matthew Semelsberger Ruins A.J. Fletcher's UFC Debut
#UFCVegas50 Prelims: Matthew Semelsberger Ruins A.J. Fletcher's UFC Debut https://t.co/l5Q6rfZ30p pic.twitter.com/TP7RrLlmQl

— Sherdog (@sherdogdotcom) March 13, 2022
Semelsberger is 4-1 under the UFC banner and he heads to this fight coming off back-to-back victories. In his most recent appearance at UFC Vegas 50 last March 12th at the APEX, Semelsberger took a unanimous decision from A.J. Fletcher, ruining the latter's UFC debut.
The 29-year-old from Rockville, Maryland began his MMA career in the regional circuits, fighting for promotions like Shogun Fights, Strike Off, Maverick MMA, CFFC, and Art of War Cage Fighting. Semelsberger joined the UFC in 2020 and won his first two bouts, defeating Carlton Minus on points in his debut and scoring a 16-second Performance of the Night KO against Jason Witt in his second bout. Overall, he has a record of 10-3 with six knockouts and one submission victory.
In five UFC bouts, Semelsberger has opened as the betting underdog twice and closed with the plus money sign next to his name once. The only time he entered the Octagon as the bottom dog was when he fought Khaos Williams in June 2021 at +145 odds. Semelsberger lost that fight via unanimous decision.
Alex Morono Outstrikes Mickey Gall
UFC Vegas 44 results: Alex Morono outstrikes Mickey Gall to win unanimous decision in main card opener (@DamonMartin) https://t.co/dc3YWi7cfw pic.twitter.com/eojQ60C1Ze

— MMAFighting.com (@MMAFighting) December 5, 2021
Meanwhile, Morono cashed as the -230 betting favorite in his last assignment against Mickey Gall at UFC Vegas 44 last December 4, 2021. The unanimous decision victory was Morono's third win in a row and his 8th in 11 bouts since 2018.
Morono is a former Legacy Fighting Championship welterweight champion who also fought under Triple A: Promotions, Fury Fighting, and Texas City Throwdown before joining the UFC in 2016. The 31-year-old from Houston, Texas began his UFC career with a 3-2 record with one no-contest but has gone 7-2 since then. Overall, Morono has a record of 21-7 with six knockouts and six submission victories.
Morono has been the betting underdog five times under the UFC banner. However, he's seen the plus money sign only twice in his last 10 bouts. During that stretch, Morono closed at +145 against Kenan Song and was the +170 bottom dog when he faced Anthony Pettis. Morono beat Song on points but lost to Pettis, also via decision.