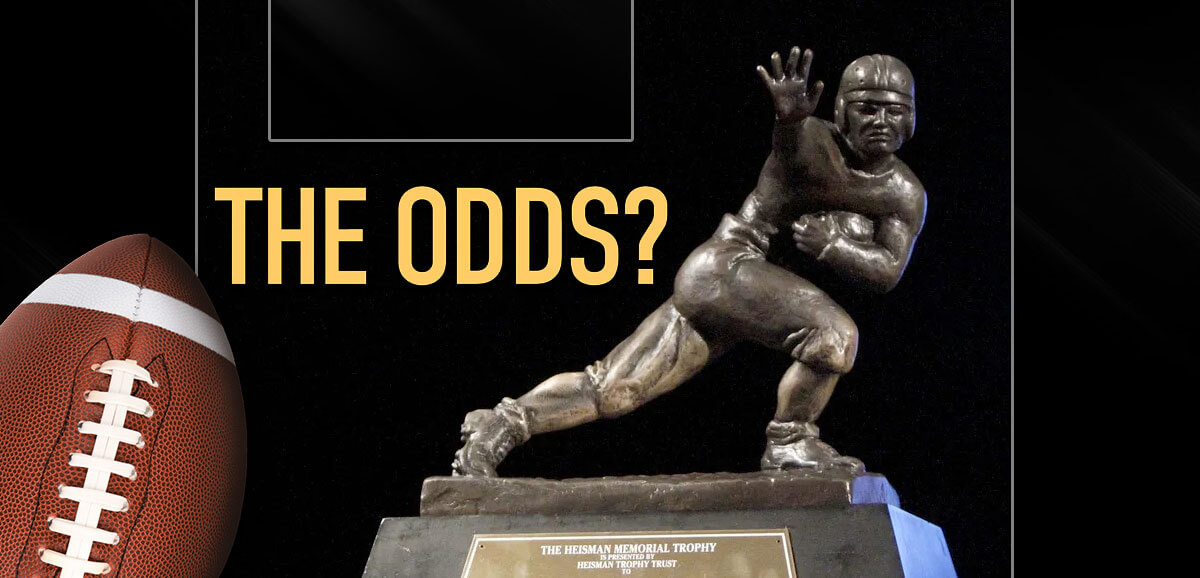 Young, Stroud could foster odds race to season's end
Caleb Williams' transfer to USC pushes odds
Alabama's preeminent linebacker sparks solid odds
Tide's Young, Buckeye's Stroud Early Heisman Trophy Favorites
Once again this season, the Heisman Trophy competition feels like it will be between two quarterbacks in Ohio State's CJ Stroud (+200) and Alabama's Bryce Young (+250). Both players are expected to once again be in the midst of the national championship race.
The two sit with close odds as it feels they likely will pass the odds back and forth for what will be the entire season. New USC quarterback Caleb Williams (+900), Texas Longhorns running back Bijan Robinson (+1600) sit behind Stroud and Young. Crimson Tide linebacker Will Anderson, Jr. (+2500) is fifth and the top defensive player in the nation as he rounds out the top five. Stroud's lead has risen slightly since the middle of last week as he sat at (+200) with Young posting odds at (+250). Both of these players have incredible confidence to go with their immense skill sets.
Stroud passed for 4,435 yards last season for Ohio State with 44 touchdown passes against only six interceptions. He had an amazing performance in the Buckeyes' 48-45 Rose Bowl win over Utah where he threw for 573 yards with six touchdown passes vs. one interception.
Young passed for 4,487 yards with 47 touchdown passes and seven picks.
He threw for 369 yards in Alabama's 33-18 national championship loss to Georgia while walking the Bulldogs with 421 in the 41-24 win in the SEC championship game.
The difference for Young was he threw three touchdown passes and no picks to win the SEC title game and elicited two interceptions and only one TD toss in the national title loss to Georgia.
The question remains if Young would have to play even better to win the Heisman as he might need to surpass his numbers of a year ago, maintain a steady lead on Stroud, and then lead the Crimson Tide to another national championship.
USC's Williams, Texas' Robinson Move into Hesiman Race
It didn't take Trojans quarterback Caleb Williams long to transfer from Oklahoma to USC after coach Lincoln Riley took the job in LA. Riley started to manufacture leads on talent and that brought Williams to the Trojans which could also lead USC back into the national championship picture.
As Williams struggled with injuries throughout the 2021 season and did not hit the lineup until a 52-21 win over Oklahoma State on Oct. 30, he lost some of his name recognition versus Stroud and Young. It was amazing to see the odds move when Williams transferred as he was posted at (+2000) right after the national championship. In the spring, he was around (+1300) and moved to (+800) and back to (+900), where he stands as of now.
Bijan Robinson had the same scenario as Williams, but his injury was with a dislocated elbow, as he posted 15 touchdowns in his six games. His odds were set (+1600) as his popularity with Stroud and Young is needs a boost in him being able to challenge for the Heisman.
Alabama's Anderson Posting Solid Odds Among Long Shots
Will Anderson, Jr., seems to stand alone among Heisman Trophy contenders on defense. He has gained the biggest odds leap of late as his odds went from (+4000) to (+3300) and then to (+2000). Anderson's defensive statistics and athleticism on a football field have literally bowled over odds boards to the point where he could snatch the elusive Heisman.
He led the nation with 17.5 sacks last season and was fourth in solo tackles with 58.
Anderson is currently tied with Ohio State running back Treyveon Henderson, Clemson signal-caller D.J. Uiagalelei, Florida quarterback Anthony Richardson and Texas quarterback Quinn Ewers (+2000).
Will Anderson sees big things for the 2022 Alabama defense. pic.twitter.com/eyQb5w8Ak1

— Touchdown Alabama (@TDAlabamaMag) March 22, 2022