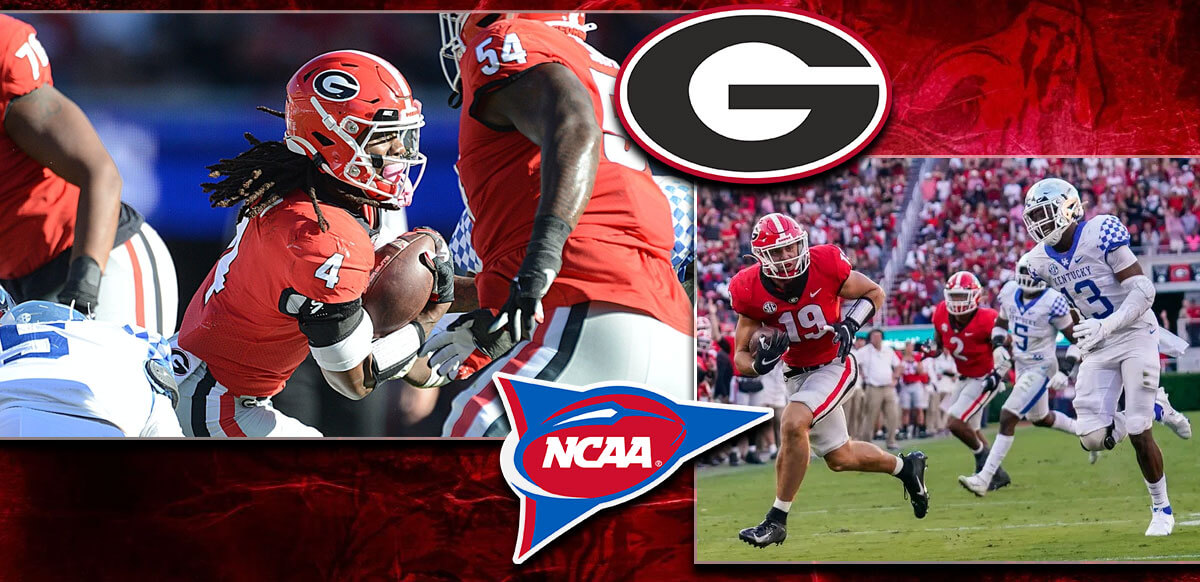 Georgia, Alabama make headway in national championship odds
Ole Miss, Texas A&M, Auburn could push one-loss Alabama
Young, Corral stay in step in Heisman race
The No. 1 Georgia Bulldogs once again proved the SEC championship is going to run through Athens, Ga., on Saturday as their vaunted defense held Kentucky to 243 yards in stopping the Wildcats, 30-13.
DAWWWWWWWGS on ?#GoDawgs pic.twitter.com/mludlnXkWJ

— Georgia Football (@GeorgiaFootball) October 16, 2021
Online sportsbooks clearly continued to hoist Georgia as the Bulldogs' (+120) odds while Alabama (+240) is still second with Ohio State (+800), Oklahoma (+1400) and Cincinnati (+2500) rounding out the Top 5.
Georgia is even at a (+100) in other places, with the Crimson Tide sitting at (+225). Oklahoma (+800) and Ohio State (+1000) flip-flop, while the Bearcats are tied with Michigan with just a (+3000) setting.
Georgia quarterback Stetson Bennett, starting his third consecutive game for the injured J.T. Daniel, passed for 250 yards and three touchdowns.
Relive the best moments from Saturday's 30-13 victory over Kentucky ??#GoDawgs pic.twitter.com/CrpZxXbsSH

— Georgia Football (@GeorgiaFootball) October 19, 2021
Tight end Brock Bowers had five catches for 101 yards and two touchdowns. The Bulldogs are now (-1200) to make the College Football Playoff and are a paltry (+750) not to make it.
"It just means more"
SEC Commissioner Greg Sankey coined the "it just means more" phrase about the SEC's moxie in all sports. The league has 39 national championships on the football field and 12 in the last 20 years, spread among five teams.
The battle between Georgia and Alabama for SEC supremacy will go far beyond the SEC title game this season. The probability for the league to play out as expected is seen in the odds to win the league with the Bulldogs at a healthy (-125) and Alabama sitting at (+110). Auburn has the third-best odds as a long shot in posting (+2500) while Texas A&M and Ole Miss (+3000) are tied for fourth.
With Alabama already having the loss to Texas A&M, Georgia could push the Crimson Tide out of the national championship playoff with a win. The Crimson Tide is still at (-160) to make the four-team final, and they are at (+140) to be left out of the field.
Rebels Stay in Their 'Lane'
Ole Miss has burst back onto the SEC scene as Lane Kiffin is only in his second season and has upgraded the talent immeasurably in Oxford, Miss.
The Rebels passed Tennessee, 31-26, on Saturday night.
The game's ending was unfortunately more about the irrational behavior of the Volunteers fans in throwing trash on the field than it was the play of Rebels quarterback Matt Corral.
*Chef's kiss* pic.twitter.com/4B6apTc85c

— Ole Miss Football (@OleMissFB) October 17, 2021
He finished with 231 passing yards, and he rushed 30 times for 195 yards as the Rebels led 24-12 at halftime and held off a stubborn Vols comeback late in the game.
No. 12 Ole Miss is sitting on the outside at 5-1, but with the longest odds to win the national championship at (+10000).
The Rebels have the 42-21 loss to Alabama, which seems to have taken them out of contention for now as they are at (+3000) to win the SEC. Ole Miss is giving (-5000) as a favorite to make the College Football Playoff while (+2000) to find their way into the four-team field.
Getting Schooled in College Station
No. 17 Texas A&M was the sexy pick to unseat Alabama and win the west at the beginning of the season as the Aggies were a (+600) to win the SEC before the season started, and they were getting the sixth-best odds to win the national championship at (+2000).
With losses to Arkansas and Mississippi State, A&M plummeted, but is back even with Ole Miss with odds to win the national championship at (+10000) as well as (+3000) to appear in the SEC championship game. Alabama would need another loss and Texas A&M would need to win out which would mean they would beat Ole Miss and Auburn head-to-head.
The game management skills of backup quarterback Zach Calzada have been the difference for coach Jimbo Fisher as Calzada passed for 148 yards and a pair of scores in Saturday's 35-14 win at Missouri. Running back, Isaiah Spiller also carried the ball 20 times for 168 yards and a touchdown.
Heisman Touting in the SEC
Alabama quarterback Bryce Young (+175) continues to hold a slight edge on Ole Miss QB Matt Corral (+200) in this week's favorites for the Heisman Trophy.
Two for No. 9. ?https://t.co/XQNFw0N2Uw#BamaFactor #RollTide pic.twitter.com/gShpREu2ST

— Alabama Football (@AlabamaFTBL) October 19, 2021
Young threw for 348 yards and four touchdowns in Alabama's 49-9 blasting of Mississippi State Saturday. Brian Robinson, Jr., scored two touchdowns while John Metchie, III, caught a 46-yard TD pass, and then Jameson Williams hauled in a 75-yard scoring throw from Young.
Robinson is a player in the Heisman race as well as he posts odds at (+4000) this week which is good for tenth place.
Georgia's Stetson Bennett has also found his way into the Heisman scene as he and Virginia's Brennan Armstrong share (+8000) odds.
.@StetsonIV has been named to the Davey O'Brien Award Great 8 for the second time this season for his performance against Kentucky.#GoDawgs pic.twitter.com/QxZeRABISC

— Georgia Football (@GeorgiaFootball) October 18, 2021
Bulldogs' running back Zamir White (+13000) while Aggies running back Isaiah Spiller, Alabama wide receiver John Metchie, III, and Tennessee quarterback Hendon Hooker are all posted at (+15000).