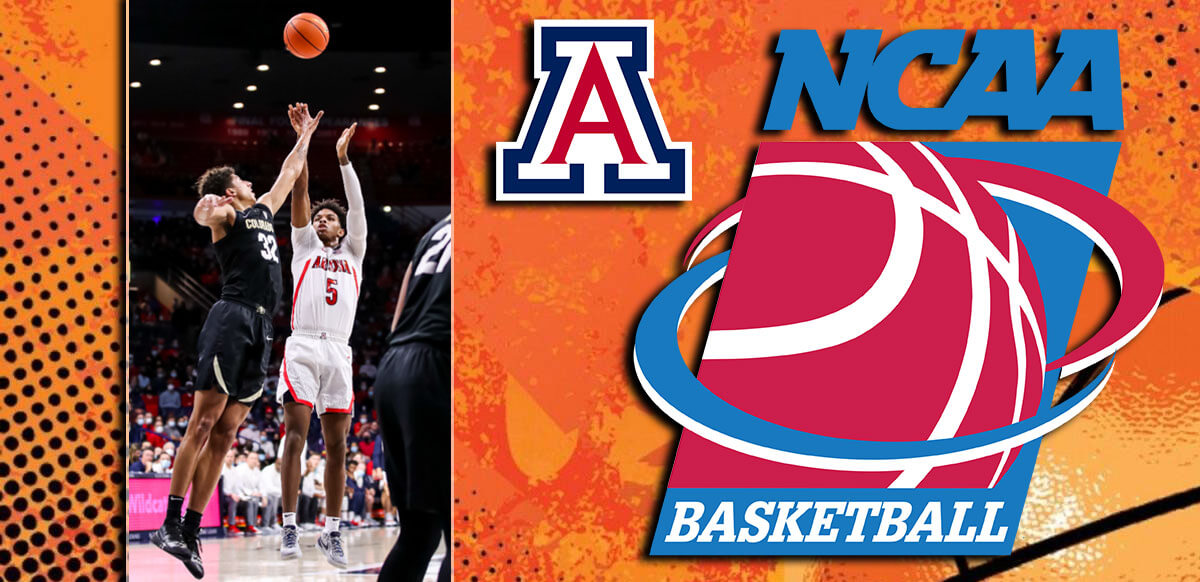 Online sportsbooks fade Bruins slightly after loss to Ducks
Wildcats only undefeated team in Pac-12 play
Trojans are upset at Stanford, still have solid odds to win the Conference of Champions
The Pac-12 figures to be a three-team race between Arizona, UCLA and USC as Arizona moved into the favorite's seat in the league after the Wildcats took down the Colorado Buffaloes, 76-55.
Cats Win ‼️#BearDown #RunWithUs pic.twitter.com/7GPbc0tq5H

— Arizona Basketball (@ArizonaMBB) January 14, 2022
This was followed up with Oregon winning at Pauley Pavilion over the Bruins, 84-81, in overtime.
FINAL (OT): Oregon 84, UCLA 81#GoBruins pic.twitter.com/4o4xpMeJFI

— UCLA Men's Basketball (@UCLAMBB) January 14, 2022
Jacob Young led the Ducks with 23 points while coach Dana Altman won his 700th career game. Oregon has picked up back-to-back wins this week after the Ducks defeated Oregon State on Monday.
UCLA led by as many as nine in the first half before taking a 35-30 lead at half-time. Johnny Juzang led five Bruins in double figures with 23 points, but the Bruins shot only 39.7 percent and made just seven threes.
"We played poorly today and it's past us. But we're definitely going to study and realize what we did wrong this game and implement it into practice tomorrow and come into Saturday with our heads high …"

Jules Bernard, meeting with the media on Thursday pic.twitter.com/KxYpDV0rUw

— UCLA Men's Basketball (@UCLAMBB) January 14, 2022
Arizona now has odds at (+125) to win the Pac-12 while UCLA comes in with (+150). The Bruins started off the season as the favorite with a posting of (+105) while Oregon was second with (+350).
Arizona and UCLA were tied with composite (+148) odds as a busy week of Pac-12 basketball unfolded.
The Wildcats, who had a 16-day break due to covid protocols beat Washington, 95-79, on Jan. 3, and then overwhelmed a good Colorado team, 44-27, to take the win in Tucson on Thursday evening.
Arizona was led by Azuolas Tubelis and Justin Kier with 14 points each. The Wildcats shot 50.9 percent from the floor and defended the Buffs at a high clip in only allowing 32.8 percent, including only four threes. Arizona started the season with odds at (+700) to win the Pac-12 as that was the fourth-best number.
Seeing any of the combinations of the Wildcats, Trojans, and Bruins in the FinalFfour would not be a surprise as UCLA and Arizona net (+360) odds to get to New Orleans and USC is posted at (+1200).
No. 3 UCLA still has (+1600) odds to win the national championship while No. 6 Arizona (+1800) is near as well. USC is a long shot here at (+5000).
Troy Finally Falls
No. 5 USC had its highest ranking since 1974 this week but fell, 75-69, at Stanford in an early afternoon make-up game on Tuesday.
Stanford had been out for COVID-19 protocols for almost three weeks, but the Cardinal made 10-of-24 threes and Harrison Ingram and Spencer Jones cast 21 points each.
USC, who is now hosting odds at (+500), checked in at (+650) at the beginning of the season as the Trojans and Baylor were the last two unbeaten and went down within two hours of each other. USC was noted at a composite (+380) and faded slightly.
However, Stanford has risen to 10-4 and the Cardinal is posting at 3-1 in the league. The Cardinal still has odds at (+4000) to win the Conference of Champions after beginning the season at (+3500). Stanford's composite (+8000) odds started off their busy week.
Last night, they followed through with a 62-57 win over improving Washington State where they went on a 23-0 run midway through the second half. Jones was on point again as he had 16 points while Jaden Delaire netted 14.
Big win in Pullman ?#GoStanford pic.twitter.com/R1SbRLPJtX

— Stanford Men's Basketball (@StanfordMBB) January 14, 2022
Brandon Angel was a wild card off the bench for coach Jerod Haase with 16 points in 22 minutes.
Upward Flight
Oregon is now 10-6 after its two wins this week, but at 3-2 in the league, the Ducks are measured at (+2000) which is a move back forward after being hit with composite (+3050) odds to win the Pac-12 early in the week.
Came in hungry. Left with a win. #GoDucks

— Oregon Men's Basketball (@OregonMBB) January 14, 2022
Oregon has had problems defending as the Ducks' opponents shoot 44 percent from the field (253rd/CBB). Inside the three-point line is where the opposition scores the ball at a 51.3 percent clip (287th/CBB) as there is no shot-blocking presence in the middle.
Rose to the occasion. #GoDucks pic.twitter.com/dejeDTsbJa

— Oregon Men's Basketball (@OregonMBB) January 14, 2022
Offensively, Will Richardson and Jacob Young have picked their games up in conference play as Young is averaging 15.4 points and Richardson is getting 15.0. Young has averaged 20.3 points in his last three.
Buffaloes are Back
Although Colorado lost 76-55 at Arizona on Thursday night it was only the Buffaloes second road game as they had also lost at UCLA before Christmas.
Final: Arizona 76, Colorado 55 pic.twitter.com/B3DNJXOaLr

— Colorado Men's Basketball (@CUBuffsMBB) January 14, 2022
The Buffs won at home against Washington State and Washington and are 2-1 now since COVID-19 issues forced them into a cancellation and three postponements.
Defense has been a key once again for Colorado as Tad Boyle's team has held opponents to 41.6 percent from the field so far (125th/CBB) and they give up 66.7 points (127th/CBB). They have to get better from the three-point line to challenge, though, as they shoot only 31.3 percent (285th/cbb).
CU has a defined starting lineup with the same five starting the first 15 games. Jabari Walker (12.7 ppg) and Evan Battey (12.4 rpg) lead them in scoring as bench production will also be a key going forward in Boulder.
Colorado currently has a (+3500) number to win the Pac-12 after starting at (+2000).
The Buffaloes' composite odds were at (+4250) when they were updated on Monday.