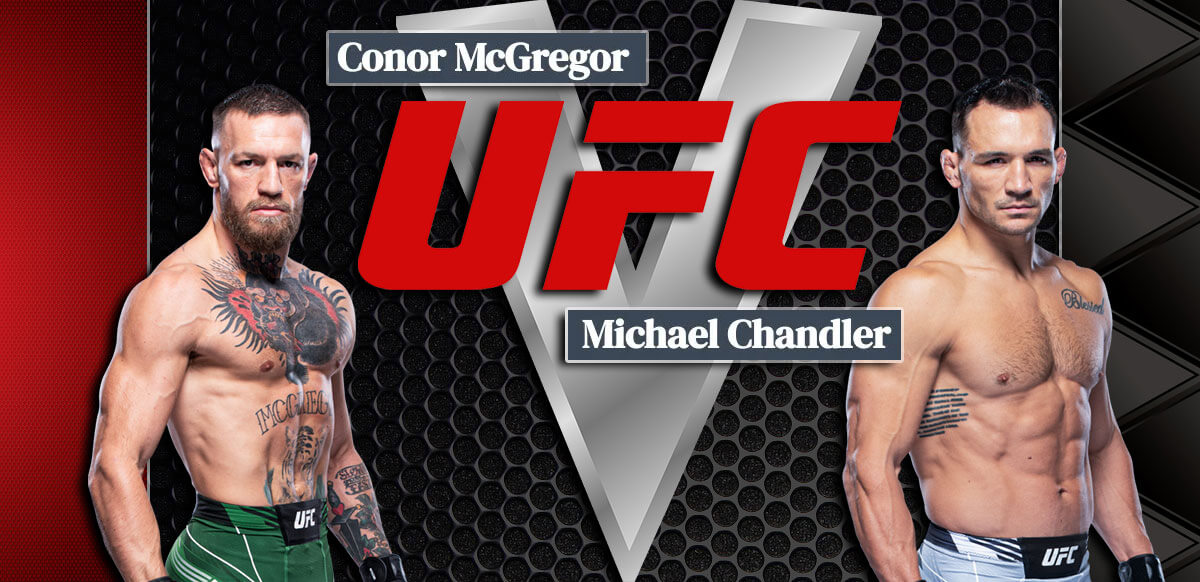 Michael Chandler has opened as the betting favorite in a potential 170-pound showdown against Conor McGregor.
Chandler challenged McGrego to a 170-pound bout after beating Ferguson at UFC 274 last weekend.
McGregor responded to Chandler by saying he likes the fight to happen at some point in his career.
Michael Chandler has opened as the slight betting favorite against Conor McGregor in a potential welterweight showdown.
According to the best UFC betting sites, Chandler is the -155 chalk in that matchup with McGregor coming back at +135:
UFC:
Conor McGregor (+135)
Michael Chandler (-155)https://t.co/zoxXukWaFb @TheNotoriousMMA @MikeChandlerMMA

— BestFightOdds (@BestFightOdds) May 8, 2022
This marks only the third time in McGregor's career that he opened at plus money odds. The former two-weight division UFC champions opened at +100 against Chad Mendes and was a +285 when the betting lines for his bout with Khabib Nurmagomedov opened. Meanwhile, Chandler opens at the same odds he had when the betting lines for last weekend's bout against Ferguson went live.
Chandler Called out McGregor After KO Win
Chandler called out McGregor after his KO win 🗣 #UFC274 pic.twitter.com/m7Rk5jTrvE

— ESPN MMA (@espnmma) May 8, 2022
It can be recalled that Chandler called out Conor McGregor after face-planting Tony Ferguson at UFC 274. During his post-fight Octagon interview with Joe Rogan, Chandler first asked for a rematch against the winner of the fight between Charles Oliveira and Justin Gaethje for his next fight. But Chandler also added that if he doesn't get the next title shot, he wants to fight Conor McGregor at 170 pounds.
Said Chandler:
"If Hunter Campbell and Dana White have a momentary lapse in judgment, and they give this title shot to someone else, I got one dude on my mind. Conor McGregor, you gotta come back and fight somebody! ….I am the most entertaining lightweight on the planet. But I wanna up the stakes: I want you at your biggest, I want you at your baddest, and I want you at your best…..You and me, at 170, this summer, this fall, this winter, holler at your boy! God bless! I'll see you at the top!"
McGregor sounded keen on the matchup. Maybe not now but as Conor said "at some stage of his career":
Conor McGregor responds to Michael Chandler's callout after an electrifying knockout of Tony Ferguson.

More #UFC274 reactions: https://t.co/9444hs659i pic.twitter.com/bBzF5kwKIj

— MMA Junkie (@MMAJunkie) May 8, 2022
But while Chandler was the first to call out McGregor last weekend, he wasn't the last. After an impressive submission win over Justin Gaethje, former lightweight champion Charles Oliveira also set his sights on McGregor and called out the Irishman. McGregor also replied to Oliveira, telling him that while he's not sure if he wants to cut weight, he (McGregor) loves the fight against Oliveira and reminded the world that he's unbeaten against Brazilians.
It remains to be seen who McGregor will be matched up against upon his return. Both Oliveira and Chandler would present a tough challenge for McGregor, but given Do Bronx's elite submission skills, Uncle Dana might prefer Chandler over Oliveira for his cash cow. After all, the UFC can't afford McGregor to lose again in his next bout.
Who the Hell Wouldn't Want to See That Fight?
Dana White on a potential Michael Chandler vs. Conor McGregor fight: "Who the hell wouldn't want to see that fight?"#UFC274 | Full video: https://t.co/vMOKyyeAFg pic.twitter.com/ZD3l6u631x

— MMA Junkie (@MMAJunkie) May 8, 2022
UFC President Dana White was asked about the possibility of McGregor facing Chandler during the post-event press conference and White responded by describing it as a "fun fight" while telling reporters "Who the hell wouldn't want to see that fight?" By the way, he sounded, White looked interested in booking that 170-pound fight in the future.
As for Oliveira, White said that the Brazilian would become the no. 1 contender for the title should he beat Gaethje at the UFC 274 main event. After Do Bronx won the bout, people-including Khabib Nurmagomedov, are talking about a matchup against Islam Makhachev for the now vacant title.
Khabib Nurmagomedov tells Dana White 'you have no other choice' but to make Islam Makhachev vs. Charles Oliveira next (@DamonMartin) https://t.co/jFwWSpKTRt pic.twitter.com/fUONJwR815

— MMAFighting.com (@MMAFighting) May 8, 2022
White has yet to announce what's next for Olveira and Makhachev but the best UFC sportsbooks have already opened the betting odds for that highly possible lightweight title fight and according to them, Makhachev is the heavy -410 betting favorite to beat Oliveira who came back at +340 when the betting lines first opened:
I was just looking at the future odds, and Islam Makhachev is a -410 favorite to beat Charles Oliveira. Islam is great, but this doesn't seem right. Maybe the line will go down a bit, but Oliveira probably enters that fight as the underdog if it happens, which is pretty crazy. pic.twitter.com/W3tYJldhKd

— Adam Martin (@MMAdamMartin) May 8, 2022
Oliveira vs Makhachev appears to be the rightful next UFC lightweight title fight. But then again, don't take out McGregor from the title picture yet. But if it's Charles vs Islam for the 155-pound belt, then Michael Chandler at 170 pounds would be the best comeback fight for McGregor out there.