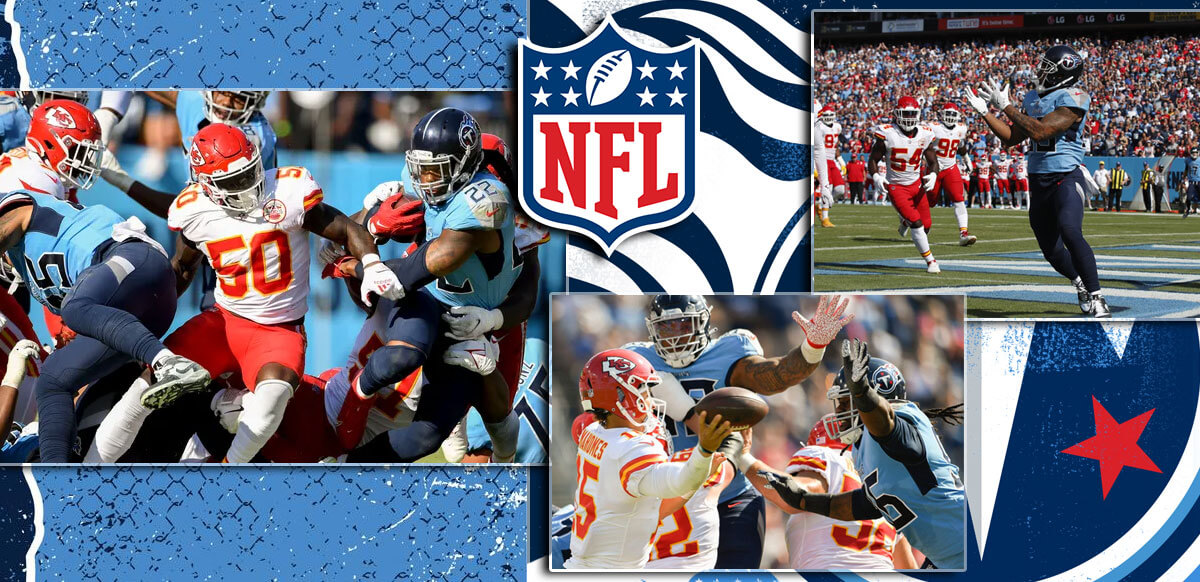 Sportsbooks enable Titans' Movement Across the Boards
Titans prohibitive Favorite in AFC South
Derrick Henry Enjoying Solid Odds as Favorite for NFL Offensive POY
The Tennessee Titans continued their upward move in the NFL and on the odds boards on Sunday as they broke open a 14-0 first-quarter lead over the Kansas Chiefs and were never threatened in a 27-3 win at Nissan Stadium in Nashville.
Taking care of business #KCvsTEN pic.twitter.com/5JzZPSwfTR

— Tennessee Titans (@Titans) October 24, 2021
Sportsbooks moved the Titans forward after yesterday's win as they were posting (+3000) odds to win the Super Bowl last week and now are sitting with a (+1800) number.
Interestingly, Tennessee is still behind the Chiefs, who have plummeted to (+1400) after they turned the ball over three times and the Titans sacked Kansas City quarterback Pat Mahomes four times.
Another W at the crib.

Relive It #KCvsTEN pic.twitter.com/aHagev5ffS

— Tennessee Titans (@Titans) October 25, 2021
Some online sportsbooks posted the Titans as low as (+4000) last week, although they took a 34-31 win over the Bills on Monday Night Football.
Derrick Henry ran 29 times for 86 yards and passed for the opening touchdown of the game when he found MyCole Pruitt on a 5-yard gadget play on Tennessee's first drive of the game.
Massive Efforts Lead to Respect in AFC
Tennessee's odds to win the AFC moved to (+1200) after the win over the Bills on Monday Night.
After wide receiver, A.J. Brown's mammoth day on Sunday where he caught eight passes for 113 yards, including a 24-yard touchdown strike from Ryan Tannehill, which gave the Titans a 14-0 lead at the end of the first quarter, Tennessee's odds to win the AFC moved to (+800), good for fourth in the AFC.
Guac isn't extra with this TD #KCvsTEN

?: Watch #KCvsTEN on @NFLonCBS pic.twitter.com/2aGKorCHaH

— Tennessee Titans (@Titans) October 24, 2021
Buffalo is a solid (+200) to win the conference and move on to the Super Bowl as Baltimore, despite a resounding 41-17 loss to the Cincinnati Bengals, checks in at second (+600).
Even though the Chiefs are struggling at 3-4 and have a defense that gives up 404 yards per game, sportsbooks still like their chances over the Titans as Kansas City is hosting (+650) odds to once again appear in the Super Bowl. However, the Chiefs and Ravens both dropped from last week as Kansas City fell from (+350) last week while the Ravens were touted at (+450).
The idle Los Angeles Chargers are tied with the Titans with the (+800) odds to win the AFC as they slightly moved after posting (+900) a week ago.
Tennessee is a Prohibitive AFC South Favorite
As the Titans have now won three in a row, they are cresting with (-500) odds to win the AFC South.
The Colts picked up a big win last night in San Francisco as they moved to 3-4 with a 30-18 win over the 49ers. Indianapolis is a solid second in the division with odds at (+350) to win.
Struck gold on SNF. ⛏ pic.twitter.com/zNPaBcPqTQ

— Indianapolis Colts (@Colts) October 25, 2021
The Titans and Colts rematch in Indianapolis on Sunday after Tennessee defeated Indianapolis, 25-16, in Nashville in Week 3.
The division is awash after the Titans and Colts as Jacksonville had a bye after its trip to London and sits with (+6500) odds to win the AFC South while the Houston Texans fresh off yesterday's 31-5 loss in Arizona, are (+20000).
Henry is on the Offensive
Derrick Henry was held under 100 yards for the first time since Week 1 yesterday as he had reeled off five straight 100-yards plus games. His best outing so far came in Week 2 when he had 182 yards on 35 carries and three touchdowns in a 33-30 come-from-behind win over the Seattle Seahawks.
Henry is moving up as he is posting odds at (+350) to win the NFL Offensive Player of the Year Award. After rushing for 143 yards on 20 carries last week, he took a solid lead over Green Bay wide receiver Dante Adams as he netted (+500) odds while Adams placed at (+1100).
After yesterday, the Rams' Cooper Kupp, who had 10 catches for 156 yards and two touchdowns, moved into second in odds to win the offensive player of the year with (+800).
Adams improved to (+1000) as he caught six passes for 76 yards and a touchdown in the Packers' 24-10 win over Washington. Arizona quarterback Kyler Murray (+1200) and Dallas QB Dak Prescott (+2000) check in with the fourth and fifth-best odds.
Henry is still tied for eighth on the NFL MVP list as he and Baltimore's Lamar Jackson share (+2500) odds. Buffalo's Josh Allen maintains his (+400) lead while Murray (+450) and Prescott (+500) have a better chance to win the award than they do the NFL's Offensive MVP through seven weeks.
Going Deep
Despite A.J. Brown's aforementioned output yesterday, the odds leave him as a major longshot to win the NFL MVP Award as he is tagged (+20000).
10th career ?-yard game for @1kalwaysopen_ ? pic.twitter.com/QyqNKeQnjk

— Tennessee Titans (@Titans) October 24, 2021
Brown, who has been fighting injuries so far this season, has 25 catches for 354 yards and two touchdowns. He has been stricken with food poison heading into the Buffalo game last Monday night.