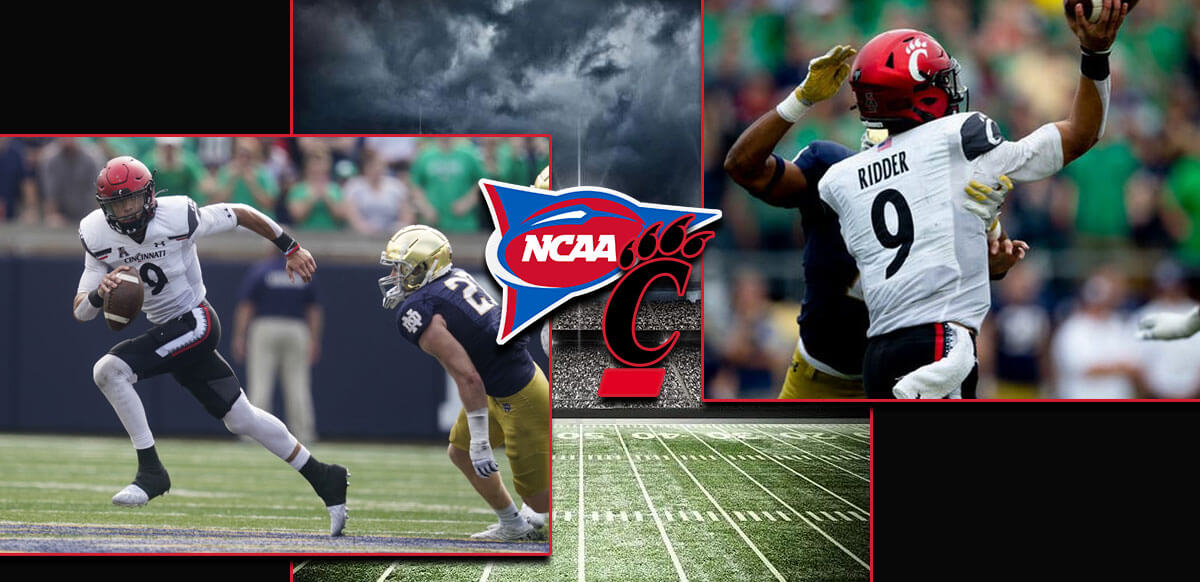 Sportsbooks assert that Bearcats domination of Irish puts them in the national title hunt
Cincinnati is a prohibitive favorite in AAC
Oddsmakers post-Desmond Ridder third in Heisman Race
Cincinnati quarterback Desmond Ridder completed 19-of-32 passes for 297 yards and two touchdowns as the Bearcats formally announced themselves into the national championship picture with a dominating 24-13 win at Notre Dame on Saturday.
The Bearcats easily covered the (-2) with a suffocating defense that turned Notre Dame over three times.
Desmond Ridder passed for 297 yards and two touchdowns and added 26 yards and a score on the ground, propelling Cincinnati to a win over the Irish.

Those numbers earned the QB @American_Conf Offensive Player of the Week honors❗️

?: https://t.co/mcTEmojdMQ#Bearcats pic.twitter.com/kP6LlLQiWk

— Cincinnati Football (@GoBearcatsFB) October 4, 2021
The Bearcats moved to No. 5 in the nation in the AP poll and received a healthy boost from the oddsmakers as Cincinnati moved to fifth several odds boards in posting (+2500) to win the national title after posting (+4000) last week.
Cincinnati opened the season at (+10000) in some spots, but the convincing wins in their 4-0 start and leading Notre Dame start to finish in South Bend have put the Bearcats deeper in national championship conversations than any Group of 5 teams since the BCS was formed.
To get perspective on how the sportsbooks feel about Cincinnati, the (+2500) odds are in range to catch Ohio State (+1000) and Oklahoma (+1500), who sit at third and fourth. However, upsets to Alabama (+150) and Georgia (+175) still might not allow the Bearcats to catch these two teams as a national championship favorite.
High Atop the American
Coach Luke Fickell has built a solid program in Cincinnati, and the Bearcats, frankly, will be their own biggest nemesis in the AAC as the latest numbers show UC posting (-350) odds as they are in front of UCF as the Knights are showing (+800).
Fickell was hired at Cincinnati by USC athletic director Mike Bohn, and after Clay Helton was fired as the Trojans coach in a show of power by Bohn, Fickell was sitting at (+600) with Penn State's James Franklin to become the new Trojans head coach.
Houston is resting at (+1200) after the Cougars have started 4-1 against menial competition.
Cincinnati sat at (-225) in some sportsbooks while the Knights were at (+400). Memphis came in third at (+1200), but the Tigers have struggled out of the gate in dropping a pair of three-point decisions to UTSA and Temple.
Looking at the schedule, Cincinnati will be an overwhelming favorite against its AAC competition. With its talent, the mental preparation from week to week will be the Bearcats' biggest opposition.
If these Bearcats run the table and win the AAC and the also the conference's title game to stake a 13-0 record, it's time for the BCS national championship committee to use the eye test and include Cincinnati in the Final Four playoff for the national championship.
For perspective, when UCF had it's 25-game winning streak and was late in 2018, the Knight were given no shot then by the oddsmakers as they had a (+5000) number to win the national title for that season.
Heisman Hopeful
Cincinnati dual-threat quarterback Desmond Ridder is such a consistent presence on this balanced offense which is supplemented by a defense that gives up only 309.2 yards per games, 30th in college football.
Ridder controlled Saturday's win over the Fighting Irish as he threw a pair of first-half TD passes to Leonard Taylor and Tre Tucker in giving the Bearcats an insurmountable 17-0 halftime lead.
#Bearcats lead at the half. pic.twitter.com/xlvwP3uQTU

— Cincinnati Football (@GoBearcatsFB) October 2, 2021
Ridder moved to (+1000) on some Heisman Trophy boards as he has completed 63.5 percent of his passes with nine touchdown tosses and only two interceptions over his first four games.
Others had him lower at (+1200) as they still consider him a long shot to Alabama's Bryce Young (+120) and Ole Miss quarterback Matt Corral (+250).
One online sportsbook even had Ridder still posting (+2000) odds and in a tie with Oklahoma's Spencer Rattler as C.J. Stroud (+1600) of Ohio State was even still ahead of Ridder.
He was posted at (+3300) in the off-season as the
online sportsbooks
included him on the odds boards after he had a stellar junior season in leading the Bearcats into the Chik-Fil-a Peach Bowl, where they lost a 21-10 lead at the end of the third quarter to lose to Georgia.
Ridder had his best year as a junior when he completed 66.2 percent of his passes with 19 touchdown passes and only six interceptions.
Irish National Title Hopes Sacked
Of course, it is Notre Dame, so even with the loss, the Irish can work their way back into national contention.
They have to run the table, like Cincinnati, with a schedule that includes no Top 25 members as of now and a rush offense that is 124th in the college game as it spits out only 80.8 yards per outing.
The Fighting Irish fell all the way to (+8000) to win a national championship. They don't play in a power conference as they are still an independent, so the brand will matter if they do run the table in a year where upsets are the norm.
⬇️ Today's victory by the numbers. ⬇️ pic.twitter.com/biqQ1MIJLX

— Cincinnati Football (@GoBearcatsFB) October 3, 2021
Notre Dame has been a long shot at best all season as the Fighting Irish started at (+8000) this season and moved up to (+3000) before settling back to (+8000) after Saturday's loss.