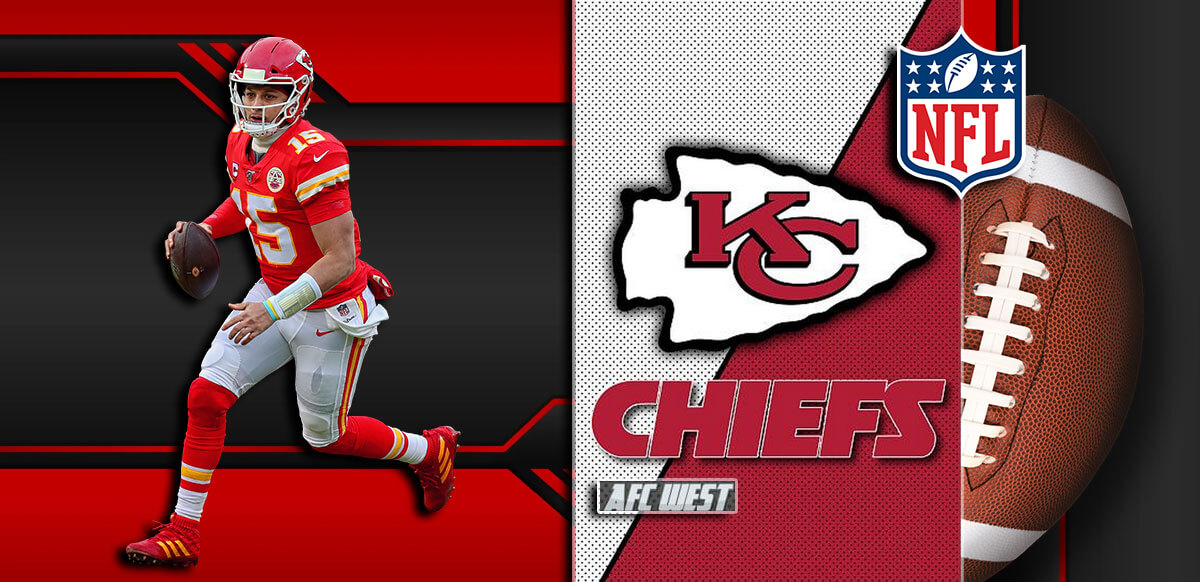 Chiefs surround the AFC West Reservation with sixth AFC West banner
Raiders close in odds to post wild card appearance
Chargers' playoff odds on edge after head-scratching loss
The Kansas City Chiefs have been invincible in winning eight in a row, and after yesterday's 36-10 win over the Pittsburgh Steelers, Andy Reid, Patrick Mahomes, and Company were able to hoist their sixth consecutive AFC West title.
Mahomes threw three touchdown passes, two to Byron Pringle, as he posted 258 passing yards and the Chiefs rolled up a 30-0 lead midway through the third quarter.
"Excuse me! Excuse me!!" –@pringle_byron, probably

?: #PITvsKC on CBS pic.twitter.com/wZAryfHOI5

— Kansas City Chiefs (@Chiefs) December 26, 2021
Online sportsbooks are back on "Team Chiefs" as Kansas City is now posted at (+400) to win the Super Bowl. Green Bay (+450), Tampa Bay (+500), the LA Rams (+850) and Buffalo (+850) round out the top five.
Kansas City and Green Bay were tied at (+400) with the Buccaneers at (+650) and Buffalo nailing (+900) odds with Dallas fifth at (+950).
Once again, this Chiefs' defense has achieved at an epic level in stymieing the Steelers with 303 yards on 70 plays. Kansas City is giving up only 12.8 points per game and they boast a (+13) turnover margin with 21 pilfers during this eight-game march toward another championship.
#VictoryMonday hits different when you're AFC West CHAMPS!! ? pic.twitter.com/OIVLlpPEee

— Kansas City Chiefs (@Chiefs) December 27, 2021
Mahomes has been at the forefront of the offensive surge with 15 touchdown passes vs. four interceptions. He had 18 touchdown passes and eight picks in the Chiefs' 3-4 start to the season.
The KC quarterback is back to (+1200) odds to win the league's MVP as he is tied for fourth with Buffalo quarterback Josh Allen. Aaron Rodgers (+175), Jonathan Taylor (+600), and Tom Brady (+750) are the top three most likely winners.
Kansas City is the favorite to represent the AFC in Super Bowl LVI as the Chiefs are set with odds at (+175) as Buffalo has slipped back into second at (+350). Indianapolis is at (+650) while the New England Patriots are nursing (+700) odds with the Tennessee Titans at (+850).
"HELLO PLAYOFFS, IS THAT YOU?" ☎️ pic.twitter.com/iBov2PSEsJ

— Kansas City Chiefs (@Chiefs) December 27, 2021
With Kansas City now at 11-4 and in total control in the AFC West, the Chiefs are posted with a 12.5 number of wins with (-115) to go OVER and (+105) to stay UNDER. Kansas City is at Cincinnati on Sunday and then at Denver to finish the season.
Silver and Black Stage an Attack
As Kansas City has won the division, the Las Vegas Raiders and the LA Chargers are zeroing in on a wildcard, albeit, the two teams are going in different directions.
The Raiders' defense has come up strong in two games in a row after frustrating Broncos back up QB Drew Lock all afternoon in the 17-13 win and the season sweep of Denver yesterday afternoon.
The Broncos' lone touchdown came on a one-yard run by Javonte Williams after Denver lineman Bradley Chubb picked off Derek Carr and returned the football to the one-yard line.
"We just gotta find ways to do more." – Bradley Chubb

Watch the full #Broncos Postgame Show » https://t.co/2ym8JCq7RD pic.twitter.com/I0PRmhjH4T

— Denver Broncos (@Broncos) December 27, 2021
Las Vegas takes a (+350) to pick up a wild card berth as that is fifth in the AFC. Indianapolis, the Raiders' next opponent on Sunday, is the favorite for the first wildcard with a (-1200) posting followed by the New England Patriots (-500) and the LA Chargers (more about them below) at (+125).
The Ravens are at (+300), but they are in a precarious position which is good news for Raiders fans and bettors.
Las Vegas has given up only 197 yards on defense on average in these two wins over the Browns and Broncos while allowing the two teams to rush for only 89 and 18 yards, respectively, as they held Cleveland's Nick Chubb to 91 yards on 23 carries.
Q-JEFF SAID NOPE#DENvsLV | Live on CBS pic.twitter.com/uSyvuEAO8y

— Las Vegas Raiders (@Raiders) December 26, 2021
The Raiders go into Sunday's game knowing that they have to stop Colts running back Jonathan Taylor, who has had a break-out season in averaging 108.4 yards rushing per game and scoring 17 TDs while only losing two of three fumbles in 297 carries.
The Silver and Black is a (+7) underdog in Indianapolis, but the Raiders have given up 115.7 rushing yards per game (18th/NFL) as that number is skewed toward their struggles over the first half of the season.
Carr has to lead Las Vegas into the playoffs, but he has to have a healthy Josh Jacobs to make a playoff run. Jacobs may have had a break-out game with 129 yards on 27 carries in Sunday's win over Denver after struggling with injuries to his chest and right ankle for nearly all season.
Las Vegas is a notable long shot at (+6500) to win the AFC and (+15000) to win Super Bowl LVI.

Chargers Checking Out as Season Draws to a Close
It's hard to accurately say where the Los Angeles Chargers were in a collective 41-29 beat down at the hands of the lowly Houston Texans on Sunday.
— Los Angeles Chargers (@chargers) December 26, 2021
What is equally puzzling is that the Texans had 16 players on the COVID-19 protocols list with the Omicron variant surging across the NFL.
LA was missing starters in Mike Williams, Austin Eckler, and Joey Bosa, but allowing 41 points and then a third-tier running back in Rex Burkhead to run for 149 yards diminished the Bolts' playoffs chances immensely.
The Chargers now have the best odds to get the No. 7 seed as they are teetering at (+125). As we noted, the Ravens are at (+300) and the Raiders push at (+350).
Los Angeles plays their regular-season home finale against Denver this week, and then they battle the Raiders in Las Vegas to finish the season. At 8-7, the opportunity is still there, but there is no room to lose.
HAVE YOURSELF A DAY, J.O. ??

@jjowens_3 | ? » @NFLonCBS pic.twitter.com/mflZLC4bPv

— Houston Texans (@HoustonTexans) December 26, 2021
Quarterback Justin Herbert struggled once again as he two interceptions, including a 48-yard pick-six to Tavierre Thomas, which gave the Texans a 41-23 lead with 1:48 to play and sealed the Chargers' fate.
ACCESS DENIED ❌@jjowens_3 first @NFL INT! | ? » @NFLonCBS pic.twitter.com/6ssISuIiQg

— Houston Texans (@HoustonTexans) December 26, 2021
Los Angeles has (-150) odds to miss the playoffs and (+125) to make the playoffs as oddsmakers apparently do not feel confident that the Bolts can winner their last two games.
Eckler being out once again was a problem as the Chargers have failed to rush for 100 yards in five of their last eight games which has put more pressure on Herbert, who has thrown eight interceptions in his last seven outings.
LA is like Las Vegas in being a major long shot as the Chargers have odds at (+2800) to win the AFC and (+5000) to be the Super Bowl Champion.