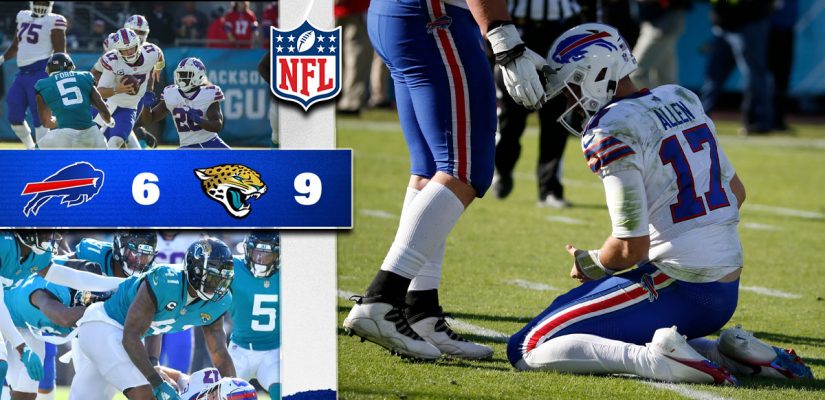 Oddsmakers still favoring Bills despite huge upset
Patriots Gain on Bills in AFC East
Allen still high on NFL MVP odds lists despite trying day
Sports calendars are a season of peaks and valleys and Buffalo's 9-6 loss to the Jacksonville Jaguars on Sunday had to feel like a canyon instead of a valley.
The final. #BUFvsJAX | #BillsMafia pic.twitter.com/3ojR2pgr8c

— Buffalo Bills (@BuffaloBills) November 7, 2021
The Bills couldn't even find the end zone in the loss as Josh Allen had two interceptions and a fumble on three of the first four Bills' possessions of the second half and never recovered.
QB Josh Allen: We played like sh*t and it starts with me. This loss stings, but we will be better because of it. #BUFvsJAX pic.twitter.com/7RHVjnuOdl

— Buffalo Bills (@BuffaloBills) November 7, 2021
Oddsmakers remained squarely in Buffalo's corner though as the Bills fell to (+600) to win the Super Bowl this season which is behind only Tampa Bay, who is at a (+550).
The Bills were the favorite, according to most
online sportsbooks
, as they were at (+500) with the Buccaneers and the Los Angeles Rams listed at (+600). The Bucs had their bye week this weekend while the Rams were upset last night, 28-16, by the Titans.
The Rams dropped back to the third-best odds to win Super Bowl LVI at (+800) as the Titans rose to fourth at (+1000) as they are tied with Arizona, who is currently a steady (+1000).
Bills Still Atop Expectations
Buffalo never could find its rhythm on Sunday as the Bills had to settle for a pair of Tyler Bass field goals on their first two drives of the game to take a 6-3 lead with 10:59 to go in the first quarter.
The oddsmakers stayed in the corner of the Bills to win the AFC as they keep (+250) odds to win the conference. Tennessee rose to (+450) from (+850) while the Ravens are sitting at (+550). The Titans have also been spotted in some places at (+700) and sit just below the Ravens, who are a little lower at (+650). The Chiefs have rebounded in their AFC Championship odds to (+650) after defeating the Packers and the LA Chargers, fresh off a tough 27-24 win in Philadelphia post at (+900).
Buffalo not only suffered a hiccup but a deep cough in not being able to adjust to the Jaguars' defensive schemes as Jacksonville held Buffalo to only 301 total yards while the Bills had the three turnovers and then 12 penalties for 118 yards.
Josh Allen interception. Josh Allen-ception? #BUFvsJAX | #DUUUVAL pic.twitter.com/Eb8OOEXCHA

— Jacksonville Jaguars (@Jaguars) November 7, 2021
The Bills are still a prohibitive favorite to win the AFC East as they are sporting (-500) odds across the boards while the New England Patriots look at (+350) after their 24-6 win over the Panthers in Charlotte on Sunday.
The Bills had amassed (-1600) odds to win the AFC East with the Patriots at (+750). The Pats have won three in a row and are only one game back in the loss column as they sit at 5-4 while Buffalo is at 5-3. Buffalo had a regular-season win total set at 11.5 with (-125) odds to go over. With eight games remaining, they have to go 7-1 the rest of the way, which had now become unlikely.
Miami and the New York Jets are long gone and really out the door as the Dolphins are now at (+20000) to win the AFC East with the Jets squarely at (+50000).
Buffaloed by the Jags
Sunday was a day Bills QB Josh Allen would just as soon forget. With the Bills on the Jaguars' 25-yard line just out of halftime, Johnathan Ford intercepted Allen to thwart a scoring opportunity.
Then on the next Buffalo possession:
Jaguars linebacker Josh Allen intercepted the Bills' Josh Allen on the Bills' 40.
History was made as the two identical names locked heads when the Jags' linebacker sacked, intercepted, and forced a fumble off of the Buffalo quarterback.
Josh Allen, meet Josh Allen.@JoshAllen41_ | #BUFvsJAX pic.twitter.com/mhuKR4OR0r

— Jacksonville Jaguars (@Jaguars) November 7, 2021
That scenario had never happened in NFL history. Allen is now even with Tampa Bay quarterback Tom Brady with (+350) odds to win the NFL MVP.
#1Fo ✖️ #SlowMoSaturday pic.twitter.com/hpsE5gMnF6

— Tampa Bay Buccaneers (@Buccaneers) November 6, 2021
Last week, Allen had a composite (+225) number across betting sites while Brady and Arizona quarterback Kyler Murray sat even at (+600)
Murray sat out the Cardinals' 31-17 win at San Francisco yesterday as he did not practice all week with an injured ankle. Rams quarterback Matt Stafford (+800) and then Baltimore signal-caller Lamar Jackson, off of a day where he had 380 of the Ravens' 500 total yards, has the fifth-best number at (+1000). Allen was fourth in odds boards for the NFL's Offensive Player of the Year as he has (+2000) odds to win as he is tied with Indianapolis Colts running back Jonathan Taylor.
Rams wide receiver Cooper Kupp, who had 11 catches for 98 yards in the Rams' loss to the Titans is still first at (+120) with Kyler Murray at (+1400) and Packers wide receiver Davante Adams posting (+1800).
Jaguars' Lawrence Down But Not Out
Jacksonville quarterback Trevor Lawrence went out of Sunday's game with an ankle injury with 1:30 remaining in the first half. Lawrence was stepped on late in the half.
Injury Update, brought to you by @BaptistHealthJx:

QB Trevor Lawrence – questionable (ankle)

— Jacksonville Jaguars (@Jaguars) November 7, 2021
He went to the locker room and had a scan of the ankle, which revealed nothing major, so he returned.
Trevor Lawrence is back in at QB.#BUFvsJAX | #DUUUVAL

— Jacksonville Jaguars (@Jaguars) November 7, 2021
It was a tremendous scare based on his inability to get up, put weight not his ankle, and walk off the field. He is still a long shot to win the NFL's Offensive Rookie of the Year with (+3500) odds as that is fifth.
How 'bout them Jags? ?@Trevorlawrencee | #DUUUVAL pic.twitter.com/gq4i5w8GsP

— Jacksonville Jaguars (@Jaguars) November 8, 2021
Bengals receiver Ja'marr Chase leads the field at (-140). He is followed by New England quarterback Matt Jones (+350), Pittsburgh running back Najee Harris (+800), and Denver running back Javonte Williams (+2000).