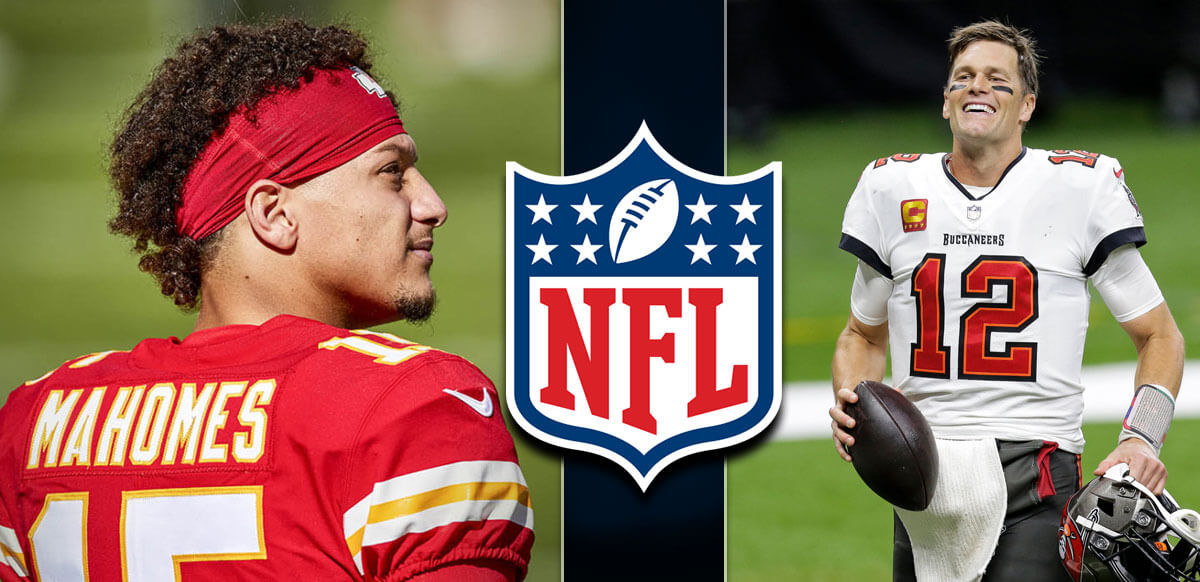 Sportsbooks currently see Brady as NFL Passing Yards winner
Carr undervalued after winning award in '20
Herbert, Stafford enjoying steady odds for award
Tampa Bay Buccaneers quarterback Tom Brady is the favorite to win the NFL's passing yardage title this season as he has only thrown for the most yardage in a single season in three of his 21 NFL campaigns.
Respect ? pic.twitter.com/NTGCXVnYb9

— Tampa Bay Buccaneers (@Buccaneers) October 5, 2021
According to BetUS, Brady is posting (+350) odds to reel in the title as he is currently sitting in second with 1,356 yards while the Las Vegas Raiders' Derek Carr tops the NFL with 1,399 yards in the first four games.
The venerable Bucs QB is seen with some fluid numbers as he is posted at (+500), (+800), and (+1000) with various oddsmakers after struggling in his former home of Gillette Stadium in Tampa Bay's 19-17 win over New England on Sunday night.
Brady passed Kansas City quarterback Patrick Mahomes (+500), who suffered his first-ever losses in September.
QB1 is excited to see how the locker room responds, himself included, after starting this season with some adversity ?

— Kansas City Chiefs (@Chiefs) October 1, 2021
Mahomes started at (+350) odds while the Cowboys' Dak Prescott slid into second (+600), and then Brady netted (+650) with Josh Allen of the Bills at (+850) and Rams signal-caller Matt Stafford rounded out the top 5 with a (+1200) rendering.
Last season, Mahomes opened at (+450) as the favorite, with the Falcons' Matt Ryan at (+500) and then-Rams quarterback Jared Goff posting (+750) odds.
Ageless Wonder
Brady, whose mastery as arguably the premiere signal-caller in the 76-year history of the NFL, is completing 64.7 percent of his passes with ten touchdowns and only two picks. He had odds at (+450) with some online sportsbooks, who saw the 445 yards in the loss to the Rams and the 379 in the opening night win over the Dallas Cowboys.
.@TomBrady's record in perspective… ? pic.twitter.com/vS7nATdaFm

— Tampa Bay Buccaneers (@Buccaneers) October 4, 2021
Mahomes has completed 72.3 percent of his passes with 14 touchdowns and four interceptions, but his (+500) has been more steady than Brady's odds which are much more volatile as of now. Mahomes has a QB rating of 119.3 right now, while Brady is presenting a 100.3 QB rating.
Carr in the Race
The Las Vegas pass offense is similar to Tampa Bay's in that the passing game is the team's modus operandi. Derek Carr won the passing yards title last season in throwing for 4,103 yards as that was his third season in a row where he passed for more than 4,000 yards.
Carr is posting odds at (+500) as well, as he is still a shade under 400 yards per game despite passing for only 196 yards in Monday night's 28-14 loss to the Los Angeles Chargers. He started the preseason with (+3700) odds to win the passing title once again and wasn't even present on some odds boards.
That's our QB1!! @derekcarrqb has been named the AFC Offensive Player of the Month » https://t.co/JFU9wcWV2A pic.twitter.com/JovMZHjfPW

— Las Vegas Raiders (@Raiders) September 30, 2021
Carr was given a passing yardage prop bet of 4,050 yards in the preseason with (-115) on both the OVER and the UNDER. Prorating his yardage would put him in the 5600-5800 range, which will not happen, but it would blow away that OVER.
Carr has thrown two touchdown passes in each of his first four games. His prop of 25.5 passing touchdowns would be easily passed when prorating the TD pass numbers to be around 32. Both the OVER and an UNDER for that prop is valued at (-115).
Dak Details
Cowboys QB Dak Prescott is posting (+800) odds to throw for the most yardage as he started at (+550). His 403-yard effort in the loss to the Buccaneers on opening night set the tone for the oddsmakers to push Prescott up in almost all categories.
Our QB ?@dak is this week's @Nickelodeon Valuable Player! #NFLSlimetime pic.twitter.com/4YvSwfSWk4

— Dallas Cowboys (@dallascowboys) October 7, 2021
He currently also sits at (+800) for NFL MVP, (-175) for NFL Comeback Player of the Year, (+2000) to win the NFL Offensive POY, and even a (+50000) tag to take home the NFL's Rushing Leader award.
Hollywood and Highland
The Los Angeles Rams and Los Angeles Chargers share more than Sofi Stadium as both teams have two dynamic quarterbacks in the Rams' Matt Stafford and the Chargers' Justin Herbert.
Sharing (+900) odds to lead the NFL in passing is all the more ironic with the fact that Herbert began the season at (+1200) while Stafford started at (+1400) and was even seen at (+2000) earlier in the summer.
Stafford, who made a power move to (+800) after the Rams' opening week win over Chicago, is currently fourth in the league with 1,222 passing yards with 11 TD passes, second in the NFL, and only two interceptions, and he has a solid offensive line that has allowed him to be sacked only three times.
Both QBs also sport an arsenal of weapons as Stafford's skill group is led by wide-out Cooper Kupp as well as speed and size in Van Jefferson, Robert Woods, and the rejuvenated Desean Jackson.
Herbert, who is posting NFL MVP odds at (+750), comes back with the rise of Austin Eckler at running back with WRs Mike Williams and Keenan Allen and tight end Jared Cook.
From the Nest
Arizona QB Kyler Murray is the leader right now for NFL MVP as he is sitting at (+650) but is netting a (+1100) as the favorite for the NFL Passing Yardage leader.
Murray had long odds to top the passing yards charts before the season started as he was listed at (+3800) and (+4100) by some sportsbooks.
The former Texas A&M Aggie is third in the NFL in passing yardage through four weeks with 1,273 yards and has nine touchdown tosses with four picks.