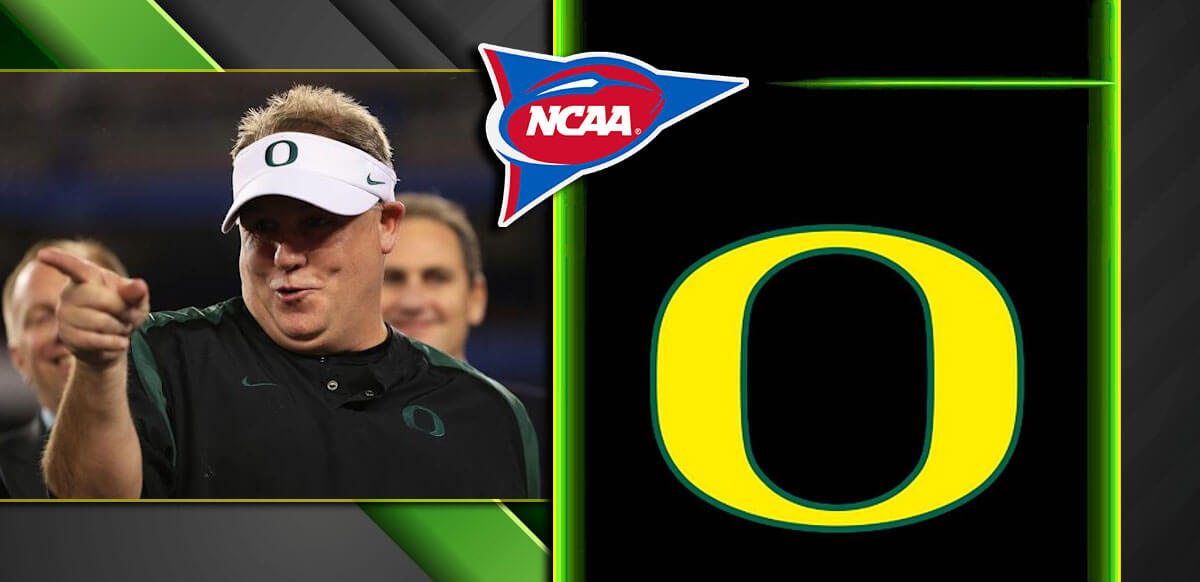 Chip Kelly gets nod from sportsbooks as next Ducks boss
Cal's Wilcox a likely target with an Oregon background
Kalani Sitaki, Chris Petersen and Bryan Harsin pick up odds
New Miami Hurricanes head coach Mario Cristobal returned home on Tuesday to where he played on the offensive line and won two national championships between 1988-1992. The announcement was made on Monday after former coach Manny Diaz was fired on Monday morning.
We really got THAT dude.

It's good to have you home, @coach_cristobal. pic.twitter.com/9WDoMHJe9L

— Canes Football (@CanesFootball) December 8, 2021
With the announcement in Miami comes the opening of one of the most prestigious jobs in college football at Oregon.
Odds boards and speculators currently have a litany of different names but the one consistent name is Chip Kelly who has odds posted at (+200) and as low as (+150) to return to Eugene as head coach of the Ducks. Kelly was the Ducks head coach from 2009-2012 where he fashioned a 46-7 record and led the Ducks into BCS Bowl games in all four years. In 2011, he took the Ducks into the national championship game where they lost to Ohio State.
The Ducks finished the season 10-3 and are headed to the Alamo Bowl to play Oklahoma, who lost coach Lincoln Riley to USC last week.
We got our guy.

Join us in welcoming @LincolnRiley and his family to Los Angeles!#FightOn✌️ pic.twitter.com/CHnhzHRFT6

— USC Football (@USC_FB) November 29, 2021
After a monumental win over Ohio State in September, the Ducks fell to Stanford in a huge upset and then lost twice to Utah as the Utes dominated the Ducks in both games, including a 38-10 rendering last week in the Pac-12 title game.
Oregon wasn't a good cover in 2021 as the Ducks were only 5-8 ATS.
The Ducks covered three of their last five games as they were (+3) in both games against Utah and were not close to a cover.
Roll Call
Cal head coach Justin Wilcox was seen at (+500) and posted as low as (+200) with solid odds among the college sportsbooks to be the next Oregon head coach.
Wilcox played defensive back at Oregon from 1996-99 and would be a potential long-term head coach that the Ducks have severely lacked in the recent past. He has a 26-28 record at Cal but had lots of trouble with covid in the program which has taken away continuity and consistency. The Bears finished 5-7 and fourth in the Pac-12 North as they are home from a bowl, and coincidentally, the Bears had preseason odds of (+5000) to win the 2021 Pac-12 Championship game. BYU head coach Kalani Sitake is rumored to be on Oregon's shortlist as he has been ultra-successful in leading the Cougars to a 48-28 record.
They are 21-3 in the last two seasons, and BYU, even at 10-2, has been relegated to the Independence Bowl where it will face UAB.
Coach Sitake named finalist for Eddie Robinson Coach of the Year ? pic.twitter.com/sxlNhuCNik

— BYU FOOTBALL (@BYUfootball) December 7, 2021
Sitaki is catching odds as low as (+400), but he has been seen at (+600) in a couple of places. BYU has covered it's regular season win totals in the last three years under Sitaki. The Cougars were slated with seven this season and blew the number away with ten.
Auburn head coach Bryan Harsin had a tough season on the Plains as the Tigers went 6-6 and are slated for a Birmingham Bowl appearance against Houston.
Harsin has roots in the Pacific Northwest and had a solid career at Boise State in going 64-17 seven seasons. Harsin is seen predominantly at (+500) or (+700). Likely, he wouldn't leave Auburn after just one season after settling there to take the position.
Could a former Rival Coach Be in the Offing?
Amicable Chris Petersen, formerly of the Washington Huskies, has done a solid job as a college football analyst, but he might wish to get back in the game, and here would be a chance in an area that he knows well.
Petersen won 147 games and lost 38 in 14 seasons as eight came at Boise State (92-12) and six at Washington (55-26).
He had a run of four seasons at Boise State from 2008-2011, where he went 50-3, and should have definitely been given a shot to play for a national title in 2009 when the Broncos went 14-0. Some online sportsbooks have Petersen in the (+1100) range, but he is also seen at (+800) as well.
Iowa State's Matt Campbell is always mentioned almost every time a job comes open. He has enhanced the Cyclones' program immensely in leading ISU to bowl games in the last five seasons.
Iowa State finished in the Top 10 last season for the first time in school history at No. 9 as they also played Oklahoma in the Big 12 Championship game and just missed the championship in a 27-21 loss.
Campbell has odds at (+1000) or (+1100) depending where you look.
The Cyclones had (+3000) odds to win the College Football Playoffs when the 2021 season began. Other coaches garnering odds to be the next Oregon coach are Baylor's Dave Aranda (+1400), Tennessee head coach Josh Heupel (+1500), Boise State's Andy Avaolos (+1800), and Alabama offensive coordinator Bill O'Brien (+2000).