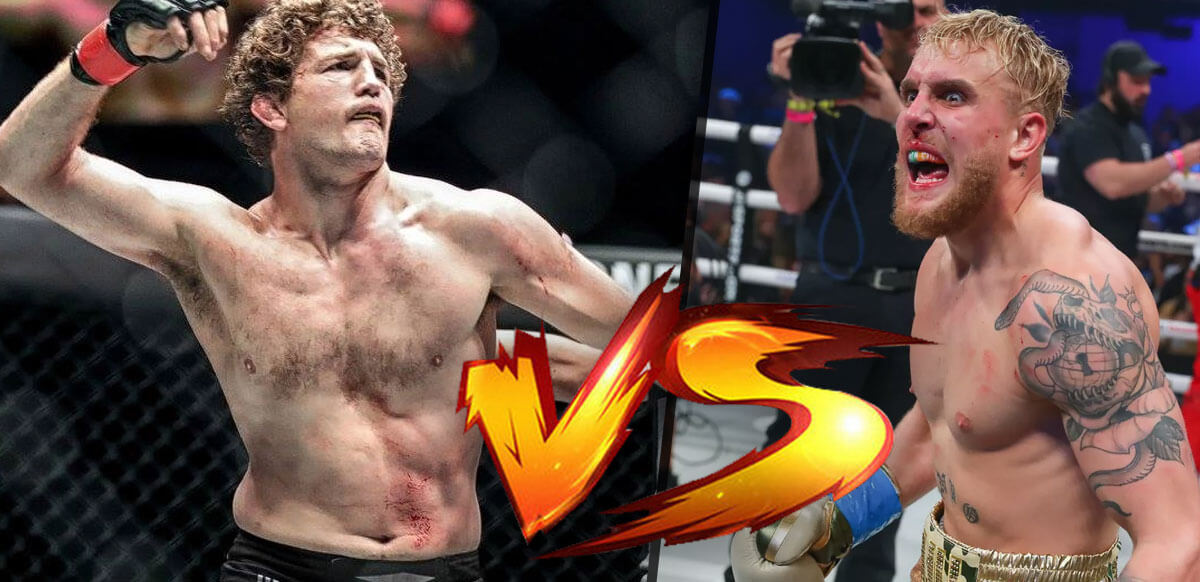 Jake Paul is now 2-0 as a professional boxer with both wins coming via stoppage.
Ben Askren retired as an MMA fighter in 2019 with a professional record of 19-2 (1).
Reports have confirmed that Jake Paul fights Ben Askren in the boxing ring on April 17.
YouTube celebrity Jake Paul is continuing to make his move into the boxing world. For months, he's been hinting at a fight with former UFC welterweight contender Ben Askren. It now seems this fight is official. Reports have confirmed that Jake Paul fights Ben Askren on April 17.
It's a fascinating bout and one that fans seem torn on. In an MMA bout, Askren would likely win with ease. He's not known as a striker, however, and some feel Jake will win in this purely boxing contest.
Here's what we know about this upcoming fight!
Jake Paul Mocks Conor McGregor's Recent Loss
It's not uncommon to see trash talk in combat sports. Many fighters use this strategy as a way to purposely get into their opponent's head. It's oftentimes an effective strategy. Conor McGregor made good use of this tactic prior to his first fight with Dustin Poirier back in 2014.
Conor and Dustin had a rematch this past weekend in Abu Dhabi. Interestingly, McGregor took a different approach this time around and was unusually polite to his opponent. Some feel it came back to bite him, as Poirier earned a knockout in the second round, chipping away Conor's lead leg with kicks.
When fighters trash each other, it's often celebrated. When someone on the outside publicly shames a professional fighter, fans tend to get upset. That's exactly what YouTube celebrity Jake Paul did immediately after McGregor's fight with Poirier.
As many know, Jake has been pushing hard for a boxing match with Conor McGregor lately. He's gotten personal, insulting Conor's wife and training partners in the process. After the Irishman's loss on Saturday, Jake Paul once again took to social media to play the troll game.
AYE @thenotoriousmma INSTEAD OF $50 MILLION I GOT $10,000 for you now??? CASH THO!! ALL CASH?? pic.twitter.com/8EfPgvAk97

— Jake Paul (@jakepaul) January 24, 2021
The vast majority of fight fans are hoping to see Jake lose inside the ring. He has no trouble making challenges, yet seems uninterested in taking on a legitimate professional boxer. Instead, he's calling out MMA fighters known for their skills on the ground.
Jake's next fight has been made official. Some are concerned that he will once again pick up a win to continue his new career in the boxing ring.
Jake Paul Fights Ben Askren This April: What We Know So Far
Back in January of 2020, Jake Paul made his professional debut in the boxing ring. He took on a fellow YouTuber with a 0-0 record in the ring. Jake had a considerable size advantage in this bout and ended up scoring a finish after landing three knockdowns in the first round.
This past November, Jake competed in the professional ring once again. This time, he took on former NBA player Nate Robinson. Against another 0-0 fighter, Jake again scored a stoppage victory.
This latest win seems to have ignited Jake's true interest in the sport. He now seems focused solely on his boxing career and has been challenging several different men over the past few months. That includes former UFC welterweight, Ben Askren.
Reports confirmed today that the Paul vs. Askren fight will officially take place on April 17 at a location still yet to be announced. These men will be fighting with 10oz gloves and the official weight class is still unknown. The ever-confident Jake Paul released a statement about this situation to the media this week.
"It's official. Representing the UFC, Mr. Napoleon Dynamite look-alike Ben Askren finally accepted the fight. He is a two-time NCAA champion, a world champion in two different global mixed martial arts organizations and has less losses on his record than Conor McGregor, yet, I'm still going to knock him out faster than Masvidal did," he said. "Some guys think because they throw punches they know how to box. I shocked the world when I [knocked out] an NBA superstar athlete, but some people still complained that he's not a real fighter. So now I'm giving the people what they want by taking on a real fighter. After I add Ben to my knockout meme collection, what can anybody say? April 17th. 82 days. The countdown starts now. Be ready."
It's an unusual fight, and one that MMA fans are concerned about. Jake Paul fights Ben Askren after he's been retired for years and comes off of hip surgery. There is at least a slight worry around the MMA community that Jake manages to get the win in this bout. Many are now choosing to bet on how things play out!
Odds on Paul vs. Askren Are Now Being Offered Online
Jake Paul knows what he is doing here. He is showing very little interest in taking on any fighter with legitimate experience in striking. Askren is a former collegiate wrestler and has shown sub-par boxing skills throughout his MMA career.
BetOnline, one of the best online sportsbooks in the US, is now offering odds on this fight. It's clear that many people are interested to see how things play out. Some are surprised to see where both men stand with the oddsmakers.
At the moment, Jake Paul is listed as the -240 favorite. He is 2-0 as a boxer and has at least trained in the sport for a few years. He's shown real punching power in the ring, too, and seems confident that he will earn a knockout win in this bout.
Ben Askren is taking a serious risk in this fight. Unless he gets flawless victory, there's not a lot to win here aside from a paycheck. Hope is that he has been training his boxing skills after retiring from MMA. BetOnline lists Ben as the +190 underdog in this fight.
Jake Paul fights Ben Askren on April 17. It will be a big fight and one that combat sports fans around the world will likely tune into. Make sure to stay tuned for a more in-depth betting breakdown of this fight over the next few weeks.
Are you excited to see Paul vs. Askren? Who do you think wins? Let us know in the comments section below.