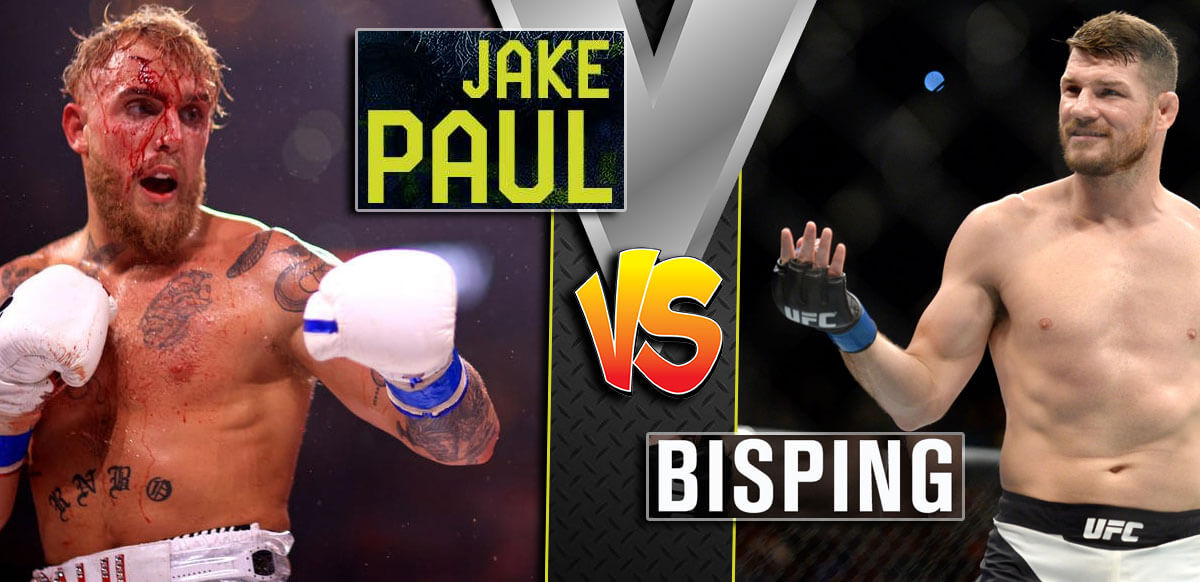 Jake Paul has opened as the -220 betting favorite in a a potential boxing match against former UFC middleweight champion Michael Bisping.
Paul indirectly called out Bisping by including his name in a six-man hit list he revealed to Teddy Atlas.
The 43-year old Bisping has never fought in a boxing match before.
Jake Paul has opened as the betting favorite in a potential boxing bout against Michael Bisping.
According to online sportsbook Bovada, the former Disney actor is the -220 odds on favorite and the former UFC middleweight champion the +155 bottom dog in a professionally licensed boxing match.
It can be recalled that Paul recently included Bisping's name on a six-man hit list he revealed to boxing trainer Teddy Atlas during an appearance at the latter's "The Fight with Teddy Atlas" podcast.
Sometimes you get a chance to pull the curtain back on a well known personality, and as in Wizard of Oz you're disappointed. Then like today u do, & you're not. You're impressed.?‍♀️?? @jakepaul
—
Jake Paul interview up on all podcast platforms& here on YT https://t.co/UzFGMEScr5 pic.twitter.com/fX4Vha3vHH

— Teddy Atlas (@TeddyAtlasReal) April 14, 2022
Bisping responded by using Khabib Nurmagomedov's most popular two words:
Send location. https://t.co/g4dh8aUtjA

— michael (@bisping) April 15, 2022
However, the two have been going back and forth on social media instead of talking at a real negotiation table, with Paul seemingly the party trying to look for excuses.
Jake the Pretender Paul
Jake The Pretender Paul @jakepaul first it was fight me, then was show me you can get licensed and now it's show me you're not under contract. Mate I wouldn't give you the steam off my piss.Just accept the Anderson Silva fight which I KNOW for a fact has been offered. Jake??? https://t.co/64jUEqvhTk

— michael (@bisping) April 20, 2022
Bisping has slammed Paul for pretending to want to fight him when he (Paul) actually doesn't. When Bisping told Paul to "send location", the YouTube star responded by asking Bisping to get licensed, knowing that the former UFC star wouldn't get one because he is legally blind in one eye.
When Bisping "found" a tribal location in Alberta that was willing to sanction a fight involving Bisping, Jake Paul then demanded that Bisping show proof that he is no longer contractually bound to the UFC before he (Paul) sends him a fight contract. It was at this point when Bisping realized that Jake "The Pretender" Paul was merely using his name to return to relevancy.
Now, Bisping says that Paul should fight either Anderson Silva, Tommy Fury, or Sonny Edwards. All three names are on Paul's supposed hit list. But if Paul really wants to fight Bisping badly, the Count says he would gladly oblige. So now, it's Jake Paul's turn to make a move and man up, sans the ridiculous demands.
Betting Lines Still Went Up
We have lines up for a potential Paul vs Bisping fight ??

Jake Paul -220
Michael Bisping +155

? specials ➡️ https://t.co/5VfsZEqw64 pic.twitter.com/w0tGG3t5Ue

— Bovada (@BovadaOfficial) April 20, 2022
Despite the seeming nonsense in Jake Paul's interest in fighting Michael Bisping, the betting lines for that potential boxing bout still went up at the best boxing betting sites, with Paul-of course, as the sizable betting favorite against another retired MMA fighter,
Make no mistake, Jake Paul is 5-0 with four knockouts. But his wins have come against a fellow YouTube star, a retired former NBA Slam Dunk champion, and former MMA champions Ben Askren and Tyron Woodley. Askren and Woodley weren't just former MMA fighters with no previous boxing experience, they were also 170-pound welterweights in the UFC.
Bisping has never fought in a professional boxing match. Nor has he competed inside an MMA cage since November 2017 when he was knocked out by Kelvin Gastelum. He is also 43 years old but when you look at The Count, he's about the same size as Jake Paul, and considering Paul has never fought a guy as big as he is, Bisping could be a challenge for him, one eye or not.