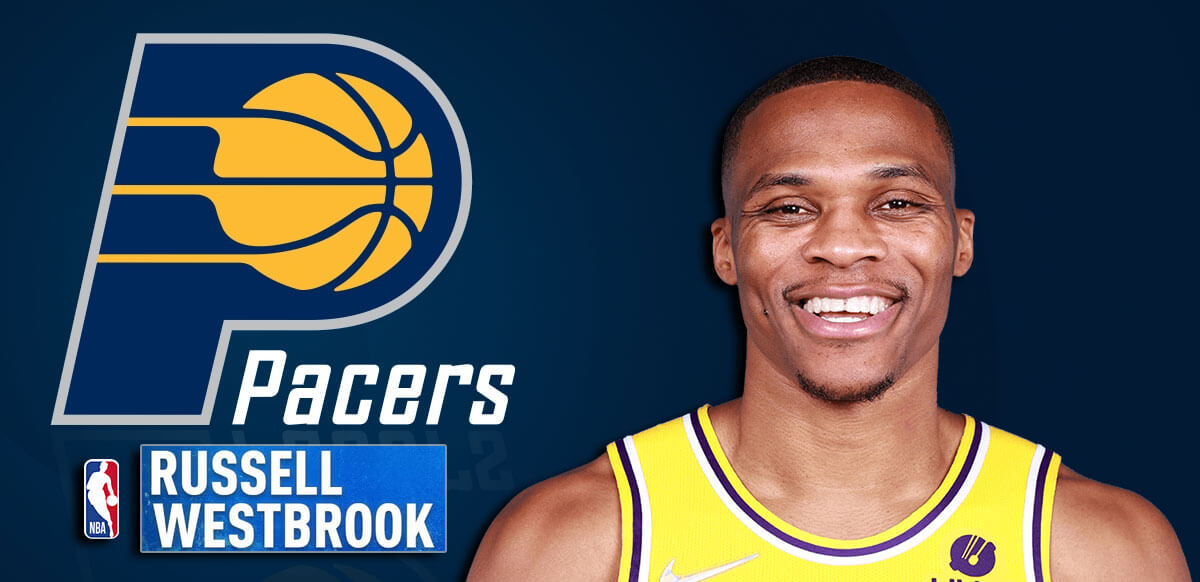 Indiana Pacers are the +300 favorites to land Russell Westbrook is Lakers move their PG.
The New York Knicks (+350) and Oklahoma City Thunder (+400) are next in the BetOnline oddsboard.
However, the Lakers are still reportedly uncertain about what they want to do with Russ this offseason.
The Indiana Pacers have emerged as the odds-on-favorite to acquire Russell Westbrook if the L.A. Lakers move the 2016-17 NBA MVP.
According to online sportsbook BetOnline, the Pacers are +300 favorites to be Westbrook's next NBA team. NBA experts and fans alike believe that Westbrook will end up getting traded by the Lakers after he had one of his worst seasons ever.
The Lakers traded Kyle Kuzma, Kentavious Caldwell-Pope, and Montrezl Harrell to the Washington Wizards to acquire Westbrook during the previous offseason. With a lineup that had LeBron James, Anthony Davis, and Westbrook, the Lakers opened with the second-best odds to win the 2022 NBA title. But the gamble backfired as Westbrook never got acclimated to playing with James and Davis. The Lakers missed the playoffs.
Pacers Favorites to Land Russell Westbrook
New odds have surfaced for Russell Westbrook's next team IF he doesn't remain with the Lakers, via @SportsBettingAG: pic.twitter.com/hmouN1xbiR

— Ryan Ward (@RyanWardLA) May 18, 2022
The Pacers have not declared their interest to acquire Westbrook although some believe that Indiana would be willing to take Westbrook in if only to unload the long-term deals of Malcolm Brogdon and Buddy Hield. The Lakers meanwhile have long coveted Hield and given the scarce market for Russ, it's probably a deal that GM Rob Pelinka would take right now.
New York at +350 has been discussed as a potential landing spot for Westbrook because solving their point guard woes is one of the team's priorities in the offseason. The names of Evan Fournier, Kemba Walker, and Julius Randle have been mentioned in a possible deal with the Lakers.
A possible return to OKC is listed at +400 after Westbrook's Instagram activity last month. It can be recalled that after the Lakers' season ended, Russ deleted all posts related to the Lakers. But it wasn't just that. Westbrook also deleted pictures from his time with the Washington Wizards and Houston Rockets while leaving his social media memories with the Thunder.
Lakers Still Undecided on Westbrook's Fate
The Lakers are reportedly still undecided on whether to trade or keep Russell Westbrook this offseason https://t.co/FJFXkiPx4Y

— Silver Screen and Roll (@LakersSBN) May 18, 2022
Despite getting linked to several teams, there is no official announcement that the Lakers are moving on from the Russell Westbrook experiment. In fact, the latest rumors say that the Lakers are still undecided on what to do with Russ. And it's not just because he is had to move because of his salary.
Although Westbrook had one of the worst seasons of his NBA career, the Lakers spent the entire season dealing with injuries to Anthony Davis and LeBron James. Given that Westbrook is still in his prime at the age of 33, the Lakers might be willing to run things back this season.
Los Angeles is also in the process of hiring a new head coach after firing Frank Vogel after their season ended. Management reportedly gave Vogel the pink slip due to his inability to maximize Westbrook's talents and he did not put Russ in a situation where he could succeed. With a new coach and healthy teammates in James and Davis, there is a chance that Westbrook bounces back in 2023.