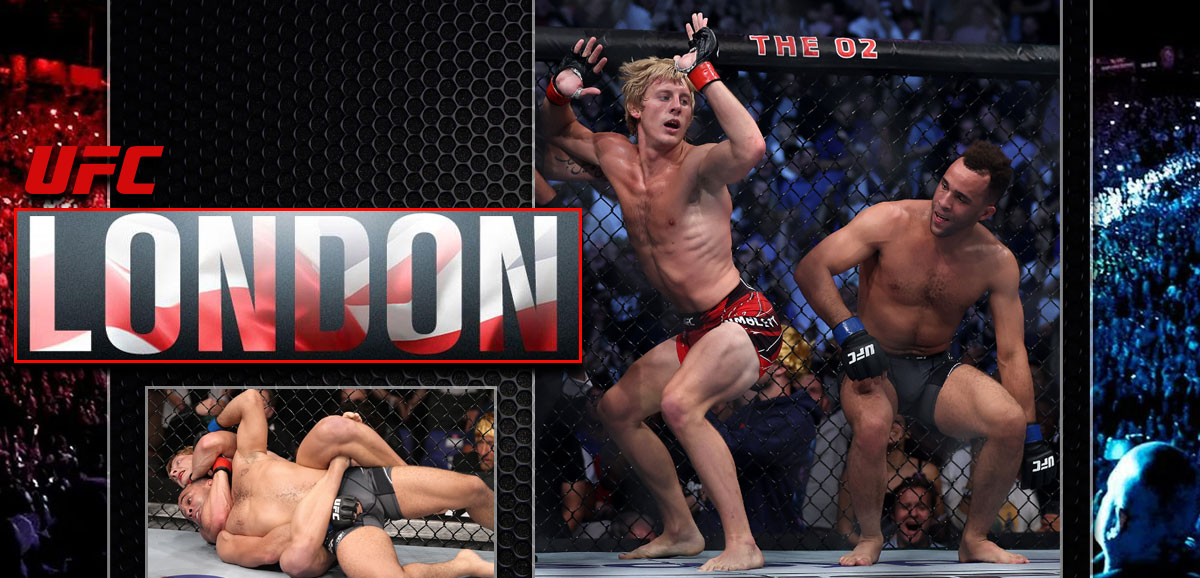 Paddy Pimblett defeated Jordan Leavitt at UFC London on Saturday night.
Pimblett was a -260 at the Moneyline and a +145 to beat Leavitt via submission.
The top UFC sportsbooks also listed him as a+250 to 'tea-bag' Leavitt after picking up the win. That prop bet cashed and was the biggest win for a Pimblett bettor.
Paddy Pimblett delivered a powerful message on mental health during his post-fight Octagon interview with Michael Bisping and while that stands out as the highlight of The Baddy's latest UFC appearance, Pimblett also cashed bets for his backers at UFC London last Saturday as he defeated Jordan Leavitt via second-round submission.
Paddy Vowed to Tea-Bag Jordan Leavitt
"I'm going to tea-bag him like it's Modern Warfare 2"

Paddy Pimblett vows to tea-bag his opponent Jordan Leavitt who said he will twerk after defeating the Welshmanpic.twitter.com/FnCAYHBRU0

— Dexerto (@Dexerto) July 20, 2022
Not only did Pimblett promise a victory at UFC London, but he also vowed to tea-bag Jordan Leavitt 'like it's Modern Warfare 2'. But while oddsmakers favored him to beat Leavitt at -260 odds via the Moneyline, the top MMA sportsbooks did not favor him to tea-bag Leavitt at UFC London at -400 odds. And who would, right?
But Pimblett isn't just Paddy the Baddy for nothing. And so after Leavitt tapped to a rear-naked choke at 2:46 of the second round, Pimblett twerked as promised, cashing the crazy prop bet at +250 odds:
SUBMISSION AND THE TEABAG 😂

Paddy The Baddy -260 ML ✅
pic.twitter.com/MgVT6lGshl

— OddsChecker (@OddsCheckerUS) July 23, 2022
The Baddy also cashed as a +145 to win the bout via submission, the 9th such win of his career. It was also Pimblett's second consecutive submission win in the UFC and his third stoppage victory in as many fights. And oh yes, Don't forget that Paddy the Baddy has won Performance of the Night honors in each of his three UFC appearances. Even if you question his quality of opposition, what he's done so far inside the Octagon is pretty impressive.
Pimblett's Odds Ballooned to -405 After Round 1
#UFCFightNight LIVE In-Game Wagering Odds After ROUND 1 via @CircaSports

Jordan Leavitt +300
Paddy Pimblett -405@UFC | @ESPNPlus | #UFCLondon 💰

— Nick Kalikas (@FightOdds) July 23, 2022
Although Paddy the Baddy opened with his shortest odds in three UFC bouts at -400 against Leavitt, he closed at -260 with both fans and bettors salivating at the thought of Pimblett finally fighting an opponent who could push him to the edge inside the Octagon. While Leavitt was unranked, he was no tomato can either.
The 27-year-old from Las Vegas, Nevada began his MMA career at Gladiator Challenge, Tuff-N-Uff Fight Night, Final Fight Championships, and LFA before joining the Contender Series in 2020 where he submitted Jose Flores to earn a UFC contract. Leavitt entered Saturday's fight with a 3-1 UFC record and was the betting favorite in all of his previous four UFC assignments. Safe to say, he was a credible third opponent for Pimblett.
Leavitt took Pimblett to the mat in the opening round but the Baddy had the last say by ending the round in top position. Paddy's live odds ballooned to -405 entering Round 2 where he dropped Leavitt with a knee against the fence. Pimblett was able to take Leavitt's back and trap him with a body triangle. From there, sought the rear-naked choke finish and sealed the deal. The Baddy is now 19-3 with six knockouts and nine wins via submission.