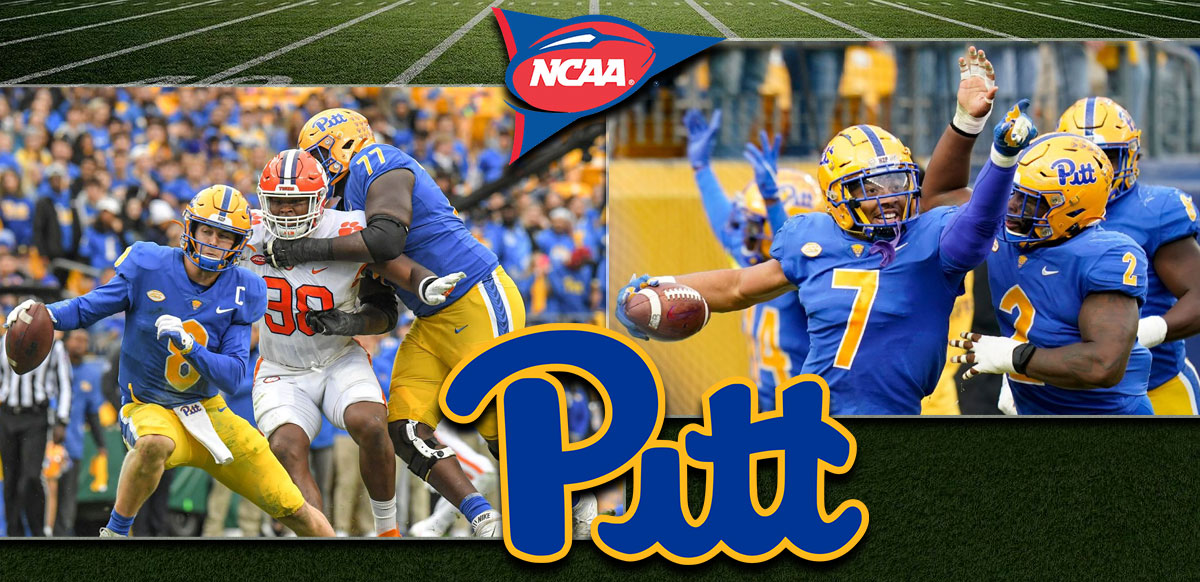 Sportsbooks like Pitt to end Clemson's 7-year ACC reign
Undefeated Wake Forest has healthy ACC odds as well
Virginia's Brennan Armstrong paces Cavaliers' high-level move
Pitt quarterback Kenny Pickett is one of the hottest names in the nation right now, and he needed a national stage as he passed for 302 yards and two touchdowns to lead the Panthers over Clemson, 27-17.
??? @kennypickett10 is our Offensive Player of the Week for the @Pitt_FB win over Clemson. Pickett threw 25/39 for 302 yds, 2 TDs and 0 INTs. Pickett has also been collecting mid-season All-American Honors from across the country. #H2P #BestOfTheBest #TheDraftStartsInMOBILE pic.twitter.com/lYOe2RsGnR

— Reese's Senior Bowl (@seniorbowl) October 25, 2021
Oddsmakers posted up the Panthers as the favorite in the ACC at (-135), with Wake Forest as the biggest threat at (+280). Virginia and passing guru Brennan Armstrong has been joined by NC State with (+1200) odds while the struggling Tigers sit at (+1500).
Pickett engineers an offense that puts up 526 total yards per game while it is second in the ACC to Virginia (539.88), The Cavaliers also lead the league in pass offense with 404.6 yards through the air while Pitt is second with 355 passing yards per outing.
Oddsmakers had finally moved Pittsburgh into the lead as the ACC favorite as the Panthers were catching those same (+135) odds while Clemson held down (+298) with Wake Forest at (+325).
However, two weeks ago, the stumbling Tigers still had odds at (+150) to win the league while the Panthers were closing at (+270) with NC State and Wake Forest at (+475).
On Saturday, the Panthers scored 21 unanswered points to take a 21-7 lead over the Tigers when SirVocea Dennis returned a D.J. Uiagalelei interception 50 yards for a touchdown to break the game open in the third quarter.
Pitt QB Kenny Pickett is once again on the Davey O'Brien Award Great 8 of the week!#H2P » @DaveyOBrien pic.twitter.com/8JKhMLM5UR

— Pitt Football (@Pitt_FB) October 25, 2021
Pickett has the fourth-best odds to win the Heisman Trophy as he is logged at (+12000) which trails Alabama quarterback Bryce Young (+160), Ole Miss QB Matt Corral (+300), and then Ohio State signal-caller C.J. Stroud (+450).
Hartman Happens
In an electric ACC with talented QBs such as Armstrong and Pickett, Wake Forest QB Sam Hartman has to feel like he is overlooked.
He threw for a career-high 458 yards and five touchdowns in last Saturday's 70-56 win over Army in a game where only Wake Forest head basketball coach Steve Forbes could totally appreciate the offensive acumen displayed by both teams.
Undefeated Wake Forest has moved to No. 13 in the AP poll with Pitt at No. 17 as the earlier 44-41 loss to Western Michigan likely is going to cost Pitt a potential shot at the CFP, and a chance to win the national championship should the Panthers run the table and win the ACC championship game to finish at 12-1.
E X P L O S I V E ?? pic.twitter.com/eUUUO2oEuu

— Wake Forest Football (@WakeFB) October 28, 2021
The odds are long for either team's national championship aspirations with this inequitable system that is only made for brand names.
Pitt is posting (+6000) odds, eighth in the nation, while Wake Forest is at (+13000) as the Demon Deacons are tied for 13th with Oklahoma State and Iowa State. Hartman is up to third in passing yards in the ACC with 296.1 and he has the third most TD passes in the league with 19.
Hartman's Heisman Trophy odds now are posted at (+6000) after he was only at (+15000) at halftime of Wake Forest's win over Army.
Swing the Sabre
Brennan Armstrong has had the pinball game effect with the Virginia offense as he leads the nation in passing yardage at 3,220 while averaging 402 yards per game.
Armstrong, who also leads that ACC in total offense at 426 yards per game, has catapulted the Cavaliers into a 6-2 record heading into their matchup at BYU on Saturday evening.
His Heisman Trophy odds have walked forward to (+8000), but some online sportsbooks list him as low as (+5500) this week as he was only sitting at (+13000) two weeks ago.
The nation's leading passer: @UVAFootball's @bstrong34 ? pic.twitter.com/uVxwv5ygew

— ACC Network (@accnetwork) October 25, 2021
He appeared with odds at (+15000) on Sept. 12 after he threw for 405 yards and five touchdowns in the Cavaliers' 42-14 win over Illinois.
He set the school record for passing yards with 554 and four TDs in a 59-39 loss to North Carolina.
Armstrong benefits from a dynamic play-calling offense coordinator in Robert Anae as well as a vast wide receiving corp which is headlined by Dontayvion Wicks, who has 38 catches for 847 yards and an unbelievable 22.3 yards per catch. Wicks also leads UVa with eight touchdowns.
Hungry Like the Wolf
It seems like NC State is always left on the outside looking in when it comes to the ACC Championship race. The Wolfpack was listed at (+1800) by some sportsbooks before the season, and the 'Pack had moved as high as (+475).
Now with last week's 31-30 loss at Miami, NC State has moved back as oddsmakers differ on their spot. Some still offer the Wolfpack at (+750), while others have pushed them back to as high as (+1200).
Final from Miami pic.twitter.com/bxqUVCBGPS

— NC State Football (@PackFootball) October 24, 2021
The Wolfpack has been getting steady quarterback play out of Devin Leary as he is fifth in the ACC with 263 passing yards and 17 touchdown passes with two interceptions. Emeka Emezie, Thayer Thomas, and Devin Carter have given him a solid receiving corp.
Leary has moved up to (+15000) odds to win the Heisman Trophy as he is a long shot and only a sophomore, which bodes well for the future.