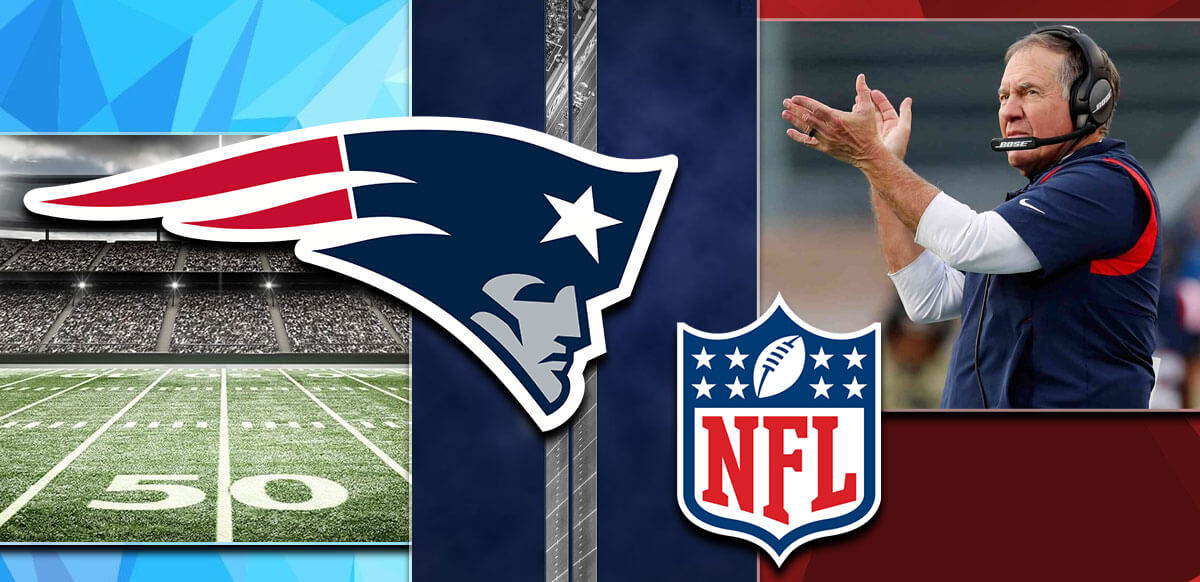 The New England Patriots defeated the Tennessee Titans 36-13 on Sunday to improve to 8-4 on th season.
Not only have the Patriots won six straight games, they have also covered the betting spread in each of those games.
New England is also now 6th in the latest Super Bowl LVI oddsboards with their +1000 odds.
The New England Patriots continued their winning ways as the Pats defeated the Tennessee Titans 36-13 last Sunday to improve to 8-4 on the season.
Not only does New England still have the lead in the AFC East division, but they also now have the no. 1 seed in the AFC within sight as they are just one-half game behind the Baltimore Ravens in the Conference standings.
Pats Have Covered Six Straight Games
The New England Patriots are on a ROLL!

Pats have covered SIX straight games ? pic.twitter.com/3Xo4D10qtx

— The Action Network (@ActionNetworkHQ) November 28, 2021
But not only has been New England winning games, but they have also been covering the betting spread and winning for their backers too. During this current six-game winning streak, the Pats have covered six straight games too.
New England isn't the best ATS team in the NFL right now. That distinction belongs to the Green Bay Packers who are 10-2 ATS after Sunday's 36-28 win over the Rams. But Green Bay's 9-game ATS cover streak ended two weeks ago against the Vikings. The Dallas Cowboys and Arizona Cardinals are even better at 8-3 ATS but the Patriots at 8-4 and six consecutive covers, are the hottest ATS team in the NFL right now.
During this six-game ATS streak, the Patriots have been dominant. They started the streak with a 41-point win over the Jets as 7-point favorites. In their next game, the Pats beat the Chargers outright by three points while covering the +3.5 point betting spread. In their last four games, New England has won by a margin of at least 18 points while allowing their four opponents to score 26 total points in those games. That's just impressive.
Six Teams With Super Bowl Odds of +1000 or Shorter
6 teams have +1000 or better odds to win the Super Bowl (@BetMGM)

Bucs +500
Packers +700
Chiefs +700
Bills +800
Cardinals +850
Patriots +1000

Which of these teams has received the fewest bets to win the Super Bowl?

— John Ewing ? (@johnewing) November 29, 2021
NFL experts can talk about which teams are their favorites to win Super Bowl LVI but when you ask the best NFL betting sites, it's still a very wide-open race right now. Sure, the Bucs at +500 and the Chiefs at +700 were expected to be here before the season even started. But Green Bay is right there with them at +700 while Buffalo is at +800. The Arizona Cardinals are a surprise at +850. But a bigger surprise is New England next at +1000.
Expectations weren't too high in New England this season after they decided to let go of Cam Newton and give the keys to the car to rookie QB Mac Jones. Sure, Jones was considered a franchise QB material coming to the league, and is playing like one right now. But this wasn't where the Patriots were supposed to be, at least as far as the top NFL sportsbooks were concerned.
The Pats opened with +3000 odds to win Super Bowl LVI. After a slow start which saw them go 2-4 after six games played, those odds faded to as long as +12500 before Week 7. But when they started to win games, those odds kept getting shorter and shorter. Before Week 10, New England went back to its opening odds of +3000. They went +2500 the following week, and +1200 before Sunday. Now it's at +1000 and they have the sixth-best odds to win Super Bowl LVI right now.