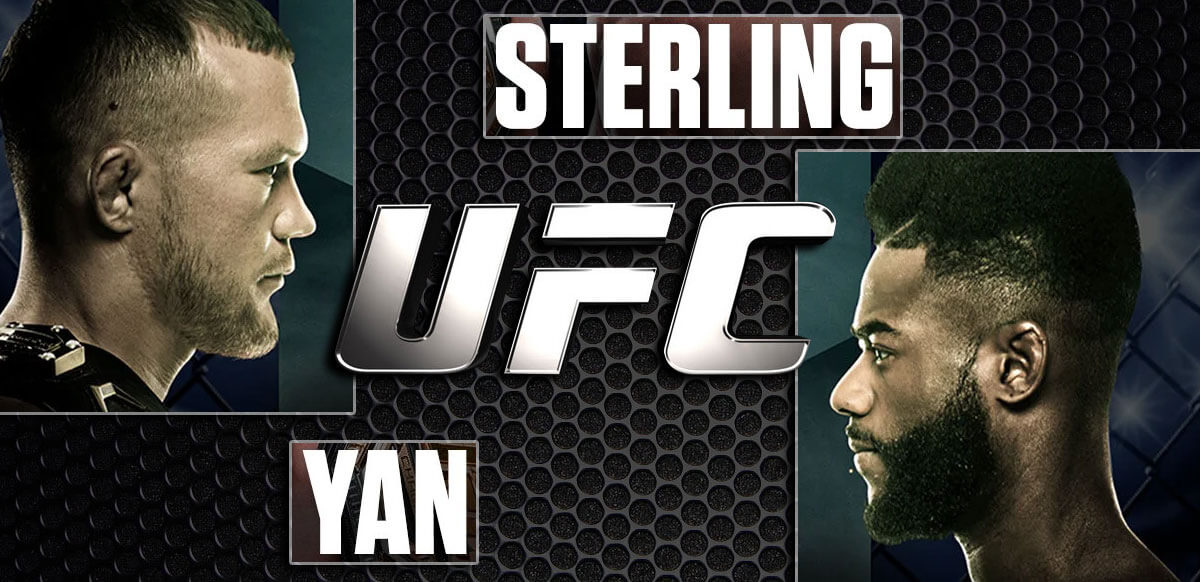 Petr Yan is twice the favorite in the rematch with Aljamain Sterling as he was during their first bout.
Yan is currently listed as the -310 odds on favorite while Sterling is the +265 underdog.
Yan closed at -130 and Sterling at +110 during their first meeting at UFC 259 last March 6, 2021.
Make no mistake, Aljamain Sterling defeated Petr Yan the first time these fighters met.
However, Yan is twice as large the betting favorite in the rematch than he was in their first bout.
No Mercy opened at -145 and closed at -130 when he fought Master Funk at UFC 259. The other day, Yan opened at -275 at the BetOnline App and is now an even larger -310 betting favorite in the rematch.
Sterling meanwhile, hit the betting boards at +125 in their initial meeting and entered the Octagon at UFC 259 as the +110 bottom dog. This time around, the American opened at +235 and is currently pegged at +265.
Yan up to -310 (Sterling +260)
Volkanovski up to -190 (Blessed +165) https://t.co/jQZ3w6G4tJ

— Dave Mason (@DaveMasonBOL) January 6, 2022
The line movement comes after betting action for UFC 272 has started with the official announcement of its double-header title and grudge matches featuring Yan and Sterling plus Alexander Volkanovski and Max Holloway. Both bouts ended controversially the last time out, but the first fight between Yan and Sterling ended like no other in UFC championship history.
Illegal Knee Disqualification
Aljamain Sterling is the NEW UFC Bantamweight Champion after this illegal knee disqualified Petr Yan #UFC259pic.twitter.com/lQ6ITgu9ip

— Spinnin Backfist (@SpinninBackfist) March 7, 2021
Sterling won the UFC bantamweight title after Yan was disqualified for landing an illegal knee and became the first fighter in UFC history to win a championship via disqualification. In that sequence, Yan connected on Sterling who was down on one knee. After Sterling could not continue due to the blow, the referee awarded him the UFC bantamweight title via disqualification.
Yan looked like he was in total control of the bout up to that point. Although Sterling had the slight edge in total striking at 119 to 103 total strikes landed, Yan took Sterling down seven times in seven attempts during that bout while Sterling completed just one of 17 takedowns. But none of those numbers mattered though as all it took was one mistake from Yan to make Sterling the new champion.
An immediate rematch was sought after how the fight ended. Days after the bout, Yan opened as the -250 favorite and Sterling the +210 underdog. The fighters were supposed to meet lat UFC 267 last October but Sterling pulled out of the bout due to an injury. One month before that bout, Bovada had Yan at -325 and Sterling at +250.
Yan Beats Sandhagen to Become Interim Champion
Petr Yan (-230) wins via unanimous decision and is now the Interim Batamweight Champion! ? pic.twitter.com/Rv06hIFyMj

— theScore Bet (@theScoreBet) October 30, 2021
With Sterling unable to fight at UFC 267, the UFC created an interim title fight between Yan and Cory Sandhagen. Yan went on to defeat Sandhagen via unanimous decision as the -230 betting favorite to become the interim UFC bantamweight champion. Now that Sterling has healed up, the time has come for them to unify the belts and settle their differences.
UFC 272 is a chance for Sterling to prove the naysayers wrong as he has won before with the plus money sign next to his name. Master Funk was a +110 bottom dog when he beat Renan Barao at UFC 214 and he was the +120 underdog when he defeated Jimmie Rivera in 2019. However, he may need a career-best effort to beat Yan without a disqualification.
Given how Yan controlled the first fight and how he handled Sandhagen in his most recent UFC appearance, it's no surprise why Yan is heavily favored to reclaim the UFC bantamweight title from Sterling. Master Funk can say what he wants about Yan but it's a fact that he never beat Yan in the first bout. Yan lost that bout by shooting himself in the foot.