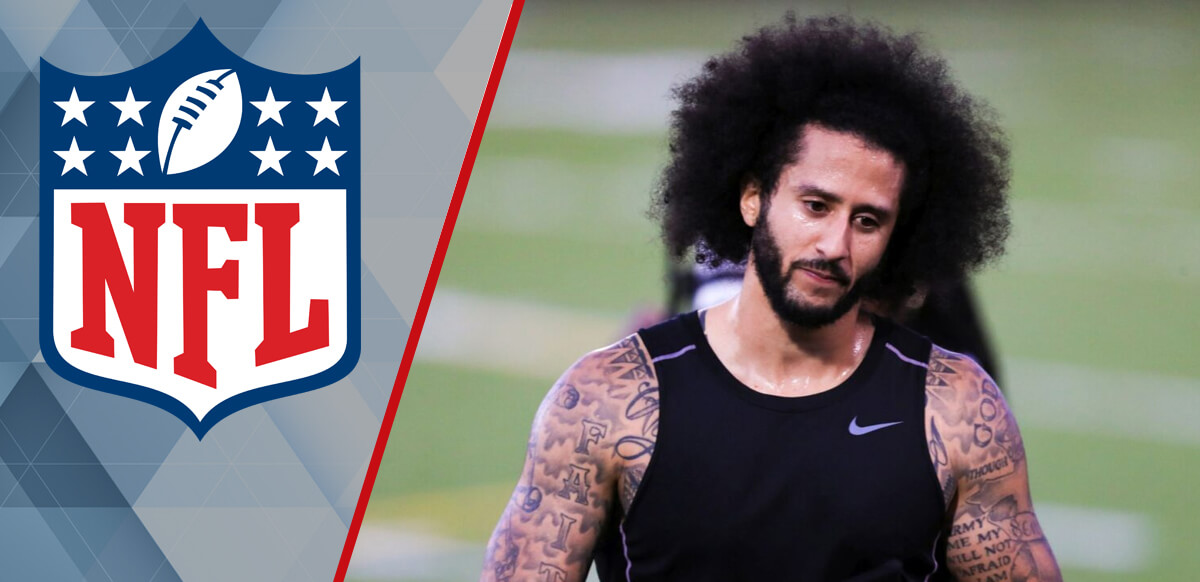 Colin Kaepernick is getting a workout with the Las Vegas Raiders on Wednesday.
Kaepernick has been out of the league since he became a free agent in 2016.
Last month, the Seattle Seahawks were given the best odds to sign Kaepernick at +600.
Colin Kaepernick is finally getting a chance to resume his NFL career.
According to a report from ESPN, Kaepernick is scheduled to work out today with the Las Vegas Raiders. It will mark the first time in five years that Kaepernick will get to visit an NFL team since he flew to Seattle to meet with the Seahawks in May 2017. After the Seahawks passed on the chance to sign him, Kaep disappeared from the radar of NFL teams.
Prior to the report, there had been no news seriously linking Kaepernick to the Raiders but there are indications that Las Vegas could be the team that finally gives the former star QB another and possibly his last chance to play in the NFL.
Kaep Getting a Workout With Raiders
More on Colin Kaepernick working work out this week for the Las Vegas Raiders:https://t.co/spFaUgTDDE

— Adam Schefter (@AdamSchefter) May 25, 2022
The Raiders are known as a franchise that has provided equal opportunities. They hired the first black head coach in Art Shell and the first female chief executive in Amy Trask. The Raiders were also the first team to draft a black quarterback in the first round and second round and they were the second team to hire a Hispanic head coach.
Raiders owner Mark Davis also said in 2020 that he would "give his blessing" if the team's front office and coaches would decide to add Kaepernick. Another link would be current Raiders offensive coordinator Mick Lombardi who served as an assistant for the 49ers from 2013 to 2016.
Following his departure from the 49ers in 2016, Kaepernick went unsigned during the offseason and 2017 training camps. This led to allegations that he was being "blackballed" by teams because of his on-field political statements rather than his on-field performance. Kaepernick has thrown 12,271 passing yards with 72 TD and 30 INT while rushing for 2,300 yards with 13 rushing touchdowns in a total of 68 games played, including 58 starts.
Kaepernick Odds
After spending time with Tyler Lockett earlier this offseason, Colin Kaepernick worked out with another Seahawks wide receiver and hopes Seattle is looking.https://t.co/r9xsa71htm

— FanSided (@FanSided) March 24, 2022
Last month, the Seattle Seahawks were given the best odds to sign Kaepernick at +600 after he worked out with Seahawks wide receiver Tyler Lockett back in March. Head coach Pete Carroll has also said in the past that he regrets not signing Kaep in past years before having a discussion with him during the previous offseason.
The Baltimore Ravens, who reportedly almost signed him in 2017 before a controversial tweet by his girlfriend, were next at +700. Next were the Carolina Panthers who were listed at +800 with WR Robby Anderson endorsing a workout for the former 49ers QB. Meanwhile, the Detroit Lions were pegged at +1050 after team representatives were present when Kaep got the opportunity to throw at the halftime of Michigan's spring game last month. The Kansas City Chiefs completed the odds board at +1200.
Despite those odds, Kaepernick was still a -200 betting favorite not to get signed by any team at the best NFL betting sites. However, it remains to be seen if those chances still hold now that Kaep is finally getting an official workout from an NFL team.