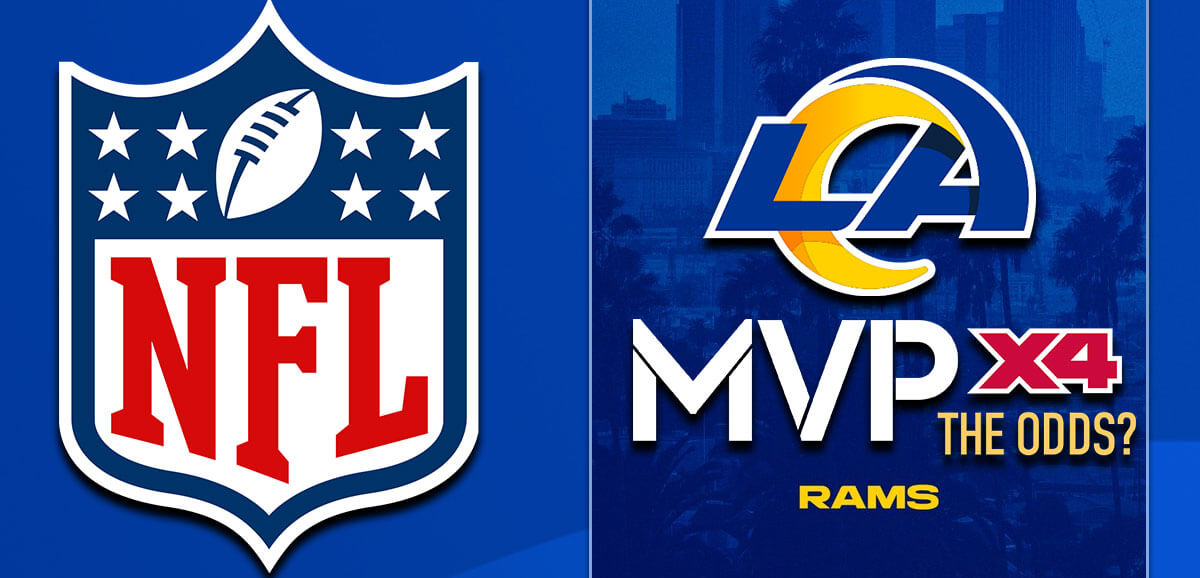 The Los Angeles Rams are the only team to have four players with 10 or more bets to win 2022 NFL MVP honors at Caesars Sportsbook.
L.A. has the fourth-shortest odds to win Super Bowl LVII at +1000.
Matthew Stafford leads the way with his +1500 odds and he ranks 18th in betting slips and total dollars wagered .
The Los Angeles Rams opened the 2021 NFL season with the 4th shortest odds to win it all last season and they rewarded their bettors by defeating the Cincinnati Bengals 23-20 to win Super Bowl LVI.
Aaron Rodgers won his second consecutive NFL MVP award but with the Rams entering the 2022 season as the defending champions, bettors are backing their key players to win the award.
Online betting site Caesars Sportsbook says that it has received double-digit bets for Los Angeles' key players, namely Matthew Stafford, Cooper Kupp, Aaron Donald, and Cam Akers. Because of that, the Rams are the only team to have four players with twin-digit bets received so far.
Early MVP Odds
Early @NFL MVP odds 💰

– Josh Allen +700
– Patrick Mahomes +800
– Aaron Rodgers +900
– Tom Brady +900
– Justin Herbert +1100
– Joe Burrow +1300
– Dak Prescott +1400
– Matthew Stafford +1500

Who are you taking? 🤷 pic.twitter.com/Ef7hFjgi4X

— VegasInsider (@VegasInsider) July 14, 2022
Stafford leads the way for the Rams' MVP contenders. The 34-year-old QB currently has the 8th best odds to win the 2022 NFL MVP award at +1500 odds. Stafford is coming off a season where he ranked 3rd in passing yards with 4,885 and was second in passing TD with 41. Stafford's QBR of 63.8 ranked fourth among all NFL quarterbacks He is currently 4th in betting handle for MVP with 4.7 but is only 18th in tickets at +1.5 odds
Meanwhile, Defensive superstar Aaron Donald is at 150/1 odds and has more bets to win the award than Super Bowl LVI MVP Cooper Kupp. However, only two defensive players in the history of the NFL have ever won the MVP award – Alan Paige in 1971 and Lawrence Taylor in 1996.
Kupp caught 8 passes for 92 yards with two TDs while making big plays down the stretch at Super Bowl LVI last February. That performance earned him the Super Bowl LVI MVP award. Despite that, Kupp only has a current odds of 60/1. On the other hand, Akers at 150/1 odds is the fourth Ram to have at least 10 tickets picking him to win 2022 NFL MVP honors.
2023 Super Bowl Odds
2023 Super Bowl Odds 👀
Where's the best value? 🧐

Bills +600
Bucs +700
Chiefs +900
Packers +1000
Rams +1000
49ers +1500
Broncos +1600
Chargers +1600
Cowboys +1700
Browns +1800
Ravens +2000
Bengals +2000
Colts +2500
Cardinals +3000
Raiders +3500
Dolphins +3500
Patriots +3500 pic.twitter.com/I2pQxc3KET

— theScore Bet (@theScoreBet) July 15, 2022
As for the Rams, the defending NFL champions opened with the third-lowest odds to win Super Bowl LVII at +900, with only the Chiefs at +650 and Bills at +700 ahead of them. But after Tom Brady unretired and the Chiefs traded Tyreek Hill, Los Angeles is tied for fourth with the Packers at +1000 odds with Buffalo now in the driver's seat at +600, Tampa Bay as second favorites at +700, and Kansas City dropping to third at +900.
According to Caesars Sportsbook, the Rams rank 7th in tickets with 4.7% and are 8th in the betting handle at 5.2% in Super Bowl bets taken. They are, however, the most popular bet to win the NFC West Division again. At +135 via Caesars, L.A. has 47% of the total betting slips and 64% of the total dollars wagered. The percentages are even higher at BetMGM, where the Rams have 66% of the tickets and 86% of the handle to win the NFC West at +130 odds.
The Rams have also received notable bets with still two months to go before the start of the 2023 season. Caesars says that an Illinois bettor has wagered $10,000 on L.A. to repeat as champions at +1100 odds or potential winnings of $120,000. The same sportsbook also says they have received 3 bets on the Rams to finish with a 17-0 regular season record, tied for second-most among all NFL teams. They are however only 15th overall in betting handle to finish with the best record in the league at +400 odds.