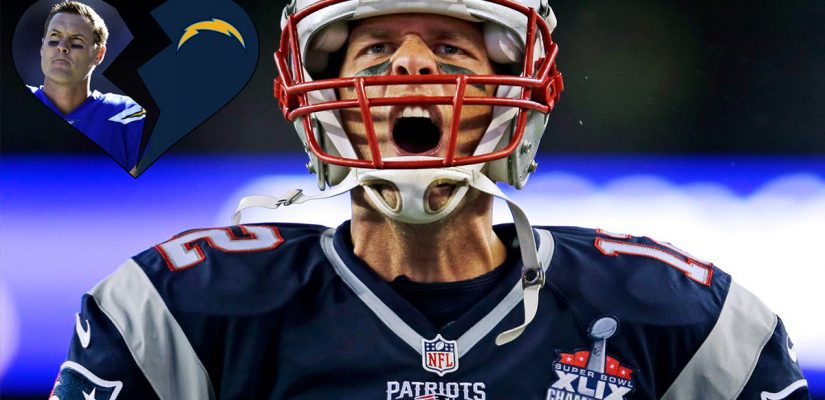 Robert Kraft wants Tom Brady to test free agency to see what options he has available
On Instagram, Brady would 'like' the announcement of Philip Rivers' exit from Chargers
The New England Patriots are a -250 favorite in the betting odds to retain Brady
For the first time in his career, legendary quarterback Tom Brady is set to become a free agent, and an unrestricted one at that. As far as the owner of the New England Patriots, Robert Kraft, is concerned, he's completely fine with Brady testing the market. In fact, he wants Brady to do it.
Some may be suspicious that Kraft thinks something bad is going to happen with that mindset, but Ian Rapoport of NFL Network is reporting something quite different: That's just how he wants it, plain and simple.
Rapoport would go on NFL Now on Monday and would describe what he is knowledgeable of when it comes to the situation with Brady and New England. And for Patriots fans, you can relax. It's not bad news at all.
From NFL Now: #Patriots owner Robert Kraft felt the best outcome for all parties in 2020 would come after Tom Brady tested free agency. An explanation for why he agreed to let it happen ?????? pic.twitter.com/9UkM6aZp2w

— Ian Rapoport (@RapSheet) February 10, 2020
According to reports, Kraft would prefer that Brady feel out the free agent market before anything else happens as far as negotiations with New England are concerned. Rapoport was a little more blunt with his reporting, saying that Kraft wants Brady to see what all of his options are, including teams and deals, before coming back to negotiate. And there's a reason why Kraft is allowing this, and it's because, for example, the Los Angeles Chargers could offer Brady a boat load of money on just a one-year contract, and the Patriots can choose to either match that contract, offer more or decide to move on from Brady.
Basically what this whole situation comes down to is if Brady feels that New England is his best option, and if the Patriots feel that Brady is their best option. That's it. Yeah, Brady could get more money from the Chargers or Las Vegas Raiders, but would it be worth a few more dollars to play his last few seasons away from the only franchise that he's ever known in his entire career for 20 years? Who he won six Super Bowl rings with? For New England, are they really interested in saving just a few million dollars and be forced to go to their second option at the quarterback position, and doing this while Brady is still healthy and productive?
When it comes to the negotiating style, it's all happening in a fashion of friendship and familiarity, however, both sides understand that it's still business. Brady is done taking pay cuts and won't take less than what he feels he's valued at. while the Patriots have no interest in giving Brady a mammoth-size amount of cash in the form of overpayment — not even a six-time Super Bowl winning quarterback who is considered to be the greatest quarterback of all time.
It may sound like some nerve-racking stuff for New England fans, but it shouldn't be taken that way at all. Kraft wants Brady to have a little freedom and enjoy (as well as experience) free agency for the first time in his career. Afterwards, he then wants Brady to come to him and negotiate a new deal to retain him. All this means is that Kraft trusts Brady and the two obviously have a healthy relationship. When it comes to whether or not Brady will be the quarterback of the New England Patriots next season, Kraft wants to have the last word on that. It's clear as day that it's not over for Brady in Foxborough, at least not yet.
Tom Brady Likes That Philip Rivers and Los Angeles Chargers Have Split
Tom Brady likes the news that Philip Rivers is exiting the Los Angeles Chargers to enter NFL Free Agency. Well, at least an Instagram post of the official announcement.
"Liked by tombrady" pic.twitter.com/1LDNfJftCA

— Dan Wetzel (@DanWetzel) February 10, 2020
I understand that a lot of us like to blow up about small stuff that happens on social media, so yeah, this could be as something as simple as Tom Brady just normally reacting to a piece of news like most of us do. However, this could be something else, which is exactly why I'm writing a story about it right now, and that something else could be Brady knowing that he's stirring the pot. Brady is a smart guy, so he's got to know what he's doing, right? He may be aware of the unintended consequences and could be using them for an ulterior motive, and there's a likely chance that could be the scenario here.
What makes this so interesting is the obvious: It involves both Tom Brady and the Los Angeles Chargers, two entities that have been connected in rumors for months now since the speculation of Brady's future free agency began.
With the Chargers, they'll be opening up a new stadium in the 2020 season, this alongside the Los Angeles Rams, and they need to make a splash to help them promote the new stadium and their future in L.A — not to mention someone like Brady could boost their brand and business.
With Los Angeles' talent, money and international marketing, the Chargers are the Patriots' biggest threat to steal Brady away, and all of that will certainly be appealing to Brady — not to mention the weather. Both sides seem to fit each other quite well when you lay everything out on the table.
On the side of Los Angeles, you can expect them to be aggressive in their pursuit of Brady and to use all of that leverage to try and woo the G.O.A.T. Ever since the Chargers moved into town from San Diego, Los Angeles has showed minimal interest in their presence in the city. Remember what I just said about someone like Brady could boost their brand and business? Brady could certainly help out with that in the form of ticket sales, and that's not even scratching the surface of how the Chargers brand could use Tom Brady and his brand.
And now that we've finally arrived at this moment where Los Angeles has decided to move on from Philip Rivers, you can expect them to be fully in the mix of the bidding war for Brady.
What Do the Betting Odds Say?
Will Tom Brady Be on the Patriots Roster in Week 1 of the 2020 Season?
What Will the Patriots Outcome Be If Tom Brady Plays 2020 Season?
Make Playoffs | -700 (No: +400)
Win Division | -200 (No: +150)
Win Super Bowl | +1200 (No: -2500)
What Will the Patriots Win Total Be in the 2020 Season With Tom Brady?
Over 10 | -110
Under 10 | -130
Will Tom Brady Retire Before the 2020 Season?
Which Team Will Tom Brady Play for in the 2020 Season?
New England Patriots | -250
Las Vegas Raiders | +300
Los Angeles Chargers | +400
Tampa Bay Buccaneers | +700
Carolina Panthers | +900
Dallas Cowboys | +900
Indianapolis Colts | +900
Cleveland Browns | +1200
Miami Dolphins | +1400
New Orleans Saints | +1400
Chicago Bears | +1600
Tennessee Titans | +1600
Denver Broncos | +1800
Washington Redskins | +2200
Minnesota Vikings | +2500
New York Jets | +2500
Arizona Cardinals | +2800
Cincinnati Bengals | +2800
Jacksonville Jaguars | +2800
Detroit Lions | +3300
Los Angeles Rams | +3300
New York Giants | +3300
Philadelphia Eagles | +3300
Pittsburgh Steelers | +3300
Atlanta Falcons | +6600
Buffalo Bills | +6600
Houston Texans | +6600
San Francisco 49ers | +6600
Green Bay Packers | +10000
Baltimore Ravens | +50000
Seattle Seahawks | +50000
Kansas City Chiefs | +100000
The Latest Reports: The Best Betting Options for Tom Brady's Next Team
New England Patriots | -250
It's pretty obvious that Tom Brady and the New England Patriots are working together heading into NFL Free Agency. As you read earlier, Robert Kraft is letting Brady test the free agent market before any negotiations are done between them, but that's not all. On top of that, you have Tom Brady saying that he and the Patriots are evaluating their options ahead of free agency. Last week, it was reported that New England will offer Brady up to $30 million to retain him, but inside sources keep saying that money isn't the issue, he wants weapons to work with. Brady has to make sure that the Patriots are the best option for him and the best fit to win, and that's why he wants New England to beef it up on the offensive end of the ball. But do the Patriots even have interest in holding on to Tom Brady? Not if you ask FS1's Rob Parker, who would go on 'Undisputed' and say the Patriots have "zero interest" in keeping Brady — but is that just another outrageous take? It could be, especially considering Pro Football Focus is predicting the opposite having him stay in Foxborough, and I believe I'll do the same. It appears that everything is being worked out between Tom Brady and the New England Patriots, and the only two teams that seem to be in the mix outside of the Pats (for right now) for Brady's services? Well, let's go over them now.
Las Vegas Raiders | +300
There really isn't much new with the Las Vegas Raiders as far as the media cycle is concerned, as it looks like they're just patiently awaiting NFL Free Agency next month, where they do plan on aggressively pursuing Tom Brady. As far as news is concerned, the only fresh conversation pieces to talk about are he said-she said material. Let's start with the good news for Raiders fans, shall we? Well, first off, you have the (random) likes of CC Sabathia (he's a Raiders fan) making a pitch for Brady to go to Las Vegas. So, you can take that for what it's worth. He would make an appearance on NFL Network's "Good Morning Football." Alright, now on to some bad news, Raider Nation: An analyst would explain why Brady won't leave the Patriots, and the quote is absolutely great (in comedy form) and ridiculous at the same time, saying that Brady is nothing without Belichick and the Patriots, took a shot at Jon Gruden and then would go on to say that New England would win the next four Super Bowls with Derek Carr at quarterback. Connor Orr of Sports Illustrated, yeah, I never heard of him either — just laughable. That's about it for Vegas though.
Los Angeles Chargers | +400
It was reported earlier this week that the New England Patriots consider the Los Angeles Chargers to be their only real legitimate threat to steal Tom Brady away, but the Patriots may not have to worry about the Chargers at all, and this is because of what's reportedly coming from the Los Angeles camp — as well as from the Chargers themselves. First off, you had a report from Bleacher Report's Matt Miller that highlighted the fact that Brady had interest in Los Angeles, sure, but the interest may not be mutual. Instead, it appears that the Chargers want to go in the direction of drafting or trading for a quarterback to fill the position. And then you had Los Angeles Chargers general manager Tom Telesco talking about the quarterback position himself, saying that he likes his "internal options," which includes the likes of 30-year-old Tyrod Taylor and second-year quarterback Easton Stick. At this point, it looks like the Los Angeles Chargers are getting themselves out of the Tom Brady race before it even starts — or is this just a game of chicken? Only time will tell.
BETTING PREDICTION: New England Patriots (-250)