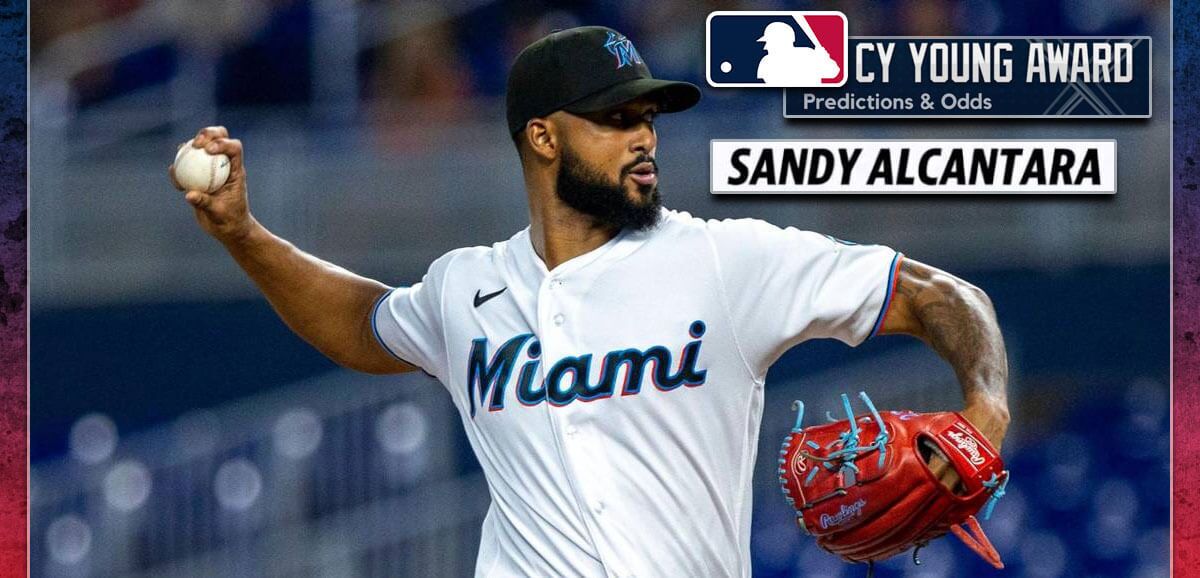 Sandy Alcantara blanked the Cincinnati Reds 3-0 on Wednesday for his third shutout win of the season.
Alcantara leads MLB in innings pitched with 158.1 this season while also leading the NL with an ERA of 1.88
Alcantara's odds to win the NL Cy Young award improved to -200 after Wednesday's gem of a performance.
Sandy Alcantara has pitched well enough to stay on top of the NL Cy Young betting boards since getting there. But not only has the Marlins' ace kept his spot atop the odds boards, but his odds also continue to shorten as his incredible season continues.
On Wednesday night, Alcantara added another chapter to his legend when he shut out the Cincinnati Reds 3-0 without any trouble, whatsoever. The game lasted just 2 hours and 9 minutes, the shortest game played by the Reds this season.
But not only did the Marlins cash as the -230 Moneyline favorites, but Alcantara also cashed the OVER 20.5 outs recorded, UNDER 1.5 earned runs surrendered, and UNDER 1.5 walks conceded. More significantly, his NL Cy Young award-leading odds further improved after Wednesday's gem.
The Incredible Season Continues
An incredible season continues for @sandyalcantar22. pic.twitter.com/R7xNdtuDvB

— MLB (@MLB) August 4, 2022
The All-Star right-hander gave up six hits, struck out three, and walked one hitter on 105 pitches for his third career shutout performance. With all three wipeouts happening this season, he has the most such games this year.
Alcantara also leads the league with three complete games this season. Three complete games were what led MLB last season. Alcantara has already matched that. And we're still not done with the first week of August. Wednesday's performance was also the 4th time that Alcantara has 4 starts this season with 9 innings pitched. That's more than any other TEAM ( yes team, not player ) in Major League Baseball this season.
The 26-year-old from the Dominican Republic also leads all of baseball with a total of 158.1 innings pitched this season. The player closest to him in total innings pitched this season is Aaron Nola with 138.2. Alcantara is also the National League leader in ERA with 1.88. The only player in baseball with a better ERA than Alcantara right now is Justin Verlander at 1.81 who has pitched in 'just' 124.0 innings in only three fewer starts than Alcantara.
Sandy Alcantara is Down to -200 to Win NL Cy Young
Sandy Alcantara is down to -200 to win the NL Cy Young Award 👀

⚾ ➡️ https://t.co/8ou0jt6N5m pic.twitter.com/expuNu712w

— BetMGM 🦁 (@BetMGM) August 4, 2022
Following his latest masterpiece, Alcantara saw his NL Cy Young odds improve from -120 to -200, thereby creating more distance between him and his closest pursuer – 2021 NL Cy Young winner Corbin Burnes of the Milwaukee Brewers who is listed at +700. No other pitcher has odds shorter than +1000 with third favorite Max Fried of the defending World Series champions Atlanta Braves priced at +1000.
Alcantara is listed at an even shorter -210 odds via the DraftKings Sportsbook, FanDuel Sportsbook, and Caesars Sportsbook. The Marlins ace's shortest odds are at -225 via Bet365 US, Borgata Online, Unibet, and Barstool Sportsbook. Meanwhile, Burnes is priced in the +600 to +700 range, depending on which of the top MLB sportsbooks you are looking at.
It seems like it was eons ago when Alcantara opened with +4000 odds to win the NL Cy Young award. He slashed those odds down to +2750 on May 8th and then moved up as the +450 favorite in early June. Since taking the top spot on the betting boards, he has not let go and his odds continue to shorten with each impressive outing he delivers.