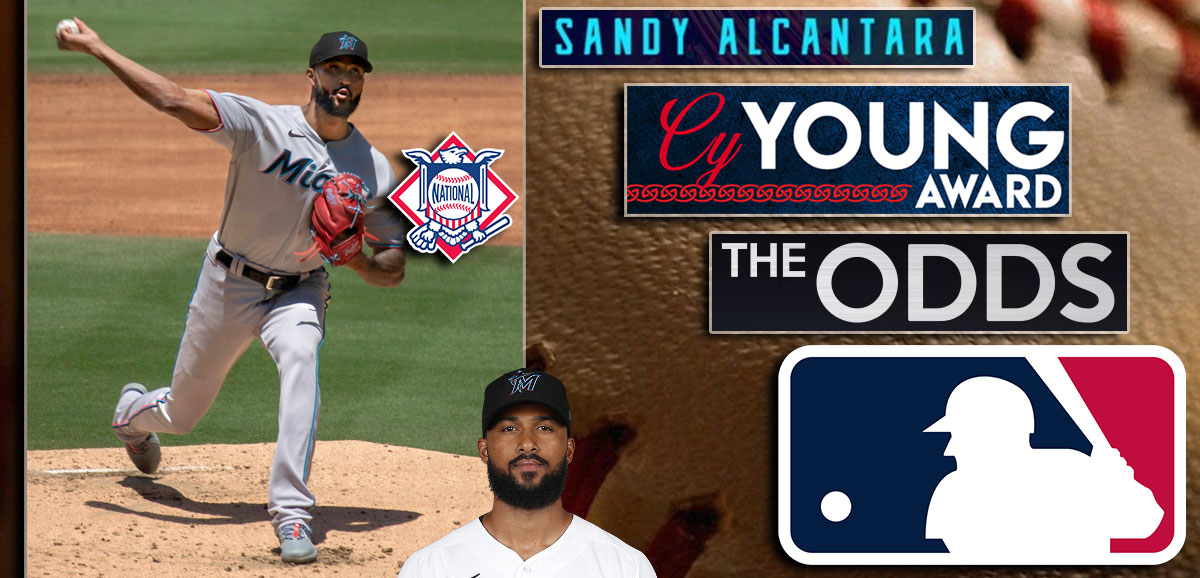 Sandy Alcantara is the NL Cy Young betting favorite at +450 via Caesars Sportsbook.
Alcantara has recorded a dominant 0.57 ERA in his last six starts while pitching in a total of 48 innings during that span.
The 26-year old opened has a 6-2 record with an ERA of 1.61 and a WHIP of 0.94.
Sandy Alcantara is a rare commodity in major league baseball.
Whereas today's starting pitchers often work four, five, or six (tops) innings before going out of ball games, Alcantara pitches deep into games and often goes seven to eight innings. Even nine, as we saw in his most recent start.
But not only has he gone deep in games this season, but he's also producing his best numbers ever. The oddsmakers have started to notice and his NL Cy Young odds are moving up fast.
Best Pitcher in Baseball?
Sandy Alcantara is on a TEAR. Best pitcher in baseball? 🤔 pic.twitter.com/78ycA9diGD

— DraftKings (@DraftKings) June 9, 2022
In his last six starts, Alcantara has allowed only 3 earned runs in 48 innings pitched with 46 strikeouts. His ERA during that span? A dominant 0.57. In his last start, Alcantara allowed six hits over nine scoreless innings. Although he did not factor in the decision during a 2-1 10th inning win over the Washington Nationals, Alcantara further lowered his ERA to 1.61 with another brilliant performance.
With his last performance, Alcantara became only the 7th pitcher since 1901 to have six consecutive starts with 7+ innings pitched, 5+ strikeouts, 1 earned run or less, and six hits or fewer in each game. The only other pitchers to achieve that are Jake Arrieta, Doug Fister, Chris Carpenter, Steve Carlton, Don Drysdale, and Sandy Koufax. He also joins Clayton Kershaw and Arrieta as the only pitchers in the last decade to put together a six-game streak with 7+ IP while allowing 1 or 0 ER.
For the season, the 26-year-old Dominican Republic native has posted a record of 6-2 in 12 starts and has given up only 15 earned runs on 55 hits with 77 strikeouts and 24 walks in a total of 83.2 innings pitched this season. His ERA of 1.61 ranked 6th overall while his 77 strikeouts and 0.94 WHIP are 7th and 8th best in the majors.
NL Cy Young Favorite
Sandy Alcantara (+450) is now the NL Cy Young favorite

He opened the season at +4000 😲 pic.twitter.com/DZfNLaLj1J

— Caesars Sportsbook (@CaesarsSports) June 9, 2022
Alcantara opened with +400 odds to win the NL Cy Young award and those odds were down to +2750 last May 8th after a great start. But when Alcantara lowered his ERA to 1.81 two starts ago, his NL Cy Young odds further shortened to +650. Those odds are now down to +450 after another impressive outing against the Nationals the last time out.
At the Caesars Sportsbook, reigning NL Cy Young winner Corbin Burnes, who opened as the betting favorite to win a second award, is second behind Alcantara with his +500 odds. Meanwhile, San Diego Padres pitcher Joe Musgrove is third at +550. No other favorite has odds shorter than +1000 with the 4th favorite Carlos Rodon listed at +1200 odds.
The Mariners are a longshot +6600 to win the World Series at the BetOnline App and are 9th among 15 teams to win the National League Pennant at +3300. They are even just third to win the AL West at +2000. But if you're looking for a bright spot in Seattle's 2022 campaign, it's gotta be Alcantara who is having his best season ever in the big league.