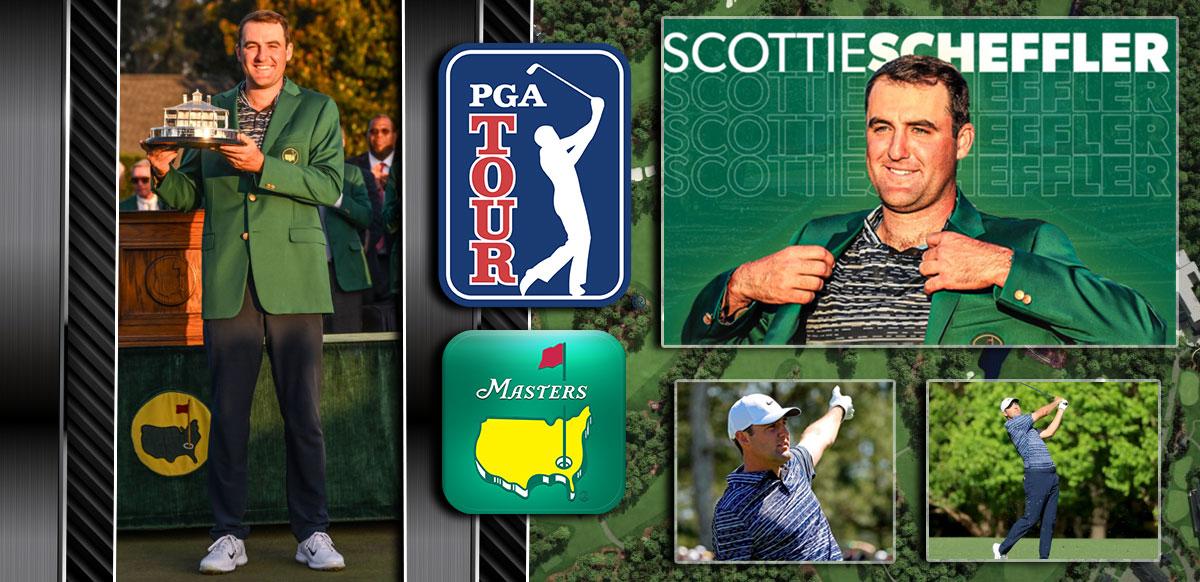 Scottie Scheffler won the 2022 Masters after entering the tournament with +1800 odds and a +6000 opening price.
A New Jersey bettor won $2.7 million after placing a $150,000 bet on Scheffler at +1800 odds to win The Masters.
Scheffler's double-bogey on the final hole was a bad beat for bettors who wagered on him to go under 70.5 in the final round and under 277.5 in the tournament.
56 days ago, Scottie Scheffler had zero wins in 70 PGA Tour events. On Sunday, Scheffler continued his incredible streak by taking the Green Jacket in Augusta.
In a span of 8 weeks, Scheffler has gone from being the 14th ranked player on the tour to the world's best golfer according to the Official World Golf Rankings. He's also won four out of his last six starts – Phoenix Open, Arnold Palmer Invitational, WGC Match Play, and last Sunday, The Masters.
Scheffler was a +1800 The Night Before the Tournament
Scottie Scheffler (+1800) is your 2022 Masters Champion ⛳?pic.twitter.com/pgAWGObHYW

— Caesars Sportsbook (@CaesarsSports) April 10, 2022
Scheffler opened at +6000 odds to at the best golf betting sites win the Masters when the betting lines were first posted in April 2021. Those odds shortened to +5000 last February and were further cut down to +2500 last March 6th. On the night before the tournament, the new world no. 1 was listed at +1800, tied with Dustin Johnson and Cam Smith for the third-best odds to win the tournament, with only Jon Rahm at +1100 and Justin Thomas at +1200 having shorter odds.
After one round played, Scheffler's odds further shortened to +700 after he finished the opening round among four players tied at three-under-par. Cam Smith, who shot a 67 to trail Sungjae Im by one stroke atop the leaderboard, was the new odds on favorite at +550. Dustin Johnson who joined Scheffler at 3-under was second at +650.
But after firing a 5-under 67 in round 2 and finishing with a five-stroke lead entering the weekend, Scheffler became the new betting favorite at +110 odds. He opened Sunday's final round at -220 odds after becoming only the 5th no. 1 ranked golfer to hold the Masters lead after 54 holes. Scheffler's odds shortened to -600 after Smith missed his par putt on the 10th and -1000 after Smith found the water on the 12th hole. Scheffler's live odds went as high as -2000 after taking a 3-shot lead thru hole 13.
$150K Bet on Scheffler Wins $2.7 Million
A New Jersey bettor @FDSportsbook put $150k on Scottie Scheffler (+1800) to win #themasters pre-tournament…

They are now $2,700,000 richer ? pic.twitter.com/3FOHj6CxYy

— GolfBet (@GolfBet) April 10, 2022
Scheffler has been money in the bank for his bettors during his dominant run. According to the Barstool Sportsbook, a $100 bettor taking Scheffler to win every tournament since the start of February 2022 is 4-2 with $6,600 in winnings. Meanwhile, BetMGM says that a bettor wagering $100 on Scheffler to win every event since the start of 2022 would be up $7,400 right now.
On Sunday, several bettors won big with Scheffler. The DK Sportsbook reported that a New Jersey bettor placed a $150,000 bet on Scheffler to win the 2022 Masters. That bettor is now $2.7 million richer. The FD Sportsbook also revealed that a bettor cashed $800,000 on a $50,000 bet on Scheffler to win the tournament at +1500 odds. Meanwhile, BetMGM received a $13,400 wager on Scheffler to win the Green Jacket at +1600 odds. That bet won $214,000 on Sunday. However, not all bettors won with Scheffler on Sunday.
While Scheffler won the tournament by a comfortable three strokes ahead of Rory McIlroy, he double-bogeyed the 18th hole on Sunday to the dismay of bettors who wagered on him to go under his final round score of 70.5 and tournament total score of 277.5. By four-putting the final hole, Scheffler finished with a round score of 71 and a total score of 278, resulting in a bad beat for the under bettors.