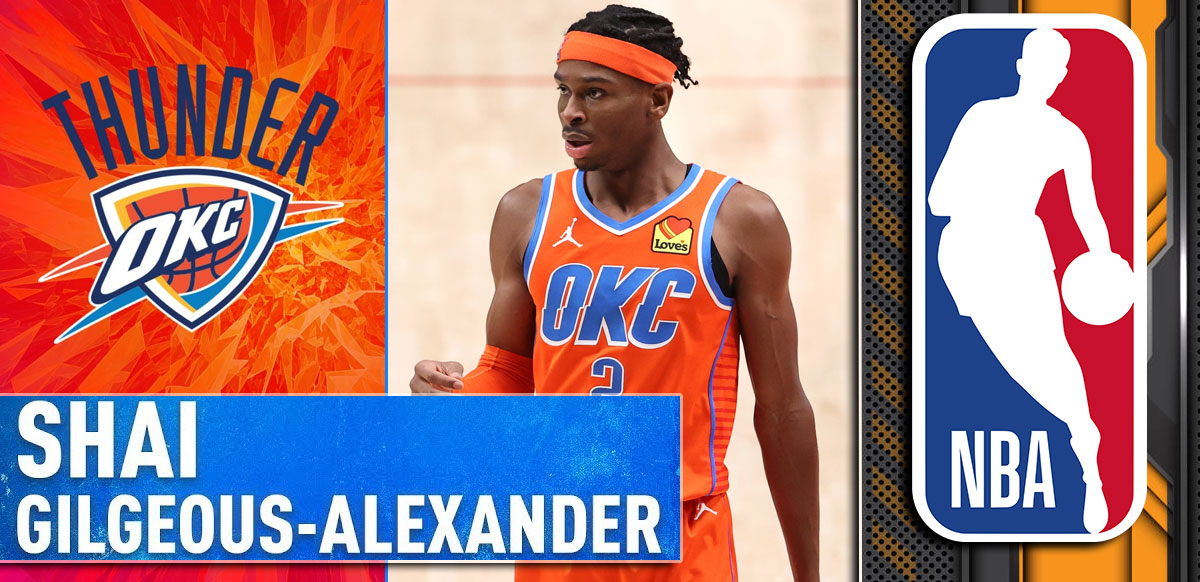 Shai Gilgeous-Alexander has averaged 33.3 points per game since the All-Star break.
SGA has gone over his scoring prop bet in seven consecutive games, scoring 30 or more points six times during that span.
The OKC Thunder have the 4th worst record in the league at 20-45 SU but are the second-best ATS team in the NBA at 38-23-4 ATS this season.
The OKC Thunder continue to sputter but Shai Gilgeous-Alexander is playing the best basketball of his NBA career.
SGA has been lighting up the scoreboards since the All-Star break with six 30-point games and a 29-point performance in seven post-All-Star break appearances. Because of those, he has rewarded his prop bettors with seven consecutive OVERS on his scoring prop bet.
Another Over for Shai Gilgeous-Alexander
Another over for Shai Gilgeous-Alexander ✅ https://t.co/e2Ds7cKFpo pic.twitter.com/2Eii1OS1Uq

— NBABet (@nbabet) March 9, 2022
Since returning from the All-Star break, Gilgeous-Alexander has been on fire. SGA has gone over his scoring prop in seven consecutive games, scoring over 30 points six times during that stretch. He is the only player in the league to average at least 30 points and 7 assists since the break at 33.3 points and 7.7 assists per game. Gilgeous-Alexander has also done so with shooting splits of 57/43/77 and a true shooting percentage of 65.7%.
SGA has been playing like an All-Star since the break. His 233 points scored are the most by any player in the NBA and his 33.3 points scoring average is the highest in the league. He also ranks 1st in field goals made, 5th in assists, tied for 1st in steals, third in free throws attempted, third in free throws made, and 8th in minutes.
In his last 15 games, Gilgeous-Alexander is averaging 29.9 points, 5.7 rebounds, 7.1 assists, 2.0 steals on 51.7% FG shooting, and a true shooting percentage of 60.7%. He has scored at least 29 points in every game since the break and has put up 33 points in three consecutive outings despite getting double-teamed 17-18 times per night.
Career High 14 Assists Against the Bucks
Shai Gilgeous-Alexander tonight against the Bucks:

33 PTS
11/18 FG
14 AST (career-high)
8 REB
3 STL

He has scored 30+ points in 6 of 7 games since the All-Star Break ? pic.twitter.com/LnQFdMbvil

— Bally Sports Oklahoma (@BallySportsOK) March 9, 2022
Against the defending NBA champions Milwaukee Bucks on Tuesday night, Gilgeous-Alexander had another impressive outing. He scored 33 points with 8 rebounds, 3 steals, and a career-high 14 assists to lead his team. Unfortunately for him, SGA plays for the OKC Thunder who dropped to 20-45 SU on the season after getting blown out 142-115 by Giannis and the Bucks.
But despite having the league's 4th worst record this season, the Thunder have been a competitive team, mainly due to SGA, and have the second-best ATS record in the NBA this season at 38-23-4 or a cover rate of 62.3%. Among the Top 11 ATS teams this season, OKC is the only team already out of playoff contention. Although that's sad to hear, it's also a positive although there are no moral victories in the NBA.
Alexander was one of the biggest snubs in the last two All-Star games although he wouldn't have been able to play anyway this year because he was injured. But no question, SGA is an All-Star this season and is even playing at an MVP level. In fact, Gilgeous-Alexander has the same number of 30+ points and 10+ assists games this season as Nikola Jokic, Ja Morant, and LeBron James.