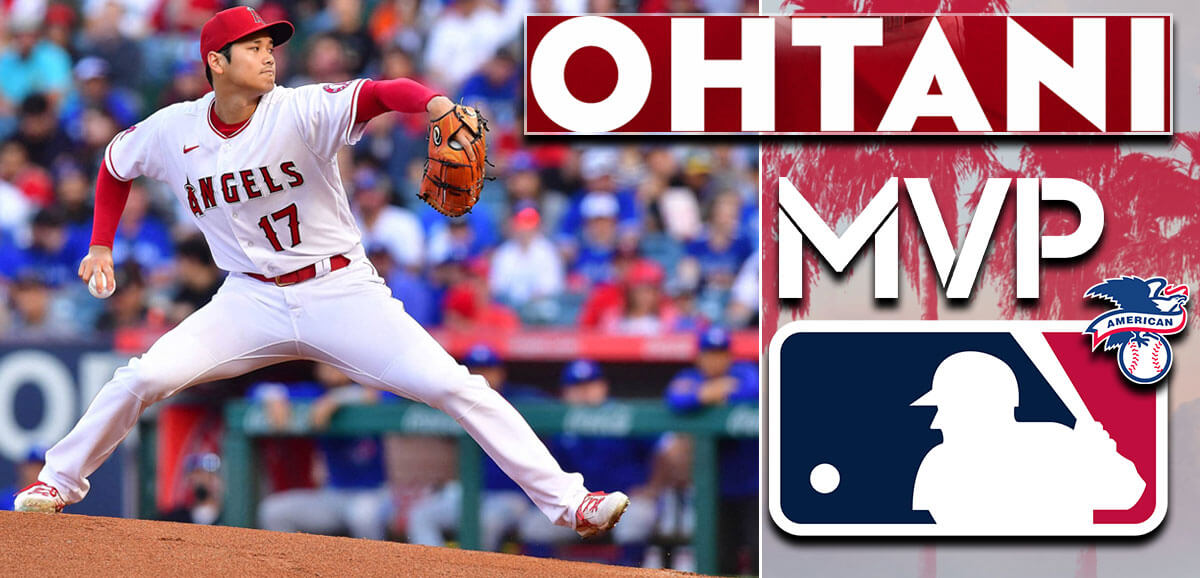 Shohei Ohtani has overataken Aaron Judge in the AL MVP betting boards.
Ohtani's MVP odds have hit minus money at PointsBet USA (-112) and Barstool Sportsbook (-114).
The reigning AL MVP is 6-0 with an ERA of 0.45 in his last six starts including a 12-strikeout performance on Wednesday night.
Shohei Ohtani is back as the AL MVP betting favorite.
After being the +325 preseason favorite to win back-to-back AL MVP awards, Ohtani saw his title as the odds-on favorite taken away by Toronto's Vladimir Guerrero in April and by the Yankees' Aaron Judge beginning in June. But with 'Sho Time' putting up ridiculous numbers again in Los Angeles, Ohtani is back on top.
New American League MVP Favorite
We've got a new American League MVP favorite…😳

Shohei Ohtani (+115) has overtaken Aaron Judge (+170).

odds via @FOXBet // @MLBONFOX pic.twitter.com/g9jz69ToSb

— FOX Bet Live (@FOXBetLive) July 14, 2022
Ohtani has overtaken Judge at FOXbet at +115 against +170. At BetMGM, Ohtani opened at +350 and improved to +210 last month. He is now at even money odds there with Judge at +165. Ohtani is also at even money odds at Caesars with Judge falling back to +160.
At PointBet USA, Ohtani's AL MVP odds have hit minus money. At -112, he is easily ahead of Judge who is listed at +150 there. Ohtani has his shortest MVP odds at the Barstool Sportsbook where he is currently priced t -114. Judge is also at +150 there. The longest odds for Ohtani are at Bet365 USA where he is at +120. Even then, he is the favorite there with Judge priced at +150.
According to Caesars, Ohtani has dominated the betting action this month with 44% of the tickets and 73% of the betting handle. The said bookmaker also said that this month alone, they received six $1000+ AL MVP bets on Ohtani, including a $5,000 wager at +200 odds. He's also moved to +600 in their AL Cy Young odds board, his shortest odds in that market this season.
First Angels Pitcher in 50 Years to Hit a Triple
Shohei Ohtani is the first Angels starting pitcher to hit a triple in 5️⃣0️⃣ years 😯

h/t @LAAngelsPR pic.twitter.com/OjJrCkDzhr

— Caesars Sportsbook (@CaesarsSports) July 14, 2022
At the plate, Judge still has 11 more home runs, 9 more RBIs, and is .118 pts better in OPS than Ohtani. But then again, the Ohtani Phenomenon is more than just hitting baseballs at the plate. Over his last six starts, Ohtani has allowed only three runs ( two earned runs ) on 20 hits in 39 ⅔ innings pitched for an ERA of 0.45 with 58 strikeouts and 11 walks. He's gone 6-0 in those six games and is 9-4 with an ERA of 2.38 in 15 starts this season.
On Wednesday, Ohtani produced history once again. He became the first Angels starting pitcher in the last 50 years to hit a triple. With two RBIs on that hit and 12 strikeouts on the mound, Ohtani now has three double-digit strikeout games with multiple RBIs, making him the first player this century to accomplish that feat and only the third pitcher in MLB history to do it after Kevin Millwood in 1999 and Hal Newhouser in 1946.
The reigning MVP also became only the 5th pitcher to have at least 50 strikeouts and allow one or fewer runs over a five-game period since runs became an official stat in 1913, joining Chris Sale (2018), Clayton Kershaw (2014-15), R.A. Dickey (2012), and Randy Johnson (1997).