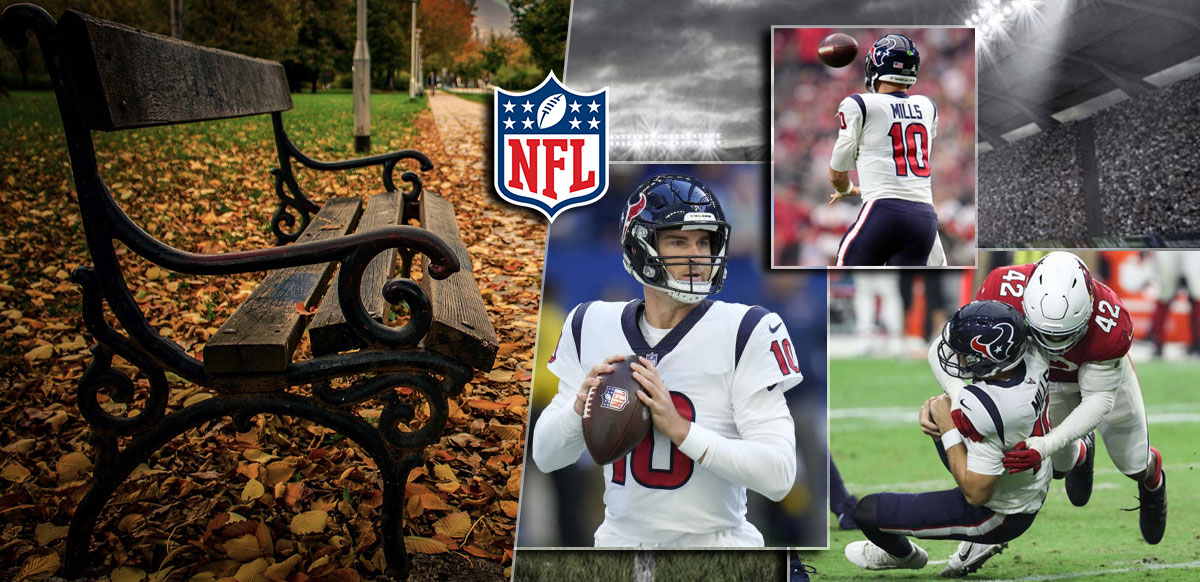 Houston Texans QB Davis Mills is the +250 betting favorite to be the next NFL QB to be benched.
Mills hasn't been too bad but with starter Tyrod Taylor on the way to full recovery, Mills is expected to be sent back to the bench.
Chicago's Justin Fields is second at +325 while Detroit's Jared Goff is third at +350.
Houston Texans QB Davis Mills is the odds on favorite to become the next quarterback to be benched.
According to online sportsbook BetOnline, Mills is the +250 favorite to be relieved of his starting QB job. Chicago's Justin Fields is next at +325 and Detroit Lions' veteran Jared Goff is third at +350. Jalen Hurts, Sam Darnold and Teddy Bridgewater complete the odds board at +400, +525, and +700, respectively.
Texans Designate Tyrod Taylor to Return from IR
Texans designate Tyrod Taylor to return from IR, Davis Mills may still start this week. https://t.co/H2iqvAWp35

— ProFootballTalk (@ProFootballTalk) October 27, 2021
It's not so much that Mills has been terrible in his stint as Houston's QB1 but it's because starter Tyrod Taylor has been designated to return from the IR and could be back in action soon.
Taylor suffered a hamstring injury during the Texans' Week 2 game against the Cleveland Browns. In his short stint, Taylor was impressive, as he led the Texans to an opening week win against the Jacksonville Jaguars. In one-and-a-half game played, the veteran completed 31 of 44 passes for 416 passing yards with three passing touchdowns while also rushing for 55 yards with one rushing touchdown.
Mills has taken over from Taylor and given the circumstances, the rookie signal-caller has done a decent job, completing 65% of his passes for 1,047 passing yards with five touchdowns and seven interceptions. However, the Texans are winless in his five starts and have failed to score double-digits four times, and were shut out by the Buffalo Bills in Week 6.
With Taylor expected to be given a clean bill of health soon, Mills' time as a starter may be over. And the same goes for the Tyrod Taylor theory which said that every time Taylor got injured in his entire NFL career, the QB who replaced him ultimately became the team's franchise QB. Not this time around.
Bucs Shut Down Justin Fields
Bucs defense shut down Justin Fields ?

0 TD
3 INT
3 FUM (2 lost)
3 total points pic.twitter.com/rgVCVV6bSO

— Bleacher Report (@BleacherReport) October 24, 2021
Fields meanwhile, is coming off his worst game ever and it's not that his other games have been great. The Bears' prized rookie threw three interceptions, lost two fumbles, and was sacked four times by the Tampa Bay defense. Fields completed 22 of 32 passes for 184 passing yards with zero touchdowns. Chicago mustered only three points against Tampa Bay and they dropped to 3-4 on the season.
Goff has his Detroit Lions winless in seven games and despite a sensational effort by their Special Teams the last time out, Goff still found a way to throw a red zone interception that really killed the Lions' chances to upset the Rams. With the losses piling up, it's not hard to think that Goff could get the boot soon.
Meanwhile, when the Eagles traded Joe Flacco and promoted Gardner Minshew to backup QB, the possibility of a QB change before the season grew substantially. Darnold was benched by the Panthers in the 4th quarter of their last game against the Giants but said that he will still be their starter moving forward. However, his days may be numbered.
Before the season began, Bridgewater was the second behind Andy Dalton in the SportsBetting.ag odds board as the QB who would get benched first this season. Dalton is benched now and Bridgewater could be next after the Broncos have lost their last four games.