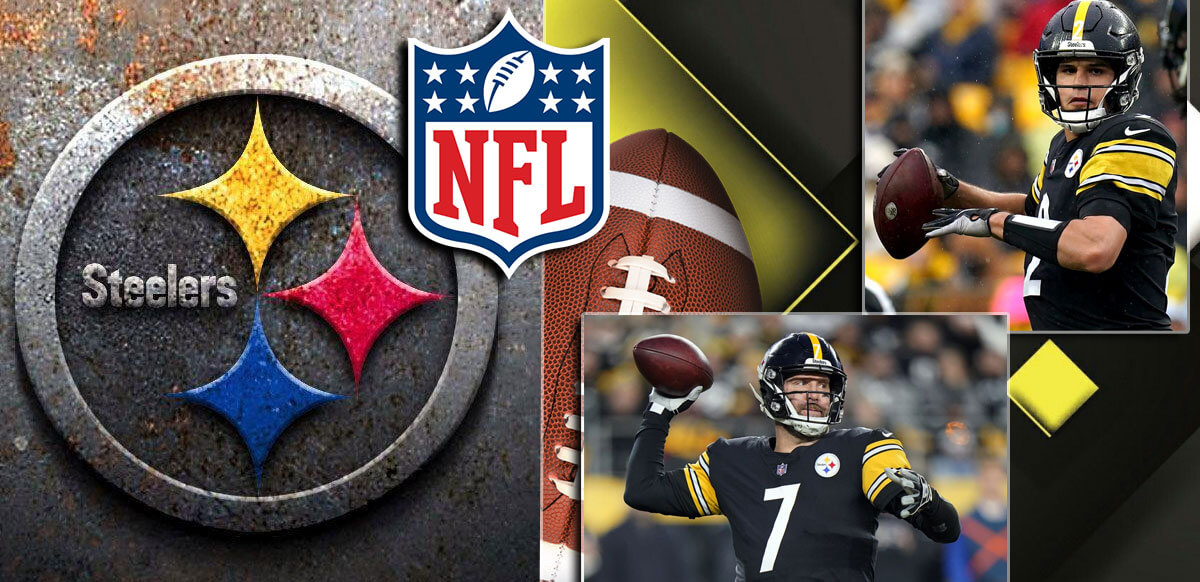 Oddsmakers favor the Steelers starting QB next season to come from the Draft or free agency (+250).
Current back-up Mason Rudolph is next in the BetOnline oddsboard at +300.
Ben Roethlisberger, who many expect will retire at the end of this season, is still listed at +525.
With Ben Roethlisberger in the final year of his contract, the talk of the Steelers' next starting QB has been heating up even before the start of this season.
Now that the 2021 NFL regular season is already past the halfway mark, the conversations have gotten more serious.
Big Ben Expects This to Be His Last Season
More on Ben Roethlisberger privately telling former teammates and some within the organization that he expects this to be his final season playing quarterback for the Pittsburgh Steelers:https://t.co/4NVQLRI5V6

— Adam Schefter (@AdamSchefter) December 4, 2021
Various reports from different media outlets in recent days are saying that Ben Roethlisberger has been privately telling former teammates and some within the Steelers organization that he expects this season to be his last. Although he or the Steelers have not given a hint publicly, it is believed that Big Ben is merely trying to focus on winning games for his team rather than being given a retirement tour.
At 5-5-1, the Steelers are still trying to make a final playoff push to give Big Ben one last try at adding another Super Bowl title to the two that he has already helped bring to Pittsburgh. But right now, the Steelers are a longshot +10000 to win Super Bowl LVI and are -500 favorites NOT to make the playoffs and these odds have led the best NFL betting sites to begin plotting their future.
Though Pittsburgh has quarterbacks Mason Rudolph and Dwayne Haskins on their roster, there are doubts as to whether either will succeed Roethlisberger. The Steelers were not a busy team during the previous offseason and they look set to be aggressive in pursuing a replacement quarterback elsewhere.
BetOnline Favors Next Steelers QB to be From the Draft
Who will be the Steelers' starting quarterback next season?

Draft Pick +250
Free-agent signing +250
Mason Rudolph +300
Trade acquisition +325
Ben Roethlisberger +525
Dwayne Haskins +1000

↪ https://t.co/qe85FlqWvc pic.twitter.com/Uz9gpJL6Qs

— BetOnline.ag (@betonline_ag) December 9, 2021
Online sportsbook BetOnline currently favors the next Steelers QB to come from the 2022 NBA Draft or a signing during the next free agency period at +250. Pittsburgh is currently expected to pick 18th and while Kenny Pickett and Matt Corral may be off the board by then, some mock drafts link Sam Howell to be the Steelers' first-round pick. As far as free agency is concerned, there is no name in the current 2022 QB free agency list that may appeal to the Steelers, unless Russell Wilson opts out of his contract after the season.
Mason Rudolph at +300 would be a safe choice for 2022 if Pittsburgh isn't sold on someone yet. Rudolph is under contract until 2022 and went 5-3 when Big Ben was injured in 2019. Next on the odds board is a trade acquisition at +325 and the first name that rings a bell is Aaron Rodgers who last October was the +200 favorite to start for the Steelers in Week 1 of the 2022 season. Rodgers reworked his contract during the offseason and part of the agreement was for Green Bay to trade him if he is unhappy at the end of this year.
Surprisingly, Roethlisberger is still on the odds board at +525 but perhaps only because he has not made any official announcement regarding his future. But that may be just formality as he wants to focus on getting to the playoffs rather than getting tributes. Last on the odds board is Haskins at +10000, which simply means he is unlikely to get the starting job at all.