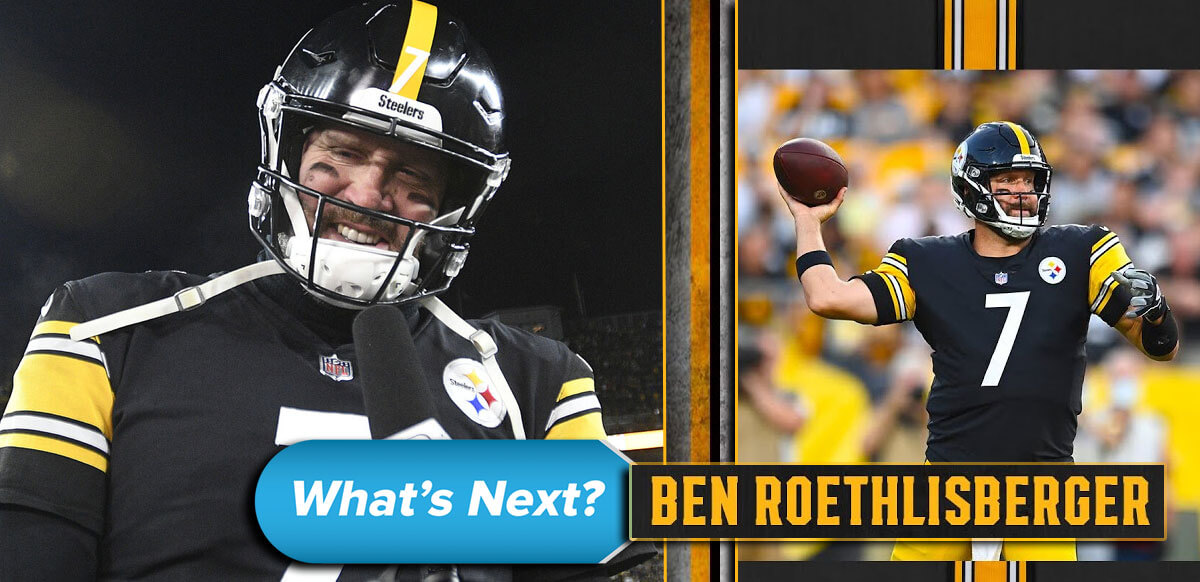 Ben Roethlisberger likely played his final home game against the Browns on Monday night.
Big Ben is expected to retire at the end of the current NFL season.
With Monday's win over the Browns, Roethlisberger will end his career without a losing season.
Ben Roethlisberger likely played his last game on Heinz Field on Monday night against the Cleveland Browns. He will likely play the final game of his NFL career next weekend in Baltimore against the Ravens.
Although Big Ben has not officially announced his retirement yet, many or most believe this is it for the two-time Super Bowl champion. With Pittsburgh's playoff destiny no longer under their control, Pittsburgh's Sunday game against Baltimore will most likely be the end of a legendary career. With that all but settled, the next topic of discussion would be what will Big Ben do next and the best NFL sportsbooks already have a few ideas.
What's Up Next for Big Ben?
So… what's up for next for Big Ben? ?

TV Football Analyst -150
Podcast Host +300
Reality TV Contestant +400
Un-retires to Play in NFL +750
NFL Coach +1200
College Coach +1600

Bet Ben Roethlisberger's job in 2022 ⤵️https://t.co/PDonJYd3nL pic.twitter.com/DvBV7m9HfB

— BetOnline.ag (@betonline_ag) January 4, 2022
According to the online sportsbook BetOnline, Big Ben is a -150 betting favorite to be a TV football analyst. Roethlisberger's recently retired contemporary, former Saints QB Drew Brees joined NBC's Sports Team as football analyst after his retirement at the end of last season. Likewise, Washington Football Team QB Alex Smith also joined ESPN as a TV football analyst so it won't be a surprise to see Big Ben in the TV booth after he calls it quits.
If Big Ben doesn't want to appear on TV and work behind the camera, BetOnline thinks that he will make a good podcast host at +300. If not, the same NFL betting site says that Roethlisberger will join a Reality TV show as a contestant. At +400, that could be a value bet considering there's a long list of NFL greats who have appeared in Dancing With the Stars although it's unclear if dancing is Big Ben's thing.
Roethlisberger hasn't announced his retirement yet but BetOnline is already listing him at +750 to unretire from the NFL. Big Ben is 39 but considering Tom Brady is still going strong at 44, there could be a chance that Roethlisberger reconsiders. If not, Big Ben coaching in the NFL is at +1200, given his vast experience and winning pedigree. Last on the betting board is Roethlisberger coaching a college football team. Regardless of what he does though, nobody will question whether Ben will be successful in his next venture.
Without a Losing Season
Ben Roethlisberger will now finish his entire career without a losing season ? pic.twitter.com/ZUGo931yuG

— The Action Network (@ActionNetworkHQ) January 4, 2022
Monday night's win over the Browns gave Roethlisberger a 25-2-1 career record against the Cleveland franchise. That 91.1% winning percentage against the Browns is now the second-highest for an NFL quarterback against one franchise ( minimum of 20 starts ), behind only Tom Brady's 91.7% winning percentage against the Buffalo Bills. But that's not it.
Roethlisberger also improved to 13-1 at Heinz Field against the Browns. He now has a total of 98 career victories at Heinz Field which is the third-most wins by a starting NFL quarterback in a single venue, behind only Tom Brady's 135 wins at Gillette Stadium and John Elway's 104 victories at Mile High Stadium. Again, that's not it.
By winning their second-to-the-last game of the season, the Steelers are now 8-7-1 SU and have guaranteed themselves a winning record. For Roethlisberger, if this is indeed the end, he will finish his NFL career without a losing season. Although he hit the borderline five times, including this season, Roethlisberger will finish his NFL career with at least a .500 mark in each of his 18 NFL seasons.