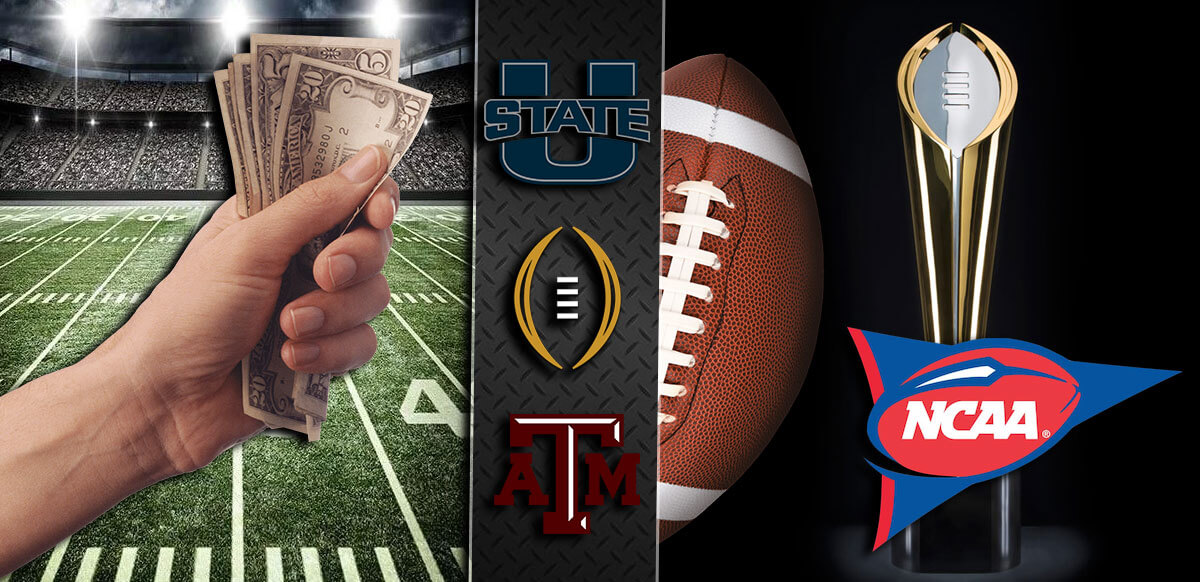 Caesars Sportsbook has received 3 $1,000 bets on the Utah State Aggies to win the CFP championship game next season.
The bets were made at +10000 odds and would win $1,000,000 each if the Aggies won.
The Aggies are coming off an 11-3 season where they won the Mountain West title and the inaugural LA Bowl.
Every now and then, sportsbooks receive a wild bet that is hard to understand. But what about three bets?
Caesars Sportsbook has reported receiving three $1,000 bets on the Utah State Aggies to win the 2023 CFP National Championship game. The bets were made at +10000 odds meaning each would win $1,000,000 if the Aggies win the Natty next season.
Strange note from @CaesarsSports.
They have now received three $1,000 bets on Utah State to win the college football playoff.

As many $1,000 bets have now been put on the Aggies of Utah State as has been put on the Aggies of Texas A&M.

Utah St has moved from 1000/1 to 750/1 pic.twitter.com/iUWatELZ3J

— Darren Rovell (@darrenrovell) April 20, 2022
Caesars says it has received $1,000 bets for eight different teams, including Utah State. But when you look at the list, the Aggies look very much out of place. Having them with three $,1000 bets makes it even more strange, considering that Utah State is coming off its first conference title since 2012.
Aggies Win Inaugural L.A. Bowl
LA BOWL WIN: ? Aggies fans celebrated Saturday night after Utah State beat Oregon State 24-13, capping a great season under first-year coach Blake Anderson.

FULL GALLERY: https://t.co/grbW1q6Beb
?: Mark Less, KUTV pic.twitter.com/tcvZJaYj4W

— KUTV2news (@KUTV2News) December 20, 2021
The Aggies capped off a great season by winning the Mountain West Conference championship game by upsetting no. 19 San Diego State as +190 betting underdogs. That win led to an invitation to the inaugural Jimmy Kimmel L.A. Bowl where the Aggies were an even bigger +240 betting underdogs against the Oregon State Ducks. Utah State won the game outright, 24-13, as +6.5 point spread betting dogs.
Utah State's L.A. Bowl win gave them 11 wins for the season, matching the program's most wins in a single season. Since the Aggies went 1-5 during the shortened 2020 campaign, they became the first FBS program to win 11 games in a season immediately after a winless or one-win campaign. Utah State head coach Blake Anderson was one of 19 first-time coaches in college football last season but he was the only one to finish the campaign with at least 9 wins.
Quarterback Logan Bonner was one of the top QBs in the Mountain View Conference. Bonner is coming off a season where he set records in passing yards (3,628 and touchdown passes (36). Utah State is returning 8 offensive starters, including Bonner, and 5 defensive starters this season. Coming off an impressive campaign, it's normal to expect bigger things from the Aggies. But considering only one school from outside the Power 5 Conferences made the College Football Playoff last season in Cincinnati, it's unlikely but not impossible that Utah State wins the Natty next season.
From Rock Bottom to CFP
"He believes everything should be done the blue-collar, hard way…If you want something, you have to put in the work. Then good things will come to you."

How Luke Fickell and the Cincinnati Bearcats went from rock bottom to the CFP.

Tomorrow, on @TheAthletic. pic.twitter.com/YgfNrcbDlH

— Justin Williams (@Williams_Justin) December 6, 2021
Cincinnati went from rock bottom to the CFP last season with the help of a fortunate non-conference scheduling, a big road win against then 9-ranked Notre Dame, and finishing the season with an unbeaten record. In theory, that could happen to Utah State this year.
The Aggies have a September 3 game against the Alabama Crimson Tide. While Nick Saban's boys should be heavy betting favorites in that game, crazier things have happened in college football so who knows. If Utah State does pull off that seemingly improbable upset, they will have another shot at another big non-conference win against rival BYU on September 29th.
Assuming that Utah State picks up the second massive upset, they still have conference road games against Boise State, Colorado State, and Wyoming so going unbeaten would be very difficult, much more making the CFP and winning the national title. Again, not impossible but highly unlikely. Unless of course, those bets were made by time-travelers who know something that we don't.