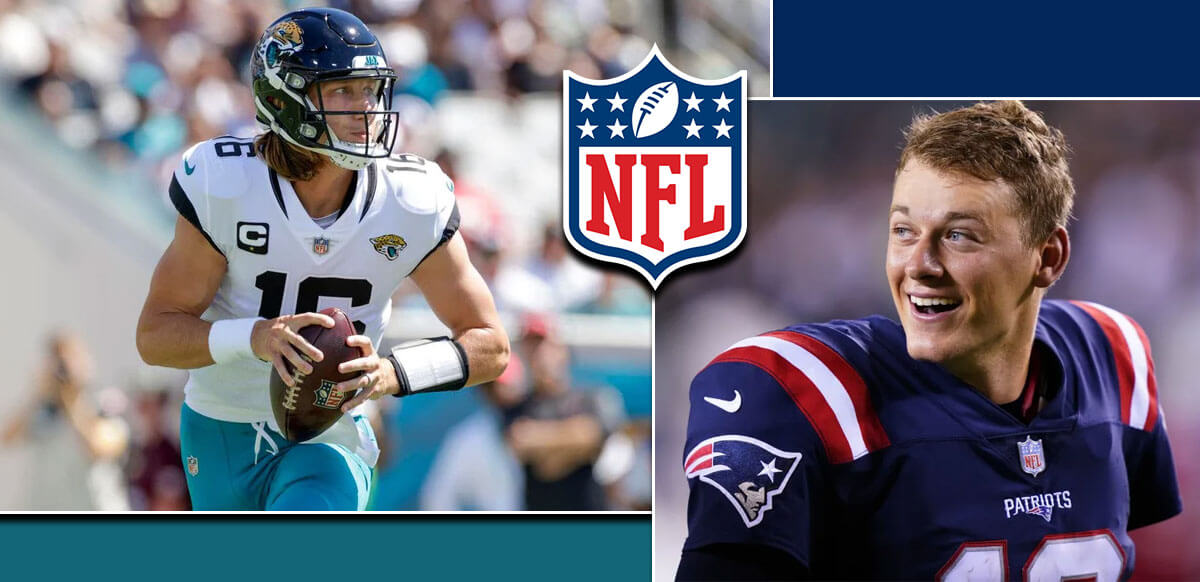 Is Jones up to the Chase as NFL Offensive ROY?
Sportsbooks posting best odds on the quarterback position
Alabama products once again putting up numbers as rookies
New England Patriots rookie quarterback Mac Jones kept firing away on Sunday night. Still, the final shots belonged to Tom Brady and the Tampa Bay Buccaneers as they slipped past the Patriots, 19-17, in Brady's return to New England.
Rookie in a row. pic.twitter.com/4VNdquTbdD

— New England Patriots (@Patriots) October 4, 2021
Jones threw for 275 yards as he completed 31 of 40 passes, and he tossed two TD passes with an interception. He drove the Pats to the Bucs' 39-yard line at the end of the game before Nick Folk missed a 56-yard field goal that would have given Patriots coach Bill Belichick the 'W' over his former QB.
The former Alabama quarterback is the only one of the rookie quarterbacks who has started from day one where he has completed 70 percent of his passes with four touchdowns and four interceptions.
Jones is posting (+400) odds to win the NFL Offensive Rookie of the Year on some odds boards, while Cincinnati wide receiver Ja'Marr Chase is sitting at (+500).
However, some NFL betting sites have Chase as the favorite in posting numbers at (+375) while Jones as his (+400) spot.
??? pic.twitter.com/qROGL2rfX8

— Cincinnati Bengals (@Bengals) October 5, 2021
Chase has started the season as Bengals quarterback Joe Burrow's number one target in Cincinnati, and he hasn't relented. Chase has 17 catches for 297 yards and four touchdowns as he averages 17.5 yards per catch and his 297 yards in receptions is currently sixth in the AFC.
Chase set the pace in the season opener as he brought down seven balls for 101 yards in the Bengals' 27-24 win over the Vikings.
Jones is also posting (+8000) odds in the NFL MVP race while Chase is ahead of him in that area at (+5000).
It's a Quarterback's World
Jaguars quarterback Trevor Lawrence opened the season as the favorite to win the honor as he posted (+400) odds. However, he has struggled repeatedly in Jacksonville's rebuilding process and now is posting (+600) in some places and (+750) with other sportsbooks.
Can we get an update on that Juke Move rating for our boy, @EAMaddenNFL?#DUUUVAL pic.twitter.com/wYpsUqRrUW

— Jacksonville Jaguars (@Jaguars) October 6, 2021
Lawrence has five touchdown passes and seven interceptions, plus his QB rating is only 66.4. He is also tied with San Francisco rookie Trey Lance on both of those odds boards at (+600) and (+750). They are both obviously long shots for the NFL MVP race as Lawrence is sitting with (+10000) odds while Lance posts (+15000).
Lance is likely to get his first start this weekend as the 49ers travel to Arizona to battle the NFL's only unbeaten team in the thriving Cards. Starting quarterback Jimmy Garoppolo went down with a calf injury in Sunday's loss to Seattle, but coach Kyle Shanahan told reporters yesterday that it doesn't like the injury is as bad as it was first thought. Lance, who opened the season with the fourth-best odds (+700) to win the award, had a solid debut in getting his first consistent action as he completed 9-of-18 passes for 157 yards and two scores in Sunday's game.
Meanwhile, in Chicago, Justin Fields is caught in coach Matt Nagy's quarterback merry-go-round with often-injured Andy Dalton and then Nick Foles, who is thrown into conversations because he is the third team QB on the roster.
Coach Nagy is waiting to see where Andy Dalton's health is at before making a decision about who will start in Vegas.

— Chicago Bears (@ChicagoBears) October 4, 2021
Fields has (+1200) odds as he started the season with the third-best posting at (+650). The former Ohio State Buckeye stabilized his game this past Sunday in the Bears' 24-14 win over the Lions when he completed 11 of 17 passes for 209 yards. Fields engineered three scoring drives that ended in short TD runs for David Montgomery and Damien Williams as the Bears led 21-0 with 10:33 remaining in the third quarter.
The Color of Crimson
Alabama has a major theme in this NFL Offensive Rookie of the Year race as Jones is one of the favorites. Still, Pittsburgh running back Najee Harris, Philadelphia receiver Devonta Smith, and Dolphins WR Jaylen Waddle are all tabbed by oddsmakers in or near the Top 10 favorites.
Harris is tied with Fields at (+1200) odds after he began the season at (+800).
He had his best game of the season in Pittsburgh's 27-17 loss to Green Bay on Sunday as he carried the ball 15 times for 62 yards and scored while catching six balls for 29 yards.
.@ohthatsNajee22's first career rushing TD

?: CBS pic.twitter.com/5Nycvh2oTy

— Pittsburgh Steelers (@steelers) October 3, 2021
Smith was (+2000) to begin the season, but he has moved somewhat in sitting at (+1600) as of now. He has 18 receptions for 237 yards and a score. An interesting statistic formulates as he has picked up first downs on 12 of his 18 catches. Waddle has 25 receptions on 30 targets for the Dolphins as he has been used more in a short passing game where he only has 8.0 yards per catch.