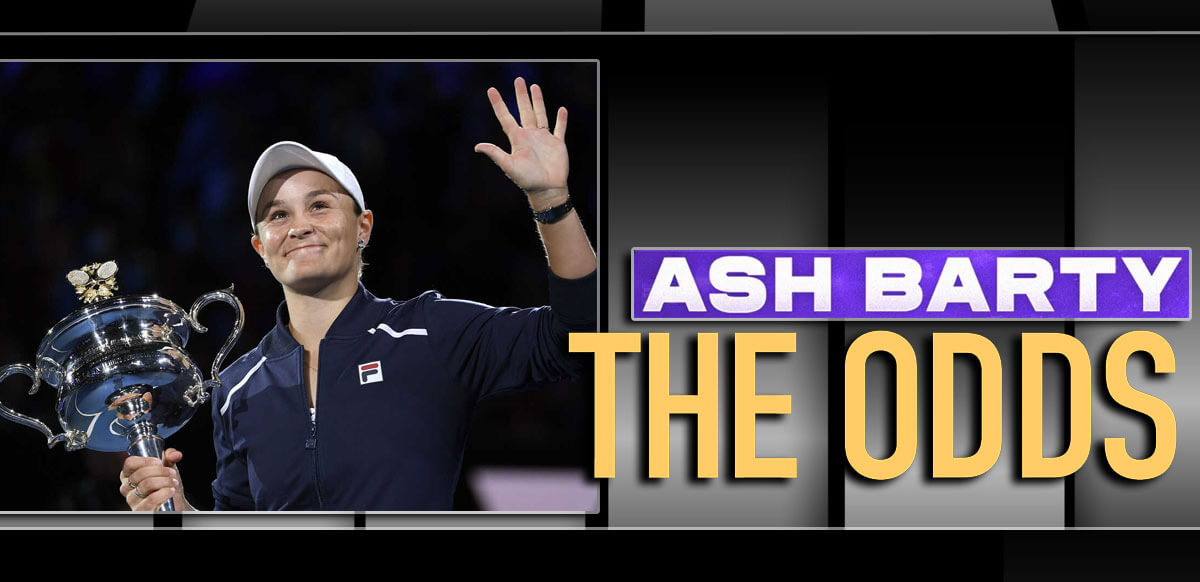 Women's tennis world no. 1 Ash Barty announced her retirement from pro tennis on Tuesday.
Barty had just become the first Aussie to win the Australian Open two months ago in Melboune.
Online sportsbooks favor Barty to return to the WBBL where she previously played professional cricket.
Women's tennis world no. 1 Ash Barty shocked the world on Tuesday when she announced her retirement from professional tennis.
The 25-year old had just won the Australian Open two months ago and was clearly at the peak of her powers. But Barty cited the achievement of her tennis goals and fatigue with the WTA Tour life as the reasons for her surprise decision.
Barty Keeping Her Cards Close to Her Chest
No regrets about her career, no secrets about why she's retiring. Ash Barty says it was just time.

But what's next? She's keeping her cards close to her chest after her retirement from tennis.

Stream the press conference in full on Flash ? https://t.co/6lZA86LxAB#FLASHNEWS pic.twitter.com/UsBdr9b218

— Flash News (@FlashNewsAU) March 24, 2022
Barty faced the media on Wednesday supposedly to explain her shocking retirement. But instead of getting answers, the press was filled with more questions as Barty kept her cards close to her chest by refusing to say what's next and instead of telling reporters to "be patient" with her next move. She did, however, give a hint of what it could be about.
"I have seen some brilliant photoshops as a jockey, lawn bowls…I've seen a little bit. Yeah. I love the sport. I'm a sports nut, like a lot of Australians are. I'll be lured to it. I have always been an athlete in the sense of trying different things but we'll see how we go."
Although Barty didn't mention any particular sport, the best sports betting sites have come up with the betting odds for Barty's next sport after her tennis retirement. To nobody's surprise, a return to the Women's Big Bash League in the Australian Twenty20 cricket competition is on top of the list at 1.90 odds. Barty played for the Brisbane Heat during the WBBL's inaugural season. Second on the odds board at 3.00 odds is also another cricket gig at the Women's National Cricket League where she also appeared in 2015 for the Queensland Fire.
Barty is next linked to play in the AFL Women's at 4.00 odds. Although she has never played Australian Rules Football before, Barty is a diehard fan of the Richmond Tigers of the AFL. A career at the LPGA is listed at 11.00 odds. Barty won the Brookwater Golf Club women's championship in 2020. Meanwhile, Barty has 21.00 odds to join the NRL women's rugby league and 26.00 odds to enter the Suncorp Super Netball league. A career at the WNBL is even listed at 34.00 odds.
Going Out on Top
Going out on top: World #1 Ash Barty announces her sudden and surprise retirement from tennis at 25 years old.

"I'm so happy, and I'm so ready. I just know at the moment, in my heart, for me as a person, this is right." pic.twitter.com/lvQdJMSVo6

— The Recount Alt (@therecountalt) March 23, 2022
Regardless of what sport she chooses to take up next, one cannot deny that Barty left the game she dominated on her own terms and top of her game.
Barty is the current world no. 1 in the WTA Rankings and has been the world's top-ranked tennis player for the past 114 weeks, the fourth-longest streak on top of the women's rankings since 1975.
Since turning professional in 2010, she's won 15 tour-level championships in singles competition and 12 in doubles tournaments. She went on to win three Grand Slams on different surfaces- on clay in the 2019 French Open, on grass last year at Wimbledon, and on the hard courts of Melbourne Park at the 2022 Australian Open where she became the first Aussie to win the tournament in 44 years.
This isn't the first time though that Barty walked away from tennis. After becoming Wimbledon Junior Champion at the age of 15 in 2011, she left a promising tennis carer for nearly two years because of burnouts, pressure, and the travel required. That was when she played professional cricket in Australia but eventually, she returned to the tennis courts. Interestingly, however, there are no current odds for her to return to pro tennis.