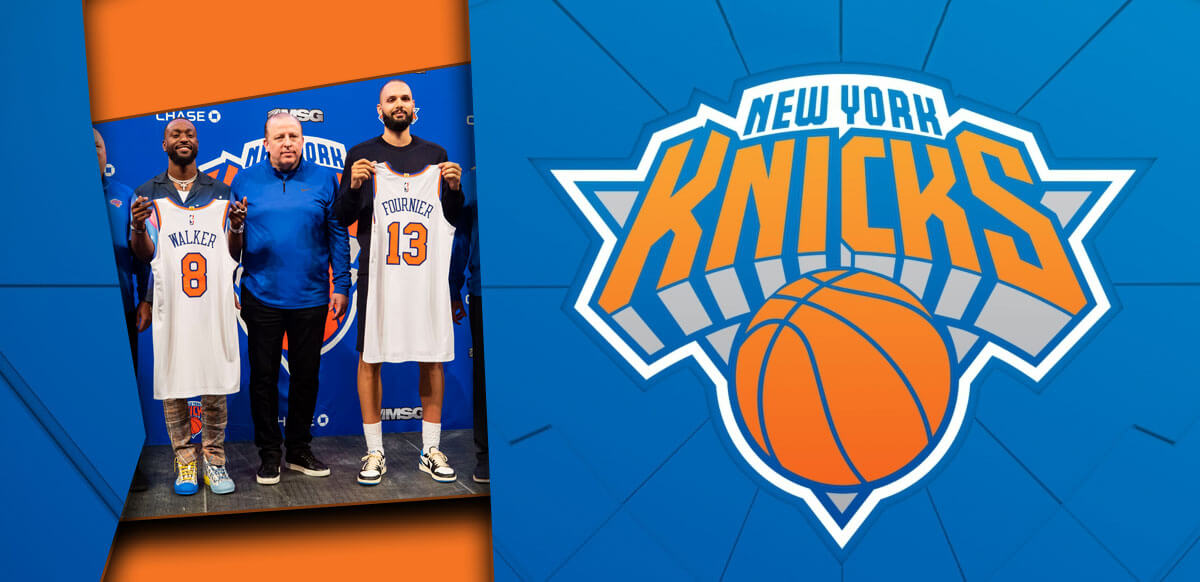 Oddsmakers have set the New York Knicks' 2021-22 regular season win total to just 42.5 despite the Knicks adding Kemba Walker and Evan Fournier during free agency.
The Knicks won 41 games last year in a season that only had 72 regular season games.
New York has a +5000 odds to win the 2022 NBA championship.
The New York Knicks were one of the big players during the free agency and netted a pair of guards that could instantly form their starting backcourt. Yet despite such impressive additions, the oddsmakers have set their total at 42.5 games or just 1.5 better than their 2020-21 campaign total wins.
Of course, win totals are just a sportsbook's baseline prediction of how a team's season could go, and the oddsmakers have the Knicks as a -145 betting favorite to beat that posted total. But considering that New York added two marquee free agents, the Knicks could be a better team than what the bookies think.
New York is in the Top 15 in the latest NBA championship oddsboards and their championship odds of +5000 is among the ten-shortest prices right now. Coming off their first playoff appearance and first .500 season since 2013, surely the Knicks could be looking at a bright 2021-22 season, especially with the addition of Kemba Walker and Evan Fournier.
Kemba and Fournier
Fat Joe in a Kemba Walker Knicks jersey next to Kemba Walker with a Knicks jersey and Evan Fournier pic.twitter.com/pYKrzcxUDh

— Mike Vorkunov (@MikeVorkunov) August 17, 2021
Adding Walker and Fournier gives the Knicks immediate backcourt depth and the scoring punch they sorely lacked when Randle was shackled during the playoffs. But aside from being two excellent scorers, Walker and Fournier already have chemistry, having played for the Celtics last season.
In 192 minutes together, Celtics lineups with Walker and Fournier had a net rating of +14.81. Sure, those lineups had both Jaylen Brown and Jayson Tatum but considering that the two-man tandem of Brown and Tatum was just a +2.1 points per 100 possession in 1264.60 minutes, you can't deny that Walker and Fournier mattered.
According to Basketball Reference, Fournier accounted for 1.1 win shares in 16 games with the Celtics and Walker 3.3 in 43 games. Imagine both playing for an entire 82-game season. And don't forget that the 2021-22 season will have 82 regular season games, 10 more than the previous campaign.
Knicks Nearly Doubled their 2021 Preseason Win Total
Here's a look at how teams faired against their Preseason Win Total

Some Takeaways:
-Only the 2013-14 Suns beat their preseason total by a higher % than the 2020-21 Knicks

-11/30 teams finished within 2.5 games of their Preseason Total pic.twitter.com/4z822iFRYy

— Bets Stats (@betsstats) May 17, 2021
Last preseason, the oddsmakers put the Knicks' win total at 22.5 games. They ended up winning 41 games, which is 186% of the posted total. In the history of the NBA, only the 2013-14 Phoenix Suns have beaten their preseason total by a higher percentage. Coming off such a huge turnaround, the law of averages could go against New York
There are fears that the Knicks might be headed to a regression, especially if Walker can't stay healthy or if Randle settles into a middle ground between last year's All-Star season and what he's been throughout his career. If either or both will happen, then most certainly, New York's bottom line figure suffers.
But then there are the pros. Walker is returning home and although he isn't the player he used to be, he's still going to be good enough to make a difference. Randle is a long shot at +6000 and +10000 in the MVP and DPOY oddsboards but being there is an indication of confidence. At +2800, Barrett has Top 10 Most Improved Player odds at BetOnline. Derrick Rose is 4th in the current Sixth Man oddsboard at +1400. And yes, the Knicks are a -155 betting favorite to make the Playoffs.