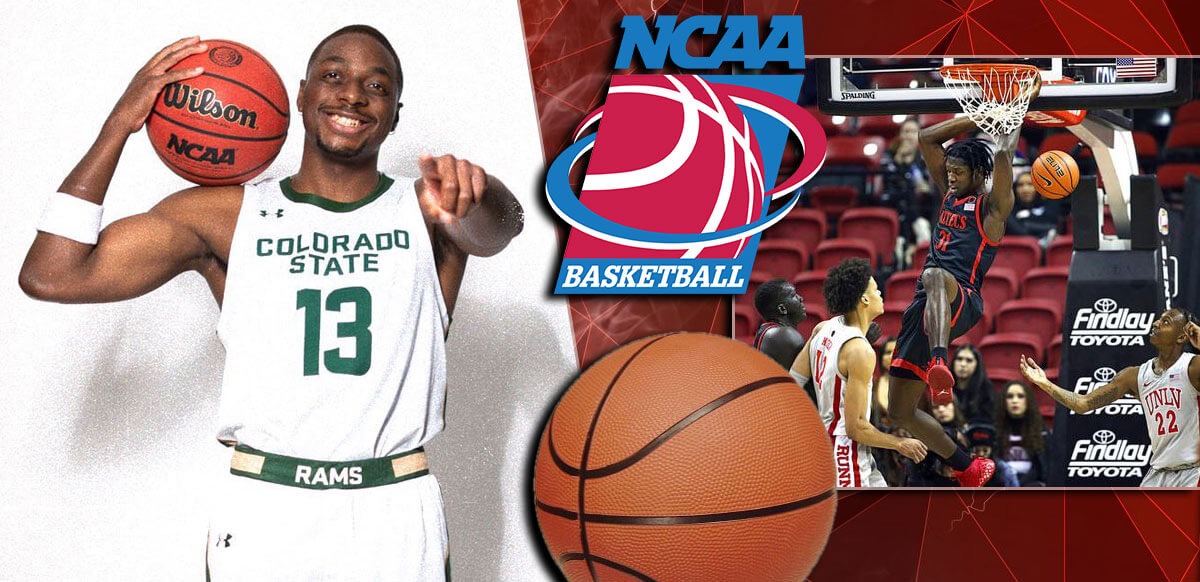 Sportsbooks tab Rams, Aztecs in Mountain West race
Utah State keeping third-best odds to win league
Wyoming unappreciated as MW sleeper
Matt Bradley scored 17 points as San Diego State toppled UNLV, 62-55, in the Mountain West opener for both teams on Saturday.
— San Diego State Men's Basketball (@Aztec_MBB) January 2, 2022
The Aztecs once again are playing their usual tough defense as they held the Runnin' Rebels to a season-low 29.7 percent from the field. The Aztecs are holding opponents to 37.7 percent (19th/CBB) while they allow 58.2 points per game (14th/CBB).
AG with the follow flush w/ fury! #GoAztecs pic.twitter.com/G8lAcBEmSe

— San Diego State Men's Basketball (@Aztec_MBB) January 1, 2022
The Aztecs closed on No. 20 Colorado State as the online sportsbooks have assigned SDSU odds at (+220) while the Rams, one of the last three undefeated teams in the nation, posture at a league-leading (+155).
When the season began, San Diego State was favored with a (+180) number while the Rams were third at (+400). Bradley leads Brian Dutcher's squad at 14.9 points per game while Trey Pulliam is the other double-digit scorer at 10.9 points while dishing 3.8 assists.
The Aztecs are long shots to win the national championship (+13000) and are (+3500) to make it to the Final Four.
Ram-bling in the Mountains
Colorado State hasn't played since it won at Mississippi State, 66-63, on Dec. 14. The Rams had to call off their last two non-conference games against Tulsa and Alabama due to COVID-19 positives within the team. The Mountain West postponed their opener vs. New Mexico last week.
We are 12-5 overall when ranked; 10-5 against Division I opponents.#TeamTogether x #CSURams https://t.co/94notvUxv8

— Colorado State Men's Basketball (@CSUMBasketball) December 14, 2021
The Rams, who were fully vaccinated, are scheduled to now open Mountain West play on Tuesday night when the Air Force Flacons invade Moby Arena.
Colorado State has odds at (+2500) to make it to the Final Four and (+10000) to win the national championship.
Still ?‍♂️‼️‼️#TeamTogether x #CSURams pic.twitter.com/ZlmRocOcQr

— Colorado State Men's Basketball (@CSUMBasketball) January 3, 2022
Junior guard David Roddy is making a strong push for Mountain West Player of the Year in averaging 20.5 points and 7.7 rebounds per night. He is flanked by Isaac Stevens (14.1 ppg, 7.3 apg) and John Tonje (12.0 ppg, 3.4 rpg) in the backcourt.
The Rams lead the nation in shooting 53 percent from the floor and 43.3 percent from three (2nd/CBB) while they defend at a 41.4 percent clip (133rd/CBB).
Coach Niko Medved's herd started the season at (+15000) to win the national championship, which was literally the best odds they had posted since they hit the same number at the end of the 2014-15 season.
Mountain Marvels
If you watch this league, you realize, year-in, year-out, it always deserves more NCAA bids than it gets.
? The Rams keep movin' up ?

#AtThePeak | #MWMBB | #CSURams pic.twitter.com/yRejF38ut5

— Mountain West (@MountainWest) January 3, 2022
Coach Ryan Odom moved from UMBC (Remember their NCAA Tournament win over No. 1 seed Virginia?) to Utah State and even though the Aggies dropped a 52-47 decision to Air Force on Saturday, Utah State has the third-best odds to win this league at (+700).
The Aggies had the fifth-best odds to win the league in the preseason at (+900).
Justin Bean is right there with David Roddy with MW Player of the Year potential as the Utah State senior forward averaged 19.8 points and 10.4 rebounds per game. Brandon Horvath came with Odom from the UMBC and is the second leading scorer with 13.1 points and 6.4 boards.
Boise State and Nevada are also players in the Mountain West race as oddsmakers have assigned the Broncos a (+800) number while the Wolf Pack currently check-in at (+900).
Winning time at ExtraMile Arena!#BleedBlue | #WhatsNext pic.twitter.com/QfAHCjXIcj

— Boise State MBB (@BroncoSportsMBB) December 29, 2021
The Broncos won their first MW game over the weekend as they took a 65-55 win over Fresno State.
The Broncos are 10-4 and were led by 18 points from Marcus Shaver, who is their second-leading scorer at 12.9 points. Abu Kigab (14.2 ppg, 6.9 rpg) is in the mix for the Player of the Year in the league as he shoots 56.6 percent from inside the arc.
Back The Pack
Nevada had the second-best odds (+350) to win the league at the beginning of the season as they trailed only San Diego State (+180).
The Wolf Pack are currently fifth in odds to win the league at (+900).
Point guard Grant Sherfield was preseason all-MW first team. He leads the Wolf Pack in scoring at 18.8 points with 6.6 assists per game.
Sherfield for THREEEEEEEE! ??
Nevada leads New Mexico 69-50,
5 minutes remaining in the game.#BattleBorn // #PackParty pic.twitter.com/UeVtM33tus

— Nevada Basketball (@NevadaHoops) January 2, 2022
Coach Steve Alford also has a solid offensive attack as Desmond Cambridge also scores 17.4 points and 4.6 rebounds per game. This is a good rebounding team, especially on the defensive glass where they pick off 29 per game (41st/CBB).
Difference Makers
Fresno State's Orlando Robinson and UNLV's Bryce Hamilton are two of the top players in the league and are capable of having mammoth games in moving their teams forward.
Orlando Robinson scored 22 points (10-for-17 FG) in our MW opener at Boise State.

Opening 2022 back in the 559 by hosting Air Force on Saturday at 1pm PT (all active military & veterans get in FREE)❗️

See you @SaveMartCenter, Red Wave!??#GoDogs | #ValleyTough pic.twitter.com/EQRCTLpjoq

— Fresno State Men's Basketball (@FresnoStateMBB) December 30, 2021
The Bulldogs get 18.7 points and 8.0 rebounds per game from Robinson, but they struggle from three (30.5%). FSU currently is at (+2000) odds to win the MW as they continue to look for complementary scorers beside Robinson.
The Bulldogs started the season at (+2500).
Kevin Kruger is in his first season at UNLV where Hamilton was getting 18.4 points and 3.5 rebounds per game. Hamilton needs help as well as the Runnin' Rebels only shoot 41.6 percent (295th/CBB) although they're one of the better ball-handling teams in college basketball at only 10.9 turnovers per night.
Cowboy Up!
Wyoming is going unnoticed in coach Jeff Linder's second season as the Cowboys are 11-2 and are powered on offense by big-man Graham Ike, who has averaged 19.5 points and 8.4 rebounds per game.
Weekend work. #NewEra I #GoPokes pic.twitter.com/bZiZxmkHuA

— OSU Cowboy Basketball (@OSUMBB) January 1, 2022
Defense is the Cowboys' calling card as they have held their opponents to 39.2 percent from the field (51st/CBB) and they average only 9.9 turnovers per game (345th/CBB). Wyoming has really solid value as the Pokes are a sleeper at (+1800) to win the league after starting at (+4000).