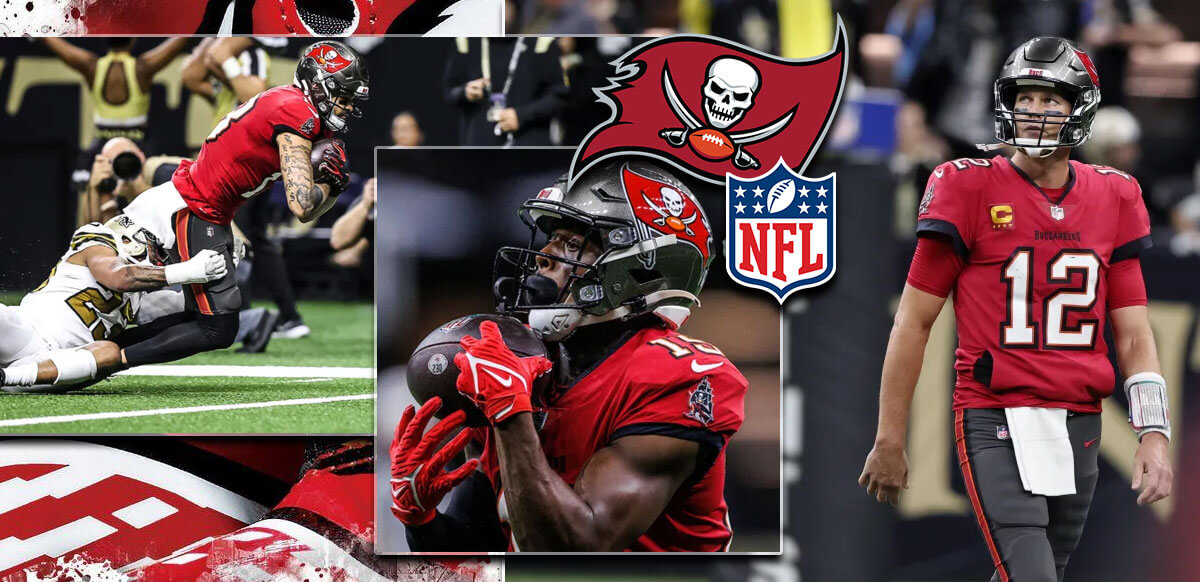 Oddsmakers see no threats to Tampa Bay in NFC South
Brady's odds are solid despite untimely interceptions
Buccaneers are still a popular pick for NFC crown and Super Bowl appearance
The New Orleans Saints took a 36-27 win over the Tampa Bay Buccaneers on Sunday as they picked off Tom Brady twice and turned three Tampa Bay turnovers into 13 points to tie the Bucs in the loss column with two losses.
Final ? pic.twitter.com/pzw4K9bT1l

— Tampa Bay Buccaneers (@Buccaneers) October 31, 2021
Oddsmakers were unfazed about the Buccaneers' NFC South status though as Tampa Bay still garners a (-400) while New Orleans is sitting on the plus side of the odds at (+300). The numbers fell from the (-700) that the Buccaneers showed after last week's rout of the Bears while the Saints sat at (+600).
New Orleans won the game under the guidance of backup quarterback Trevor Siemian, who came into the game in the second quarter when starter Jameis Winston was injured with what was reported as an ACL injury.
Saints offense remained aggressive in passing game with Trevor Siemian at quarterback

Read more from @JohnDeShazier ⤵️https://t.co/pU28MDDCPY pic.twitter.com/C8y99EOKPS

— New Orleans Saints (@Saints) November 1, 2021
Siemian finished with 159 yards and a touchdown pass while the Buccaneers were uncharacteristically undisciplined as they took 11 penalties for 99 yards which gave the Saints an upper hand.
The Buccaneers keep a slight lead in odds to win the NFC and make it to the Super Bowl with (+300) while Dallas, fresh off of a 20-16 win over Minnesota on Sunday night, closing with (+400) odds. The Los Angeles Rams, Arizona Cardinals and Green Bay Packers all line up with a (+450) number as New Orleans is still a stretch at (+1600).
In the NFC South, after the Panthers shaded the Falcons, 19-13, on Sunday, both of those teams were placing (+4000) just to win the division and they are both at (+10000) to win the NFC.
Brady Still A Popular Pick
The Buccaneers' undoing was more about their own mistakes which allowed the Saints to be opportunistic in pulling out a key NFC South victory.
Brady's two interceptions led to a late first half touchdown for the Saints and then Saints safety P.J. Williams picked him off to seal the game with 1:24 remaining.
Goodnight!! ? https://t.co/HO5L46x5To

— Pj Williams (@PjWilliams_26) November 1, 2021
TB12's MVP chances are still steady as he is posting (+600) and he is in a tie for second behind Buffalo quarterback Josh Allen (+250).
The Rams' Matt Stafford and Arizona QB Kyler Murray both share the (+600) number with Brady while Dallas quarterback Dak Prescott (+650) and Aaron Rodgers of Green Bay (+800) are in the fray.
Brady set two more NFL records on Sunday as he had four touchdown passes and became the only player in NFL history with 38 games of four or more TD tosses. He came into Sunday with a 36-1 ledger in such games. He also set the record for games of three or more touchdown passes with 98.
Tom Brady separates himself from Drew Brees in two new categories ?#GoBucs

— Tampa Bay Buccaneers (@Buccaneers) November 1, 2021
Last week, Brady's MVP odds stood at (+750) with Allen (+400), Murray (+450) and Prescott (+500) leading the way.
Brady did throw for 375 yards and four touchdowns and rallied Tampa Bay from 16 points down into a 27-26 lead with just over five minutes to play.
CYRIL. GRAYSON. ?

?: #TBvsNO on FOX pic.twitter.com/4nJW0q8z2t

— Tampa Bay Buccaneers (@Buccaneers) October 31, 2021
However, the interceptions and the timeliness of them in the game will be under the microscope this week.
Time To Regroup
Tampa Bay's loss to New Orleans is costly because, of course, it is in the division and it also left the Buccaneers at 6-2 while the Packers, Rams and Cardinals all stand at 7-1 with the Cowboys at 6-1.
NFL betting sites continue to prop up the Buccaneers, though, as they sit at (+600) to win Super Bowl LVI while the Buffalo Bills are the only team in front of them at (+500) after their 26-11 decision over Miami.
There is still a log jam in the odds, however, as the LA Rams (+750), Green Bay (+900), Arizona (+1000), Dallas (+1000), Baltimore (+1200) and Kansas City (+1200) have lined up behind the Buccaneers and Bills.
Top ? from Week 8#GoBucs

— Tampa Bay Buccaneers (@Buccaneers) November 1, 2021
The bye week comes at a good time for the Buccaneers, who have so many lingering injuries as Antonio Brown was out yesterday while Rob Gronkowski tired to play, but was injured again after five plays.
Defensively, the secondary has been a "who's who" with so many injuries as yesterday Carlton Davis, III, and Sean Murphy-Bunting were still on IR and Dee Delaney was absent from the rotation.
Tampa Bay posted (+550) odds to win the Super Bowl at Sofi Stadium in Los Angeles in early February as they were tied with Buffalo with the (+550) number while the Rams sat at (+800) with the Cardinals flying high at (+900).
Panthers Still Prowling
Having a 7-seed in both the AFC and NFC playoffs will keep team eligible and expedite competition to secure playoff spots.
The Carolina Panthers stopped a four-game losing streak on Sunday with the 19-13 conquest of the Atlanta Falcons at Mercedes Benz Stadium.
The Cats' defense held the Falcons to 213 total yards while Zane Gonzalez kicked four field goals and Chuba Hubbard added a late touchdown for the win.
Chuba Hubbard punches it in for 6!

?: FOX pic.twitter.com/PwhWXIgaCA

— Carolina Panthers (@Panthers) October 31, 2021
Accordingly to analytics, the Panthers increased their chances to make the playoffs to 16 percent from 12 percent while the Falcons dropped from 20 percent to 10 percent.
Last week, Carolina displayed (+960) to make the playoffs and (-1600) to miss. Atlanta was laying odds at (-460) to miss the playoffs and (+330) to make it to the second season.