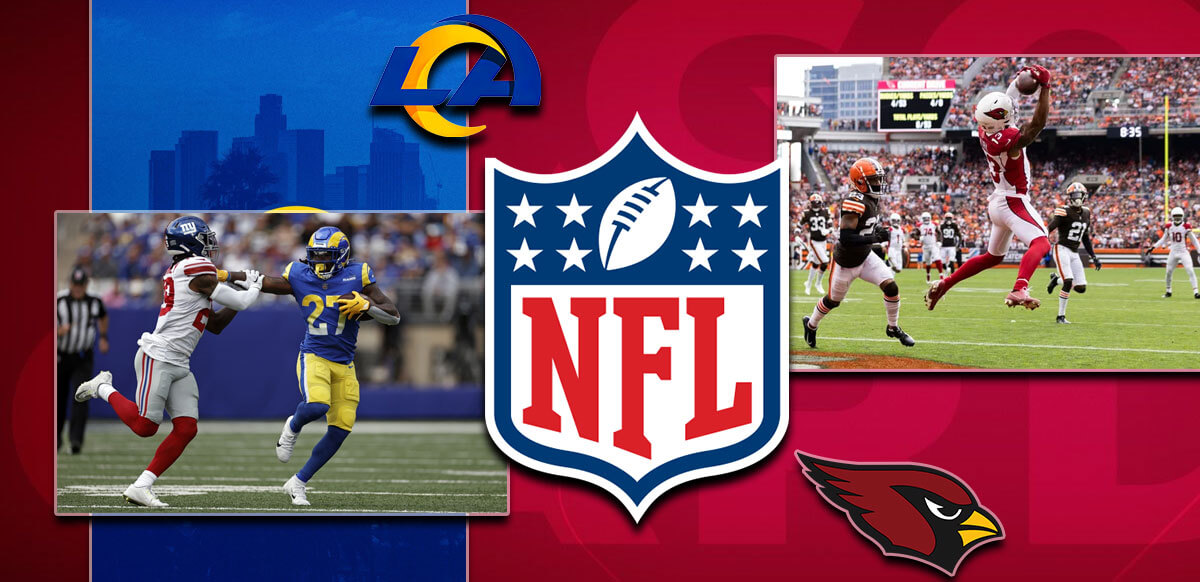 Cardinals take upper hand on NFC odds boards
Rams netting nice odds in all categories as well
Seahawks' futures fall with loss of Wilson
The Arizona Cardinals have the look of superiority once again as quarterback Kyler Murray threw four touchdown passes, and the Cardinals rolled into Cleveland and took a resounding 37-14 win over the Browns.
6-0. pic.twitter.com/O1kJcFblh7

— Arizona Cardinals (@AZCardinals) October 17, 2021
The oddsmakers stayed solidly behind the NFL's only unbeaten team as they are laying (-140) odds as the NFC West favorite right now while the Los Angeles Rams, who embarrassed the New York Giants, 38-11, sit at (+150).
Arizona took a 20-0 lead midway through the second quarter as Murray hit Christian Kirk on a 21-yard touchdown pass and DeAndre Hopkins on a 13-yard toss.
On October 8, the Rams were the favorite with a (+135) number while Arizona checked in at (+170).
With the Cardinals' 17-10 win over San Francisco in Week 5 and then yesterday's domination of the Browns in a game where Cleveland was favored by (-3), Arizona is obviously getting more respect and confidence from the NFL sportsbooks.
Red Sea we see you. Now let's hear you!

? #RedSea Roll Call ? pic.twitter.com/nDceo9RTMc

— Arizona Cardinals (@AZCardinals) October 17, 2021
The Rams have since posted a pair of road victories over the Seahawks and Giants, but after the 37-20 Arizona win in Week 4, the Cardinals have solidified themselves for now.
The OVER/UNDER fell from 54 early last week to 49 due to expected high winds in the Cleveland area as this changed the direction of bets in that area as the 51 points were obviously OVER 49 but UNDER the perceived 54.
Another day.
Another A.J. Green touchdown. pic.twitter.com/Xi1w8SANgG

— Arizona Cardinals (@AZCardinals) October 17, 2021
At 6-0 and going into next weeks date with the Houston Texans, the Cardinals have a (+6500) posting to go 17-0.
The idol San Francisco 49ers are at (+1600) while the Seattle Seahawks fall to (+2800) to win the NFC West after the loss of quarterback Russell Wilson and a 23-20 overtime defeat in Pittsburgh last night.
LA Life
Quarterback Matt Stafford had similar numbers to the Cardinals' Murray yesterday as he connected on 22 of 28 passes for 251 yards and four touchdowns in Los Angeles' 38-11 domination of the Giants.
Cooper Kupp had nine catches for 130 yards as he caught two touchdowns of three and 13 yards.
The Rams still have better odds than the Cardinals to win the NFC as Los Angeles is at (+400) while Arizona maintains a (+450) setting.
No morning coffee needed, just these vibes. ? #VictoryMonday pic.twitter.com/uIEwj59TvU

— Los Angeles Rams (@RamsNFL) October 18, 2021
Tampa Bay lands ahead of the Rams and Cardinals as the Buccaneers continue with the best odds to win the NFC at (+250). Green Bay sits at (+550) while the Cowboys round out the top five at (+600).
The Los Angeles defense was on point yesterday as well in holding the Giants to 261 yards and forcing four turnovers.
The Rams also are sitting with better odds to win the Super Bowl than the Cardinals as Los Angeles is currently posting (+800) odds while the Cards are currently with a (+1100) figure.
MVP, MVP, MVP!!!
The chant lives in infamy across the landscape of both pro and college sports, and it applies well to the NFC West this season.
Kyler Murray is coming into his own as one of the top quarterbacks in the NFL as his passer rating is at a 116.2 while Stafford is just ahead of him at 116.6. Russell Wilson of the Seahawks leads the league 125.3 although he is likely out at least four weeks with the fractured thumb.
Murray, who has 14 touchdown passes with four interceptions, has completed 73.4 percent of his passes and has (+500) odds to win the NFL's MVP at this point.
Ready or not… pic.twitter.com/sYwV1IwJze

— Arizona Cardinals (@AZCardinals) October 17, 2021
Stafford, who has 16 TD passes in six games, is tied for fifth with Baltimore's Lamar Jackson and Green Bay's Aaron Rodgers with (+1200) odds. He has thrown 200 balls so far, and his 9.2 yards per pass is only second to Willson's 9.6.
There is a litany of NFC West talent that posts long shot numbers at (+10000). These include LA's Cooper Kupp and Aaron Donald, the 49ers' Jimmy Garoppolo and Deebo Samuel, and Arizona's DeAndre Hopkins.
Wilson is currently off the board with the injury.
Kupp ties Green Bay's Davante Adams and Kansas City's Tyreek Hill with  46 catches, and he is second in receiving yards with 653, with Adams atop the list as he has hauled in 668 yards in receptions.
Kupp and Murray are tied with (+1200) odds for the NFL's Offensive Player of the Year, while Hopkins and Stafford are currently posting (+2500) yards. The Rams' Donald is sitting at (+750) for the league's Defensive Player of the Year.
Sea, Ya Later!
It's been a tough year for coach Pete Carroll and his birds as Wilson went out with the hand injury last week.
Wilson hardly misses games as he played in 149 in a row, dating back to 2012. Wilson had surgery on his hand but jumped back into practice almost immediately. Seattle put up a mighty effort in Sunday evening's 23-20 overtime loss in Pittsburgh.
Tough game tonight.

One thing we know, this team has a ton of fight. pic.twitter.com/RXZFST2Hcn

— Seattle Seahawks (@Seahawks) October 18, 2021
Geno Smith, Wilson's backup, was strip-sacked by Pittsburgh's T.J. Watt. Devin Bush's recovery set up a game-winning field goal with 2:50 in the extra session.
Seattle came into the season with odds at (+550) to win the NFC West, but with the injury and the last rated defense in the NFL, that has fallen to (+2800).