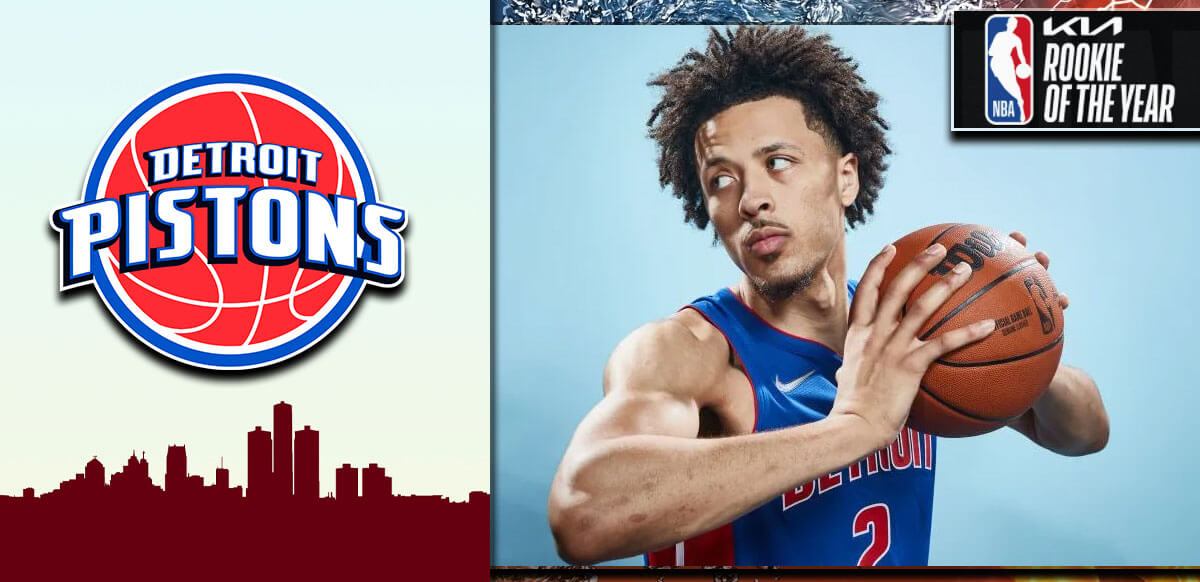 Cunningham and Green have close odds for Rookie of the Year
Oddsmakers have Jalen Suggs neat the top of odds boards
Mobley and Barnes could push for the award with playing time
As Opening Night in the NBA is a mere nine days away, how the rookies fit on the roster and which rookies will show in a big way on the path to the NBA Rookie of the Year are keeping the online sportsbooks busy in the preseason.
Oddsmakers like Detroit's Cade Cunningham (+250) as the favorite in the NBA Rookie of the Year balloting despite missing preseason games with an ankle injury.
This young @DetroitPistons squad is ready!#NBA75 #NBAMediaDay

— NBA (@NBA) October 4, 2021
Cunningham comes into a situation in Detroit where he should be able to start at shooting guard and make an impact on the Pistons' roster immediately.
Detroit is a (+100000) shot to win the NBA title as Cunningham is a building block for the Pistons as they try to build the roster for the future. He is a consensus NBA ROY pick as he has been seen on some boards at (+250).
Cunningham started out at a (+190) when the odds for the award were announced after he starred at Oklahoma State and helped to take the Cowboys into the Round of 32 in the NCAA Tournament.
Crowded top tier behind Cunningham
The Houston Rockets face a monumental rebuild, and Jalen Green is potentially the key piece as he was the No. 2 pick in the NBA Draft behind Cunningham.
Green started out at (+360) when the odds were released as he was also nursing a (+450) number in some places. He has now moved closer Cunningham with odds at (+260) in some places while (+270) – (+275) seems to be the consensus.
He averaged 17.9 points, 4.1 rebounds, and 2.8 assists for the G-League Ignite last season. He should start in the backcourt with Kevin Porter, Jr., where he will have a seasoned veteran at the 3-guard in Eric Gordon to help steer him through the rigors of the rookie campaign.
Rounding out the Top Five:
Orlando's Jalen Suggs (+700)
Cleveland's Evan Mobley (+800)
Toronto's Scottie Barnes (+1200)
Suggs had a phenomenal freshman season for coach Mark Few at Gonzaga. He is best remembered for his desperation bank shot off the glass in the Zags' 93-90 heart-stopper over UCLA at the Final Four.
Suggs is sitting with consistent (+700) odds across the boards as he was at (+650) about a month ago, and he opened at (+800) as well. He shot 45.6 percent from the field for Gonzaga as he averages 14.5 points per game.
Athletic Big Men
Mobley is a 7-footer who can sometimes move like a guard, and with his length and ball instincts on defense, he will give the Cavaliers another dimension.
The former USC Trojan is casting a (+800) after he was listed at (+550) at the start. He is also getting odds at (+900) and could prove to be a really solid value as he looks like the starting power forward on a Cavs team that could turn north this season.
Can't stop watching this ? pic.twitter.com/7TBoStKnRh

— Cleveland Cavaliers (@cavs) October 11, 2021
Barnes rounds out the Top 5 as the former Florida State Seminole is capturing (+1200) odds in some places, but is also as low as (+800). He started at (+1300) as he is currently sitting at second on the depth chart at shooting guard behind OG Anunoby.
Barnes is a freakish athlete who can also fit in behind Pascal Siakam at power forward. He is another player whose development into a one-and-done player is attributed to coach Leonard Hamilton and his staff at FSU.
Waiting in the Wings
Houston also drafted Turkish star Alperen Sengun who had a huge presence in the NBA Summer League. He has seen his odds move to (+1200) on most boards after starting at (+1600).
Sengun's summer league stats were eye-popping as he averaged 14.5 points, 11 rebounds, 3.0 blocks, and 2.8 assists while accruing 1.3 steals in four games in Las Vegas.
With the youth movement in Houston, he and Green will be the focal points of the team, which could be a plus either way when the voting for the award takes place.
Sacramento's Davion Mitchell, fresh off the national championship with Baylor, is posting (+1800) odds while Golden State's Jonathan Kuminga (+2800) are starting with long odds, but could move with playing time in accentuating their roles on both teams.
Mitchell's number was at (+1600) when the odds were released, and he could back up De'Aaron Fox on the point for the Kings with his combination of athleticism and physicality in making a defensive presence in the backcourt.
Kuminga is looking at first nursing a strained patella injury which he incurred last week against Denver and will look to get back into the Warriors lineup by the opener next week.
He started out with (+3400) odds in the summer after he averaged 15.8 points and 7.2 rebounds with 2.7 assists for the G-League Ignite. He averaged 17.3 points in the NBA Summer League, but shot only 37.3 percent from the floor with 2.0 assists vs. 2.8 turnovers.