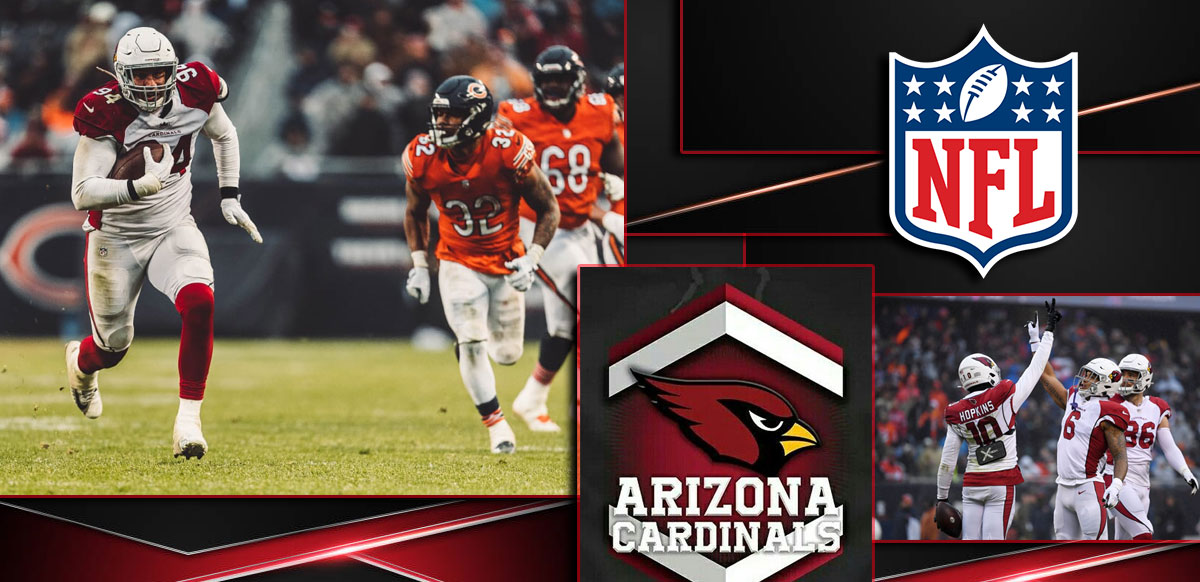 Kyler Murray and DeAndre Hopkins return as the Cardinals are running super odds
Rams reappear after humbling Jaguars
49ers' odds dive after loss to Seahawks
Arizona Cardinals quarterback Kyler Murray came back with a vengeance on Sunday as he threw two touchdown passes and ran for two touchdowns himself and the Cardinals blew by the Chicago Bears, 33-22, at Soldier Field in Chicago.
Good to be back ? pic.twitter.com/ToCgNGmP3N

— Arizona Cardinals (@AZCardinals) December 5, 2021
The Cardinals are now joined by the Patriots with the third-best odds to win Super Bowl LVI as they sit at (+700) after seeing (+800) odds last week.
Tampa Bay is still the favorite, with odds placed at (+550) while the Kansas City Chiefs have surged back towards the top with a (+650) offering.
Arizona was 2-1 without Murray, but the dynamics he brings punctuate the chemistry and rhythm of this team and move it, obviously, to a higher level.
RT if you're glad to have Kyler back.@K1 x #ProBowlVote pic.twitter.com/lHY9womPBw

— Arizona Cardinals (@AZCardinals) December 5, 2021
The return of wide receiver DeAndre Hopkins, who was out for the same games as Murray, also gives gravity to the offense. He caught a 20-yard touchdown pass from Murray in the first quarter to open scoring on Sunday.
The Cardinals have now risen to second in the NFC with a (+350) number which is behind Tampa Bay's NFC leading (+275). Green Bay has tied Arizona at (+350) with the Dallas Cowboys still at (+550), and the Los Angeles Rams picked up a (+750) setting.
Now would be a good time to retweet.#ProBowlVote + @K1#ProBowlVote + @JamesConner_#ProBowlVote + @DeAndreHopkins#ProBowlVote + @jt_broooo#ProBowlVote + @JordanHicks#ProBowlVote + @byronmurphy#ProBowlVote + @buddabaker32

— Arizona Cardinals (@AZCardinals) December 6, 2021
The Cards are also the favorite to lockdown the No. 1 seed in the NFC playoffs with odds at (+100) after being the first team in the NFL to 10 wins with Sunday's caging of the Bears.
Tampa Bay is at (+200) while the Green Bay Packers (+250), Dallas Cowboys (+2500), and the Los Angeles Rams (+3500) have been tabbed by the NFL betting sites.
Murray has proven that he can take on lots of different quarterbacking personas if it pushes Arizona to win as he has completed 72.7 percent of his passes for 266.5 yards per game.
Kyler Murray tied the franchise record (Kurt Warner, 5 in 2009) for most games with a passer rating of 120.0+ in a single season. His 112.1 passer rating this season leads the entire NFL. pic.twitter.com/HLj2ukCWLt

— Arizona Cardinals (@AZCardinals) December 7, 2021
Murray's NFL MVP odds stood at (+750) behind Tom Brady at (+175) and Aaron Rodgers, who is commanding (+600) odds.
A long shot from the Cardinals is running back James Conner, who supplements the play of Murray as he has scored an NFL high 14 touchdowns, although he doesn't have a 100-yard game as of yet.
Rams Humble Jaguars, End Losing Skid
The Los Angeles Rams saw the Jacksonville Jaguars at a much-needed time on Sunday as they did the expected in posting a 37-7 rout at Sofi Stadium. Quarterback Matt Stafford fired three second-half touchdown passes to Cooper Kupp, Van Jefferson, and Odell Beckham, Jr. as he passed for 295 yards in helping the Rams end their three-game losing streak.
The Cardinals are still the odds-on-favorite to win the NFC West at (-1600) while the Rams garner (+800) odds. However, Los Angeles is two games behind Arizona as the Rams invade the Valley of the Sun next Monday night for a rematch of the Cardinals' 37-20 win at Sofi Stadium in Week 4.
As of today, Arizona is posted as the favorite at (-3), with the over/under sitting at 51.5. As the Rams sit at a (+750) posting to win the NFC, they still have the No. 5 offense in the NFL as they hope Stafford has worked through the problems he had in the three weeks before Sunday's win.
"29 yards from Matthew Stafford… It's Cooper Kupp with his 11th touchdown!"

? | Radio Call of the Game: @CooperKupp sets new career-high in Week 13 pic.twitter.com/iaqnoWnSTi

— Los Angeles Rams (@RamsNFL) December 7, 2021
Los Angeles still has the seventh-best odds to win the Super Bowl as they post at (+1200) which was their number last week. They also had the best odds in the NFC to post a wild card at (-1000).
Tom Brady (-110) is the favorite to throw for the most yardage, but Stafford checks in second as he is tied with the Raiders' Derek Carr and the Chargers' Justin Herbert with (+400).
Make that six 300-yard passing games for @TomBrady this season. ? pic.twitter.com/Nh2FmG7fAE

— NFL (@NFL) December 6, 2021
Stafford also is garnering (+1600) odds to win the NFL MVP while wide receiver Cooper Kupp is tied with Colts running back Jonathan Taylor with odds at (+160) to win the NFL's Offensive Player of the Year.
Stafford has long odds at (+5000) rot win the award as well.
Kupp broke a three-game string without a touchdown on Sunday as he hauled in a 29-yard TD pass that gave the Rams a 23-7 lead early in the third quarter.
Seahawks Cramp 49ers' Playoff Run
Death, taxes, and Seahawks' coach Pete Carroll's hold on the San Francisco 49ers continue as Seattle won its 14th in the last 16 meetings, 30-23, on Sunday.
Final. pic.twitter.com/jSXj0IfTIL

— San Francisco 49ers (@49ers) December 6, 2021
Carroll grew up in the Bay Area and has had a firm handle on San Francisco throughout his tenure, and on Sunday, the appearance of a running game was the difference as the Seahawks ran for a season 146 yards on 27 carries.
"We ain't dead yet, boys!" ?️ @PeteCarroll was fired up in the locker room last night. pic.twitter.com/P1dlvT7Ft5

— Seattle Seahawks (@Seahawks) December 6, 2021
This pushed the 49ers back into a tie for sixth in the NFC with Washington as they sit at 6-6 as seven teams have either six or seven losses and are currently vying for those last two positions.
The 49ers are posting odds at (-190) to make the playoffs and (+145) to be home in January.
At four games in back of Arizona with five to play, they have (+10000) odds to win the NFC West and the 4-8 Seahawks have been taken off the board.
✅ Momentum-shifting safety
✅ Game-clinching batted pass@Carlos_Dunlap was clutch yesterday ?#GoHawks x @Lumentechco pic.twitter.com/6v7ivLh1vO

— Seattle Seahawks (@Seahawks) December 7, 2021
The Niners' odds to win the NFC now lie at (+1800) and their Super Bowl futures are posting at (+8000) as last week, San Francisco posted at (+4000) to make it to the Super Bowl.
The 49ers had odds at (-250) to make it to the playoffs and they were at (+3500) to win the NFC West seven days ago.
Deebo Samuel is still third in NFL Offensive Player of the Year odds at (+2000) although he missed Sunday's game with a groin injury that he suffered in the second quarter of last week's win over Minnesota.