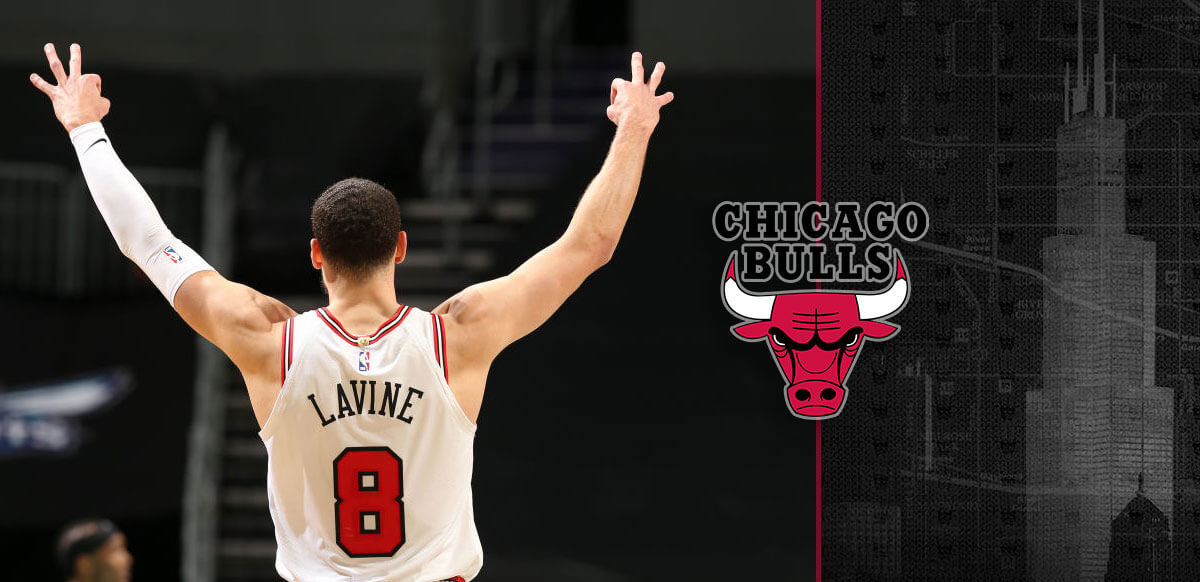 The San Antonio Spurs are the 2/1 betting favorites to land Zach LaVine if he does not re-sign with the Chicago Bulls.
The Portland Trail Blazers and Los Angeles Lakers are also seen as a very possible landing spot for Chicago's All-Star guard.
LaVine will be an unrestricted free agent this summer and is considered no longer a lock to sign with the Bulls.
The San Antonio Spurs have emerged as the odds on favorite to land Zach LaVine in free agency.
LaVine will be an unrestricted free agent during the offseason and it is believed that he is no longer a lock to return to the Chicago Bulls.
The 27-year-old has made it known that he is going to the offseason with "an open mind" and the idea of LaVine swiftly signing a new contract with the Bulls has dissolved. But while the best NBA betting sites believe that the Bulls are still the frontrunners to keep LaVine, there are teams that could realistically poach him away from Chicago.
Spurs Have One Advantage Over Most Teams
The Spurs can offer Zach LaVine something most other teams can't this summer. https://t.co/ahbMXLPdiI

— Air Alamo (@AirAlamo) May 25, 2022
In an article at Bleacher Report, NBA writer Jake Fischer noted that the Spurs have one advantage over most teams that are chasing LaVine. It's a known fact that LaVine wants a max contract but it is also widely believed that he wants to play for a team where he is the number 1 option. While many suitors can offer one, the Spurs can offer LaVine both while also giving him an opportunity to play alongside fellow Seattle native Dejounte Murray and for his former Olympic head coach Gregg Popovich.
LaVine began his career in Chicago as the alpha dog scorer. But when the Bulls upgraded their roster supposedly to help him this past offseason, they acquired DeMar DeRozan who ended up becoming the Bulls' top scorer and closer. The arrival of DeRozan made the Bulls a playoff team but being the best 4th quarter scorer in the league this season, LaVine had to play second fiddle for a player that his team signed to help him.
In San Antonio, LaVine would be joining a rebuilding team but one that nearly made the play-in tournament despite being inexperienced. Murray has developed into an All-Star player but he's more of an all-around guy than a pure scorer, which LaVine is. With Popovich expected to return for at least this season, the possibility that a Murray and LaVine duo could develop into one of the best backcourts in the NBA.
Blazers and Lakers Among Suitors
Zach LaVine free agency rumors: All-Star not a lock to return to Bulls; Lakers, Trail Blazers among suitorshttps://t.co/FDWM9Qeafj

— CBS Sports NBA (@CBSSportsNBA) May 20, 2022
The Portland Trail Blazers are second on the odds board at 3/1. LaVine is from Seattle which is just a few hours' drive north of the Blazers' practice facility. He is also good friends with Damian Lillard from their USA Basketball days. With Lillard and LaVine buddies, he might not complain about playing a supporting role to Dame in Portland.
Next at 4/1 are the Los Angeles Lakers who are looking to rebound after a disastrous season. The Lakers are looking to deal with Russell Westbrook and they could do a sign-and-trade with Chicago. LaVine has recently said that he has "always been a big fan"' of the Lakers, prompting rumors that he is interested in joining the Purple and Gold.
The Atlanta Hawks (5/1), New York Knicks (6/1), Miami Heat (7/1), Indiana Pacers (8/1), Detroit Pistons (9/1), Dallas Mavericks (10/1), and Orlando Magic (11/1) are the other top favorites to land LaVine. But again, remember that the premise of the bet is if he does not sign with the Bulls which means that Chicago is still favored to keep their young All-Star scorer.