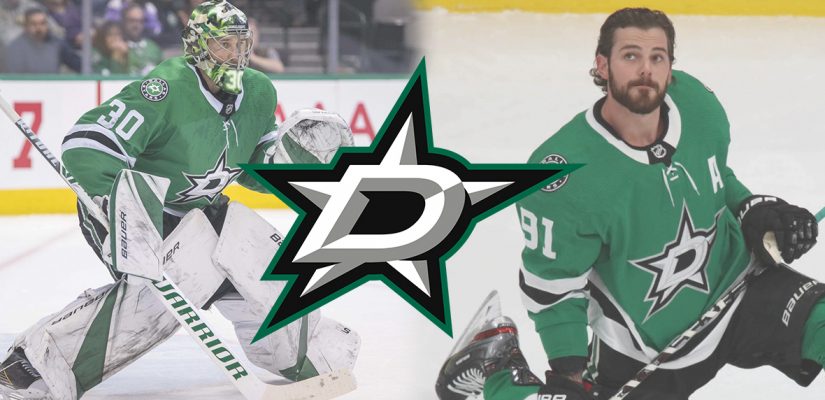 Stars center Tyler Seguin has underwent a right hip arthroscopy and labral repair on November 2 and is expected to miss five months
Stars goaltender Ben Bishop underwent surgery to repair a torn meniscus in his right knee on October 21 and is also expected to miss roughly five months
Announcements from the Stars have yet to shift odds, but certainly diminish the value of current 2021 Stars odds
The NHL is targeting a January 1 start date for the 2020-21 season, but pair of valuable members of the Dallas Stars will remain sidelined for much of the season despite the start date still being nearly two months away.
Such a happening would appear to severely diminish the value of current Stars odds in terms of the 2021 Stanley Cup and Western Conference after the club made a relatively surprising run to the Stanley Cup Final in 2020.
Seguin Repairs Hip, Out Roughly 5 Months
Only the Columbus Blue Jackets sported an inferior offense to that of the Dallas Stars among the 24 teams that qualified for the expanded playoff format this past season.
As a result, the Stars can ill afford to lose a key member to what is already an anemic offense, but a Tuesday announcement from the team revealed the news that was widely rumored to be on the verge of taking place.
Tyler Seguin, the Stars' leading point-getter by a wide margin last season, underwent hip surgery to repair a torn labrum on November 2 and is set to miss roughly five months. That timeline would peg his return somewhere around the beginning of April, three months after the NHL plans to begin it's regular season.
The 28-year-old Seguin led the Stars with 50 points in 69 games last season, 11 points clear of his next-closest teammate Jamie Benn who notched just 39 points on the season.
It was a crazy @EASPORTSNHL OT before Tyler Seguin put an end to it with his game-winning goal. #DALvsTBL | #GoStars pic.twitter.com/pecOdGtus0

— Dallas Stars (@DallasStars) December 20, 2019
It was the second consecutive season Seguin has paced the Stars in scoring as their offense has progressively tailed off over the last few seasons. The team ranked 26th with just 2.58 goals per game last season.
Seguin is not only the team's top offensive player, but their top center, leaving a massive hole atop the lineup at the most important position in the forward ranks. Joe Pavelski, Roope Hintz, Jason Dickinson and Radek Faksa are candidates to help fill the void, otherwise the free agent market is dried up down the middle, leaving a trade as the only viable upgrade option at this point should the Stars wish to explore that avenue.
Seguin has otherwise been quite durable in his career, having not missed a single regular-season game in each of the last four seasons.
Bishop Repairs Knee, Also Out 5 Months
The Stars received some of the best goaltending in the league over the last couple of seasons, but one half of their elite tandem is also set to miss significant time this season.
Ben Bishop underwent knee surgery to repair a torn meniscus in his right knee on October 21, and is also expected to miss about five months. That timeline would put him near the end of March if all goes to plan.
Bishop appeared in just three postseason games for the Stars after the league's return to action, getting shelled for a 5.43 GAA and .844 Sv% in that time. Otherwise, he was deemed "unfit to play" and Anton Khudobin was thrust into action.
Unlike Seguin, Bishop has had a tough time staying healthy of late, failing to appear in 50 regular-season games in each of the last two seasons. That said, he's arguably been the best goaltender in the league when healthy over that time, ranking first with a 2.23 GAA and .927 Sv% among goaltenders with at least 80 games played over the last two campaigns.
Just @Benbishop30 doing Ben Bishop things… like grabbing a 27-save @pepsi shutout. pic.twitter.com/pnedhM1HVD

— NHL (@NHL) January 10, 2020
The good news for the Stars is that Khudobin is tied for second with a .926 Sv% and ranks sixth with a 2.42 GAA among goaltenders with at least 70 games played in that same span. Khudobin was excellent for the Stars in Bishop's absence this postseason, posting a 2.69 GAA and .917 Sv% in 25 postseason appearances on the heels of a regular season in which he turned in a 2.22 GAA and .930 Sv%, numbers that ranked second and first, respectively, among netminders who appeared in at least 30 regular-season games.
Khudobin, a schedule unrestricted free agent this offseason, inked a three-year, $10M extension to remain with the Stars in lieu of testing the open market.
Stars 2021 Futures Values Decline
We've yet to see an odds shift given the news released on Tuesday, but there's little doubt that the Stars' 2021 futures have diminished in value.
As per BetOnline, the Stars sit at +2000 to win the 2021 Stanley Cup and +1000 to win the Western Conference behind only the Avalanche and Golden Knights who are heavy co-favorites at +375.
The offensive output was a concern to begin with, but without their scoring leader and No.1 center, it will be interesting to see if Dallas' stout defense will be enough to consistently win games despite an offense that could fall dangerously near the bottom of the NHL.
The goaltending situation isn't as dire with Khudobin set for the No.1 job, but he's never been a No.1 goaltender and has a career-high of 41 games played from the 2018-19 season. It's likely to be a shortened regular season, a benefit to the Stars' situation – but it will also be a condensed schedule with rest needed for the 34-year-old veteran.
That means notable work for 21-year-old Jake Oettinger, the team's 2017 first-round pick. Oettinger appeared in two postseason games for the Stars in relief of Khudobin, turning aside all eight shots he faced.
The Boston University alum posted a solid 2.57 GAA and .917 Sv% in 38 AHL contests with the Texas Stars in 2019-20, but needless to say the Stars will absolutely require Khudobin to stay healthy to avoid a worst-case scenario of having the wildly inexperienced Oettinger having to carry the bulk of the load until Bishop's return late in the regular season.
Needless to say, I'm avoiding Stars futures at all costs.